Serena Williams Honors Sister Venus in Tearful Speech After U.S. Open Loss
Serena Williams credited her sister Venus for her tennis career after playing what may have been her last-ever professional tennis match.
Serena, 40, announced in August her plans to retire, likely after playing in this year's U.S. Open tournament. Her tournament run came to an end on Friday night at New York's Arthur Ashe Stadium following a hard-fought third round singles loss to 29-year-old Croatian-Austrian player Ajla Tomljanović.
The defeat followed her upset victory over Anett Kontaveit, the second-highest ranked women's tennis player in the world, on Wednesday. It also came one day after a first round doubles loss in what was likely her last pairing with Venus, who is also out of the tournament following a first round singles loss.
During a tearful on-court interview with ESPN's Mary Joe Fernández after the loss, Serena thanked her fans and her parents, both of whom also coached her in tennis. She then credited 42-year-old Venus, whose professional career preceded her own and will likely outlive it, with inspiring her own career, saying she would have never "existed" if not for following her sister's path.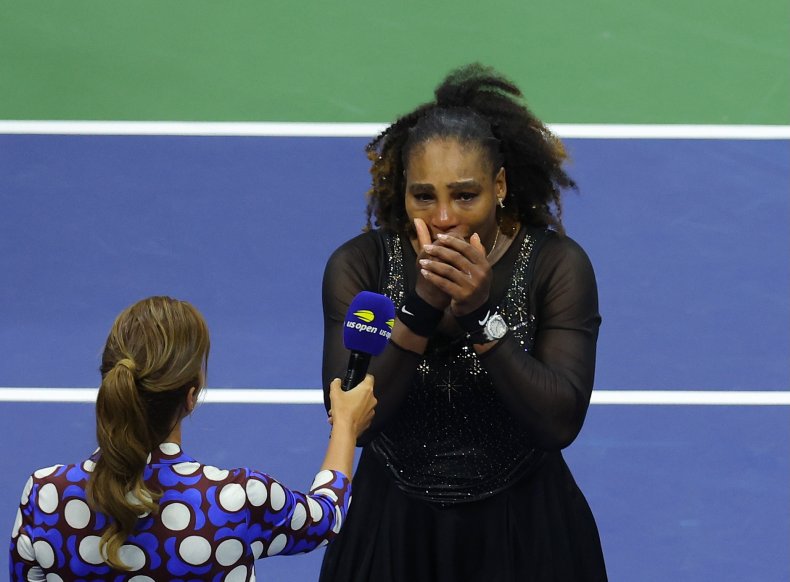 "Thank you daddy, I know you're watching. Thanks mom," Serena said before choking up. "I just thank everyone that's here, that's been on my side so many years, decades. Oh my gosh, literally decades. But it all started with my parents and they deserve everything, so I'm really grateful for them... These are happy tears, I guess."
"And I wouldn't be Serena if there wasn't Venus," she continued as her sister watched from the stands. "So, thank you, Venus. She's the only reason Serena Williams ever existed."
Serena went on to thank other family members before commenting on her tennis career by saying "it's been a fun ride... It's been the most incredible ride and journey I've ever been on in my life."
When asked whether she would ever "reconsider" her retirement, the tennis star said "I don't think so... but you never know," prompting applause from the crowd.
The Williams sisters hugged each other and walked off the court to applause on Thursday, with tributes to the duo pouring in on social media soon after. More tributes to Serena came following her loss on Friday.
"Serena, THANK YOU. It is because of you I believe in this dream," tennis player Coco Gauff tweeted. "The impact you've had on me goes beyond any words that can be put together and for that I say thank you, thank you, thank you, GOAT!"
"Congrats on an amazing career, @SerenaWilliams!" tweeted former first lady Michelle Obama. "How lucky were we to be able to watch a young girl from Compton grow up to become one of the greatest athletes of all time. I'm proud of you, my friend—and I can't wait to see the lives you continue to transform with your talents."
"I love you @serenawilliams," former tennis player Andy Roddick tweeted. "It's been the pleasure of a lifetime to watch you become what you have. Can't wait to see what you do next. Thank you my old friend."
"Her incredible career made its mark on tennis history," tweeted former tennis player Billie Jean King. "And yet her greatest contributions may be yet to come. Thank you, @serenawilliams. Your journey continues."
Newsweek reached out to representatives for Serena and Venus Williams for comment.