On the 50th anniversary of Title IX, the landmark legislation mandating equal opportunities for men's and women's participation in sports, tennis champion Venus Williams hailed soccer star Megan Rapinoe, calling her a "beast."
In an exclusive essay for Newsweek's My Turn, Williams, 42, one of the all-time greatest American tennis players, with seven Grand Slam singles titles and four Olympic gold medals under her belt, had nothing but praise for the American professional soccer player who has long advocated for equal pay in her field.
Rapinoe is a forward for OL Reign of the National Women's Soccer League and was recently named to the U.S. women's team for July's CONCACAF W Championship, the qualifier for the 2023 World Cup and 2024 Olympics.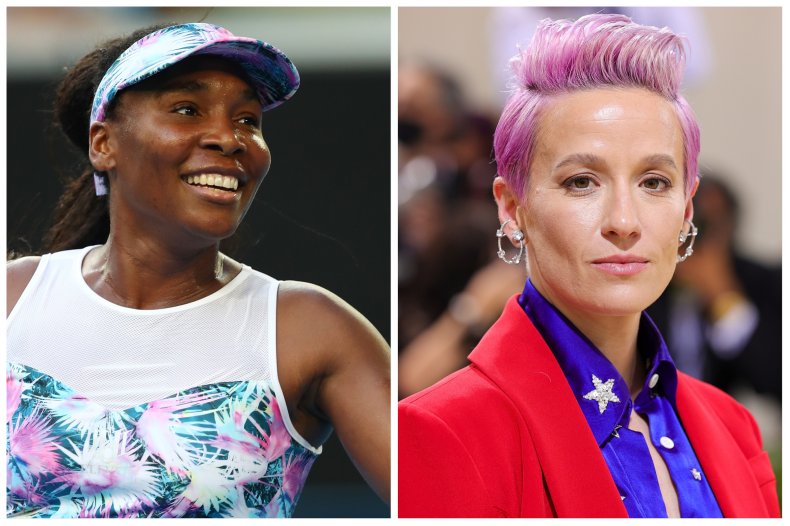 In 2019, Rapinoe, along with her fellow teammate, Alex Morgan, sued U.S. soccer, her employer, in a gender discrimination case. The 36-year-old also advocates for fairness, bodily autonomy, Black lives, transgender inclusion in sports, and much more.
"Megan is a beast. She is just so magnificent on the field and now she and the other players have equaled that magnificence off the field and are transferring that into something that so many women are going to benefit from, for generations to come," wrote Williams.
"It's so much bigger than what you could do for yourself," Williams continued. "I know what that feels like, because I was there. I experienced it in 2007."
In 2007, Williams became the first woman to receive equal prize money at Wimbledon when she won her fourth Wimbledon championship. Up until that year, the men's champions received more prize money than the women's champions. That year, Williams received the same sum as Roger Federer: $1.4 million.
U.S. women's national team forwards Rapinoe and Morgan reached a settlement worth $24 million in their class-action equal pay lawsuit against U.S. Soccer in February this year. U.S. Soccer also pledged to provide equal pay for the women's and men's national teams in all friendlies and tournaments, including the World Cup.
"When I look at women's soccer, and that the U.S. Women's National Team have achieved equal pay to the men's team, I can see that female soccer players like co-captain Megan Rapinoe and I have that shared experience and shared joy of being able to be part of something bigger than we could ever do in our fields," wrote Williams, praising Rapinoe.
"It's so exciting that the whole world is celebrating equal pay for men and women in soccer right now," she added.
The tennis superstar is now working to raise awareness about what women are really going through with pay inequality, through her Privilege Tax initiative, which gives people the option to pay $1 extra at checkout when purchasing something from practicing companies, such as her lifestyle and activewear brand EleVen.
The money supports the U.S. non-profit organization Girls Inc., which encourages all girls to be "Strong, Smart, and Bold" through direct service and advocacy.
"It's not just in the United States, it's worldwide that we're being paid unequally," wrote Williams. "The first part is letting people know, and that's why I'm so excited. At the end of the day it's not just about making it yourself, it's about other people making it too."
"It's important that none of us tire out because there's a lot of work to do. And each person can do their part. So whether you're mentoring women, whether you're an athlete young women are watching or whether you're a parent, everyone is touching the lives of women and girls," she added. "So we all need to play our part."
Uncommon Knowledge
Newsweek is committed to challenging conventional wisdom and finding connections in the search for common ground.
Newsweek is committed to challenging conventional wisdom and finding connections in the search for common ground.
About the writer
Isabel van Brugen is a Newsweek Reporter based in Kuala Lumpur. Her current focus is on the Russia-Ukraine war, and she has covered human rights issues in previous roles. Isabel joined Newsweek in 2021 and had previously worked with news outlets including the Daily Express, The Times, Harper's BAZAAR, and Grazia. She has an MA in Newspaper Journalism at City, University of London, and a BA in Russian language at QMUL. Languages: English, Russian
You can get in touch with Isabel by emailing i.vanbrugen@newsweek.com
Twitter handle: @isabelvanbrugen