Serena Williams Hints She Could Pull a Tom Brady: 'An Amazing Trend'
Serena Williams has discussed her reported retirement and hinted that she could be inspired to make a comeback Tom Brady style.
The global tennis phenomenon said that the possible conclusion of her athletic career will not mean that she will be "relaxing."
Williams, 40, discussed her career and possible retirement during an appearance on The Tonight Show Starring Jimmy Fallon and when the host asked her if there was a chance of her pulling a "Tom Brady" and maybe making a surprise return to her sport, she replied: "You know, Tom Brady started an amazing trend. That's what I want to say."
Fallon was of course referencing the iconic NFL quarterback's return to the Tampa Bay Buccaneers this season after announcing his retirement earlier this year.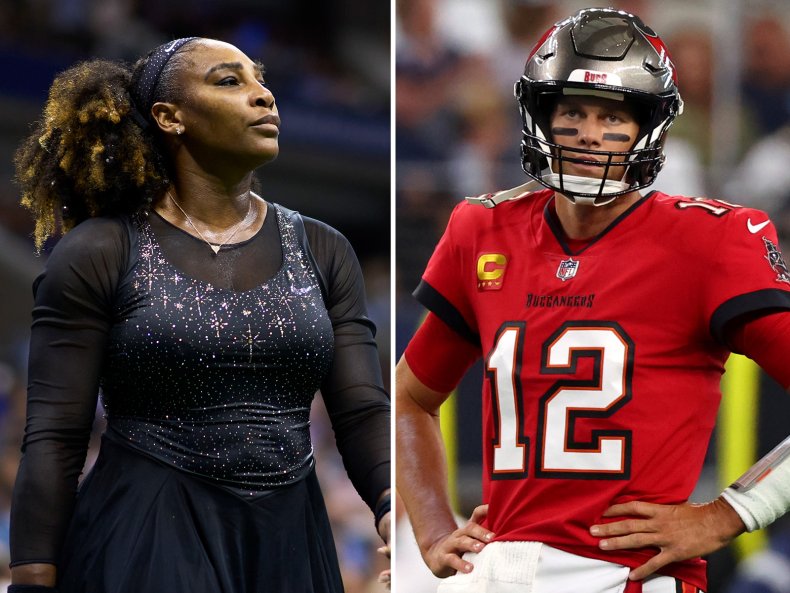 Williams discussed pursuing other avenues and things that she has "been wanting to do for so many years" after her tennis career and described it not as retirement but as an "evolution."
"I think retirement is something that is super earned and that people work really hard for," she said.
"I feel like I'm at an age where I definitely have a lot more to give and there's a lot more that I want to do so I'm not going to be relaxing, there's so much more for me.
"​​I feel like it's more of an evolution of Serena," she explained.
"There's so many things that I've been wanting to do for so many years and I've had such a passion for tennis for so long that I've never done them. Now it's time for me to start to enjoy those things."
The multi-grand slam winner bowed out of the third-round of the U.S. Open earlier this month after losing in three sets to Australia's Ajla Tomljanovic.
Speaking to Vogue earlier this month, Williams spoke about retiring from tennis after this year's U.S. Open.
In Vogue's as-told-to cover story, Williams said she has "never liked the word retirement" and said she is "evolving away from tennis."
She also indicated she plans to focus on Serena Ventures, her venture capital firm, as well as expanding her family. Of the U.S. Open being her last tournament, she wrote on Instagram that "[t]he countdown has begun" and that she's "gonna relish these next few weeks."
Williams credited her sister Venus for her tennis career after playing what may have been her last-ever professional tennis match earlier this month.
"Thank you, daddy, I know you're watching. Thanks mom," Serena during a tearful on-court interview with ESPN.
"I just thank everyone that's here, that's been on my side so many years, decades. Oh my gosh, literally decades. But it all started with my parents, and they deserve everything, so I'm really grateful for them... These are happy tears, I guess."
"And I wouldn't be Serena if there wasn't Venus," she continued as her sister watched from the stands. "So, thank you, Venus. She's the only reason Serena Williams ever existed."