Pizza Store Sign Blaming Delays on Staff's 'Lack of Work Ethic' Goes Viral
A post about a service delay at a food venue allegedly due to an "overwhelming" staff shortage and "the lack of work ethic" following the government's payment of stimulus checks has gone viral on Reddit.
In a post that had over 39,900 upvotes at the time of writing, Reddit user Happy_Husband4 wrote: "Waited 90 minutes for 1 medium pizza. Came in the store and found out why," sharing an image of a notice letter addressed to customers.
The letter said: "Due to the overwhelming shortage of STAFF due to 'STIMULUS' and the lack of work ETHIC, We are asking our valued customers to please have patience with the TEAM that came to work today to serve you.
"My team is working nonstop to serve everyone. Some if not all of us are working 6-7 days a week, sometimes 10-12 hours a day. Giving up time with THEIR families to be the front-line workers.
"Let us all show some kindness and humanity to them and say a positive word to keep them encouraged," the letter concluded.
Newsweek has contacted the original poster, Happy_Husband4, for comment.
According to a June 2022 report by the U.S. Bureau of Labor Statistics (BLS), total non-farm employment is down by 524,000 (0.3 percent) from its pre-pandemic level in February 2020.
In June, 67,000 jobs were added to the leisure and hospitality sector, "as growth continued in food services and drinking places (+41,000)." However, employment in the leisure and hospitality sector was reported to be down by 1.3 million (7.8 percent) since February 2020, the report said.
The unemployment rate was reported to be 3.6 percent for the fourth month in a row in June and the total number of unemployed people remained "essentially unchanged" at 5.9 million in June. These figures were "little different" from their values in February 2020 (3.5 percent and 5.7 million, respectively) prior to the COVID-19 pandemic, the BLS report said.
Following the financial impact of the pandemic, the government issued three rounds of Economic Impact Payments (also known as stimulus checks).
The first payment of $1,200 was issued as part of the Coronavirus Aid, Relief and Economic Security Act passed in March 2020, while a second payment of $600 was approved by Congress in late 2020. The third payment of $1,400 was approved in March 2021 as part of President Joe Biden's American Rescue Plan.
The government's COVID-19 stimulus package has been criticized by Senate Minority Leader Mitch McConnell, who said: "There is a concern about making it more advantageous to stay home rather than going back to work," in an interview with Fox News in March 2021.
In early July this year, at an event in his home state of Kentucky, McConnell noted that people may return to work once their savings have run out, according to USA Today.
"You've got a whole lot of people sitting on the sidelines because, frankly, they're flush for the moment," he said, adding: "What we've got to hope is once they run out of money, they'll start concluding it's better to work than not to work."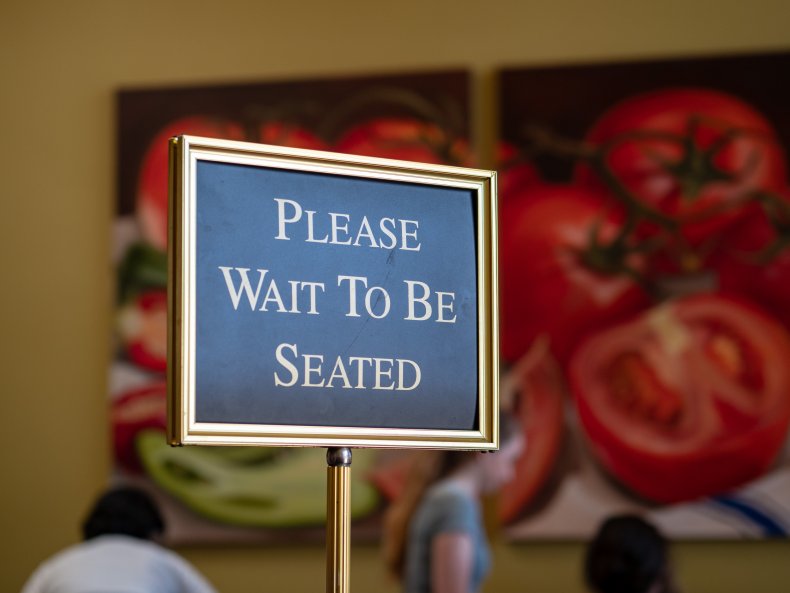 The latest viral Reddit post sparked a heated discussion on the online forum, with some saying "stimulus checks really weren't enough" and the notion that "No one wants to work" is "bull****."
In a comment that got 11,700 upvotes at the time of writing, one user said: "Stimulus? Like the 600 bucks I got a couple years ago? Still sitting pretty with that free cash! My housing has only gone up 25 percent since then too."
While a second user said: "I constantly hear this bull**** from my co-workers. 'No one wants to work', if you ask them if they have any evidence of that they just stare blankly at you. I recently decided you can't argue with stupid so I don't even try anymore. Just let them wallow in their idiocy."
A third commented: "When someone says 'no one wants to work' I always ask why our unemployment rate is so low then..."
A fourth wrote: "The stimulus checks really weren't enough to fix any serious mechanical issues with your car, pay one month of rent, buy a new tv, washing machine, fix pretty much anything wrong with your house, it really was just enough money to pay part of your credit card bill for the month," in a comment that got 119 upvotes.
And another argued: "A bunch of Americans just decided to quit working and couch surf or just burn through all their savings, so what? I'm 100 percent in favor of the people who are choosing to remove themselves from the workforce until conditions sufficiently improve and they're willing to come back.
"If your only argument for people working is that they would literally die if they don't... that sure feels like slavery with a couple extra steps."