Fact Check: Is U.S. Unemployment Rate Lowest in 50 Years?
The cost of living crisis, fueled by rampant inflation (which reached double digits in some parts of the U.S.), has made the state of the U.S. economy a hot issue for voters and a headache for President Joe Biden.
While the broader picture looks bleak, the rate of unemployment has hit some of its lowest levels in American history, a remarkable recovery from the peak of the COVID-19 pandemic which left near-record numbers of people jobless.
While lower unemployment may be seen as a token of strength, leaders are still grasping for clues about how to reignite the country's economic growth.
Among this conversation was the recent suggestion by a senior Republican that reducing unemployment even further could be the answer.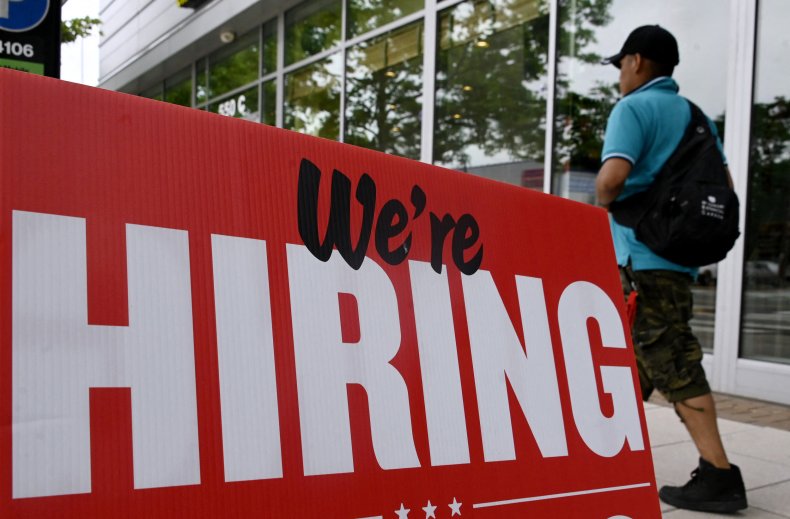 The Claim
A tweet sent on July 17, 2022, claims the unemployment has not been lower than now for 50 years.
The post includes a Fox News interview with National Republican Senatorial Committee Chair Rick Scott (FL) who insisted that "we need to get Americans back to work."
"If you're able bodied, you don't have young children, incapacitated dependent, get to work." he added.
The Facts
Unemployment rates in states across the U.S. have fallen dramatically in 2022. It was reported in April that Nebraska, Utah, Indiana, Montana, Alaska, Arizona, Georgia, Idaho, Mississippi, Tennessee, West Virginia and Wisconsin had set new lows for people out of work.
These records were celebrated by President Joe Biden who tweeted "More families than ever before — in states from Alaska to Wisconsin — have a little more breathing room. We're not letting up."
However, economic analysts have repeatedly argued that low unemployment is associated with inflation—with prices for goods increasing as more people are dependably able to afford consumer products and services.
This trend appears to have emerged again in 2022, with the consumer price index also reaching a staggering 9.1 percent in June, its largest rise since 1981.
At the same time, data from the U.S. Bureau of Labor Statistics shows that the unemployment rate (measured by dividing the number of unemployed people by the total number of people in the labor force), has remained at 3.6 percent since April 2022.
It has only been lower than this on three other occasions (September 2019, January 2020, February 2020) and only by a 0.1 percent margin. The COVID-19 pandemic later caused this historically low rate to expand to its highest level since the 1930s (although unemployment was calculated differently during the mid-20th century).
The last time the monthly rate was lower was May 1969 when it hit 3.4 percent.
So, although the claim on Twitter is technically incorrect, it is true that unemployment is among the lowest levels recorded since the 1960s. The chart below, provided by Statista, shows annual unemployment data for the past 52 years.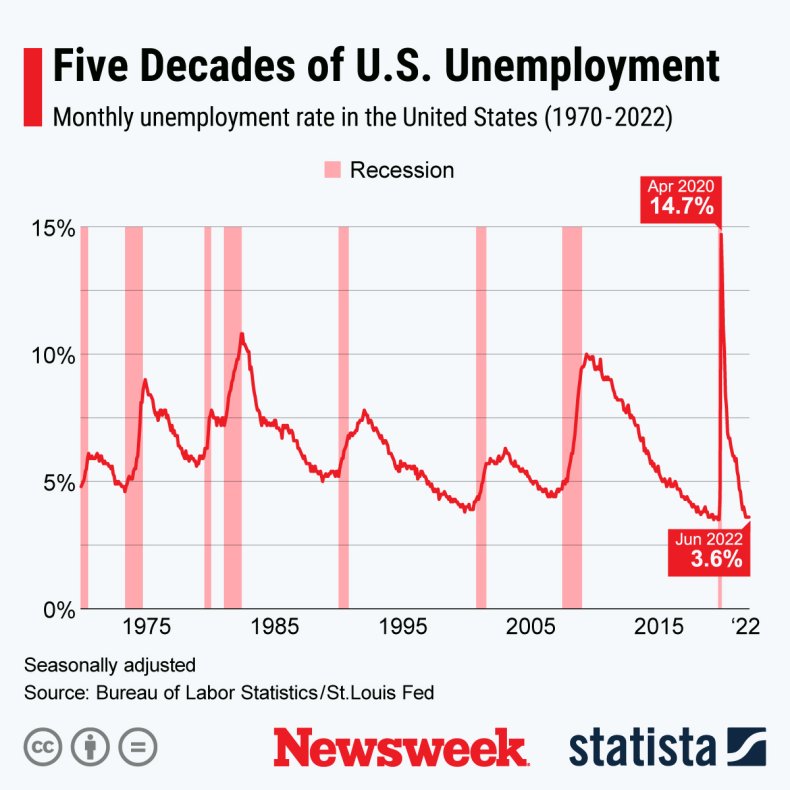 You will find more infographics at Statista
While president Joe Biden celebrated these recent jobs figures, with the economy adding an impressive 327,000 new positions in June, other data on the job market and the economy is less encouraging.
For example, the number of those unemployed longer than 27 weeks has been higher during the course of Joe Biden's presidency than that of former president Donald Trump, excluding figures recorded during the pandemic (although 2.9 million jobs were lost during the Trump administration, with the unemployment rate increasing to 6.3% by the end of his term).
As mentioned, the current low rate of unemployment has been matched by high inflation. With these metrics combined (among other factors), the danger now appears that the country will fall into recession. President Biden has insisted for months that the U.S. economy is not heading that way, despite some experts and the majority of Americans believe it has already happened.
A low rate of unemployment is not the only reason for record rates of inflation. The conflict in Ukraine has driven up the prices of food and energy, too, while a sudden surge in both consumer savings and spending, as the country recovered from lockdown (coupled with manufacturing and shipping shortages caused by the pandemic), pushed prices up even further.
The Ruling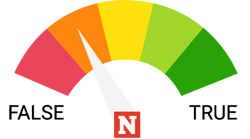 Mostly False.
Unemployment is not at its lowest rate in 50 years, but only by a slim margin. It has only fallen below its current rate of 3.6% on three occasions since 1972 and only by 0.1 percent. While that means the claim is not wholly accurate, joblessness is close to past historic lows.
FACT CHECK BY Newsweek's Fact Check team