New federal figures show the country's unemployment rate continues to plummet with a dozen states posting their lowest jobless rates ever.
The U.S. Bureau of Labor Statistics on Friday released March unemployment numbers putting the national jobless rate was 3.6 percent, dropping 2.4 points from a year ago. The new figures show the extent the U.S. job market has recovered from the COVID-19 pandemic after it took hold in the U.S. over two years ago.
A total of 15 states had lower unemployment rates, with some seeing new lows. Nebraska and Utah had the lowest jobless rates in March, with each at 2 percent. Those were followed by Indiana at 2.2 percent and Montana at 2.3 percent.
Another eight states set new lows including Alaska at 5 percent, Arizona at 3.3 percent, Georgia at 3.1 percent, Idaho at 2.7 percent, Mississippi at 4.2 percent, Tennessee at 3.2 percent, West Virginia at 3.7 percent and Wisconsin at 2.8 percent.
President Joe Biden, who has seen sagging poll numbers as inflation has reached record highs, hailed the news on Twitter.
"Today, we learned that in March, twelve states hit record low unemployment. More families than ever before — in states from Alaska to Wisconsin — have a little more breathing room," he said. "We're not letting up."
Biden also touted the creation of 365,000 new manufacturing jobs in the U.S. last year, which he said was "the best year for U.S. manufacturing jobs in nearly 30 years." He described them as good-paying jobs that could support families and can't be outsourced.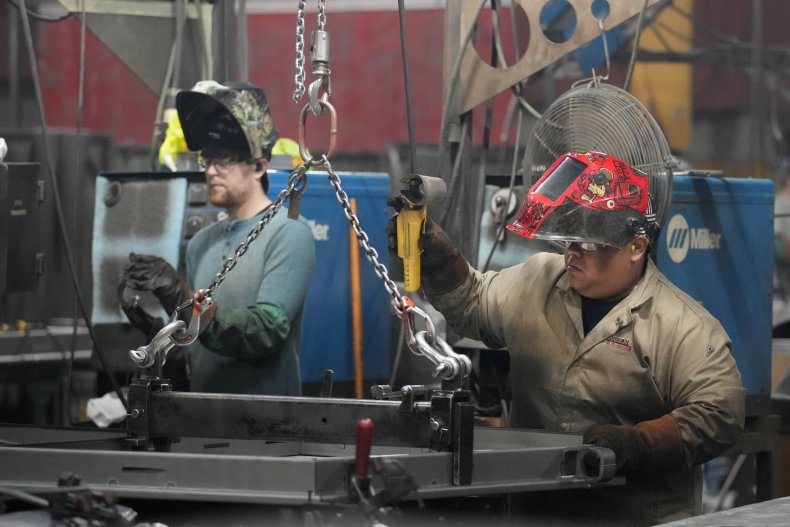 The District of Columbia had the highest unemployment rate in March at 6 percent, followed by New Mexico at 5.3 percent.
The bureau's numbers put the country's unemployment rate at 5.3 percent for March 2020, the month pandemic restrictions took hold in the U.S. and brought large sectors of the economy to a halt.
Earlier this month, the U.S. Labor Department reported historically low first-time unemployment claims with 166,000 laid-off workers for the week ending April 2. The department reported that employers added 431,000 jobs in March.
However, consumer inflation continues to rise at record rates. Inflation rates from 1.2 percent from February to March. For the month of March, the year-over-year rate of inflation increased 8.5 percent, its biggest leap in more than 40 years.
Newsweek reached out to the White House.