U.S. Unemployment Rate Under 4 Percent for March as Jobless Claims Drop
The U.S. unemployment rate, below 4 percent in March, and dropping jobless claims show a continuing pattern of recovery from job market woes caused by the two-year coronavirus pandemic.
In the week that ended April 2, unemployment claims decreased by 5,000 to 166,000, the Labor Department reported Thursday. The four-week average for jobless claims also decreased, falling by 8,000 to 70,000, the Associated Press reported.
The news of a decrease in unemployment claims in the week ending April 2 follows the Labor Department's March jobs report released last week. It showed that U.S. employers added 431,000 jobs in the month, with the unemployment rate down to 3.8 percent. Tweeting about the report, President Joe Biden said that it was a "historic recovery" and that "Americans are back at work."
In a statement on Thursday's unemployment report, Biden said that "today's data demonstrate that America is on the move again and the economy is uniquely well-positioned to overcome the global challenges brought on by the pandemic and Putin's War of Choice."
Layoffs, which can generally be tracked by first-time unemployment claims, remained at historic lows during the week ending April 2. In the previous week, ending March 26, 1,523,000 Americans were collecting jobless aid, the Labor Department reported.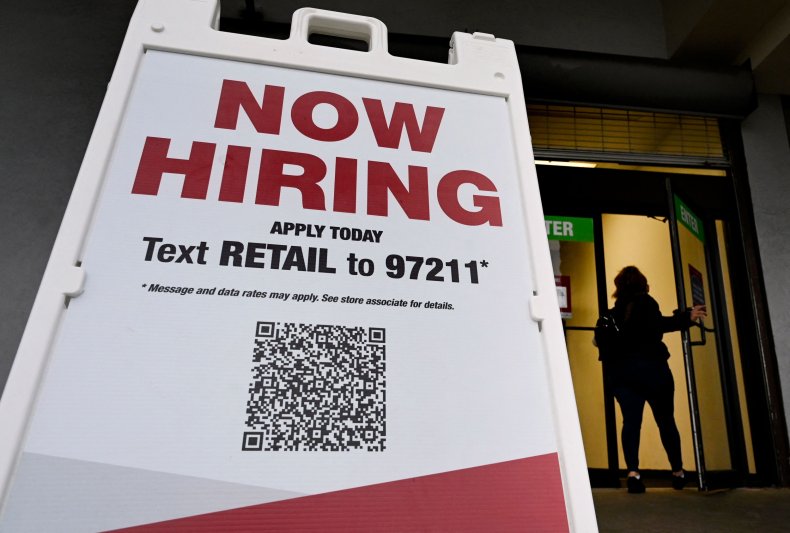 The previous week's unemployment claim numbers were also lower than initially reported. The Labor Department said on March 31 that jobless applications increased by 14,000 to 202,000 in the week ending March 26.
But Thursday's report said the 202,000 figure had been revised down by 31,000 to 171,000. The four-week average reported last week was also revised down, by 30,500, from 208,500 to 178,000.
The four-week average for the total number of people collecting unemployment aid was 1,541,250, a 35,250 decrease from the revised average for the previous week, according to the Labor Department.
March's reported job gains of more than 430,000 made it the 11th straight month in which U.S. employers added at least 400,000 jobs, the Associated Press reported.
Labor Secretary Marty Walsh applauded the report numbers in a statement last Friday.
"With 7.9 million jobs added since President Biden took office and unemployment close to pre-pandemic levels, this strong job growth continues our historic, worker-centered recovery," he said.
Biden, who frequently comments on news about the recovering job market, had not commented on the new Labor Department report by Thursday morning. Newsweek reached out to the White House for comment but did not hear back by publication time.
Update 4/7/22, 2:10 p.m. ET: This story was updated with comments from President Joe Biden as well as additional background and information.