Watch: Seth Meyers Jokes About Trump Firing Comey Saga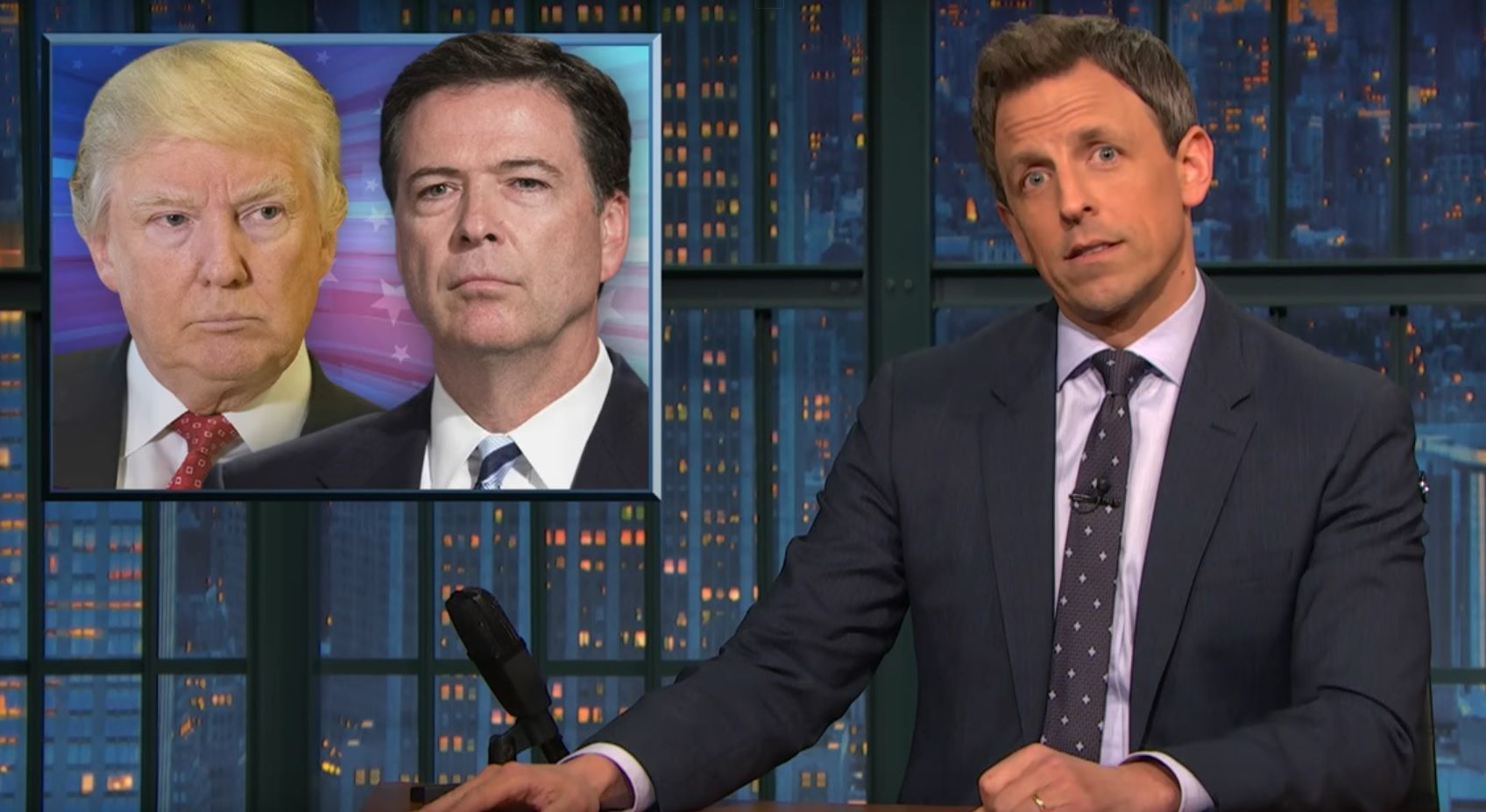 For the third night in a row, U.S. President Donald Trump's ousting of FBI director James Comey dominated discussion on late-night television.
NBC's Seth Meyers took a closer look at the ongoing saga on Late Night with Seth Meyers Thursday, scrutinizing Trump's changing story about why he fired Comey.
The White House has maintained that the president fired Comey Tuesday after receiving recommendations from Attorney General Jeff Sessions and Deputy Attorney General Rod Rosenstein, who cited Comey's handling of an investigation into Hillary Clinton's emails as cause for his dismissal. Meanwhile, critics believe Comey was in fact fired for leading an FBI investigation into collusion between the Trump campaign and Russia during the U.S. election last year.
In an interview with NBC News' Lester Holt Thursday, Trump said he was "going to fire Comey regardless of recommendations" and had already made up his mind.
Meyers's take? Trump "contradicted every argument his team had made on his behalf."
"So, he just admitted that everything the White House has been saying since Tuesday is a lie," Meyers continued.
Related: Stephen Colbert Laughs Off Donald Trump's 'No-Talent Guy' Dig, Challenges Him to Quit Presidency
The comedian joked: "Trump's ego is so huge he can't even let someone else have the spotlight in his alibi. He's like a Scooby-Doo villain."
Meyers also mocked the president's claim that, despite asking Comey directly if he was being investigated for suspected ties to Russia in the election, he knew he wasn't the subject of an FBI probe.
"I guess there's one upside to being sued as much as Trump has—he's an expert on being investigated," Meyers quipped.
Impersonating the president, he added: "Believe me, I know when I'm being investigated...in fact, 'How to Know You're Under Investigation' was one of the most popular classes at Trump University."
Meyers then read part of a New York Times story that alleged a fraught relationship between Trump and Comey in recent months. Comey, it's reported, described Trump as "outside the realm of normal" and "crazy" for insinuating former president Barack Obama had wiretapped him.
The comedian joked: "I like how Comey started with a more flowery term and then just settled on crazy: 'You see, the president doesn't have all his wits about him, he's not exactly playing with a full deck, he's one banana short of a smoothie...I guess what I'm saying is, my dude is cray."