Seth Meyers says Trump is Pissing Off the World—and the Weather Channel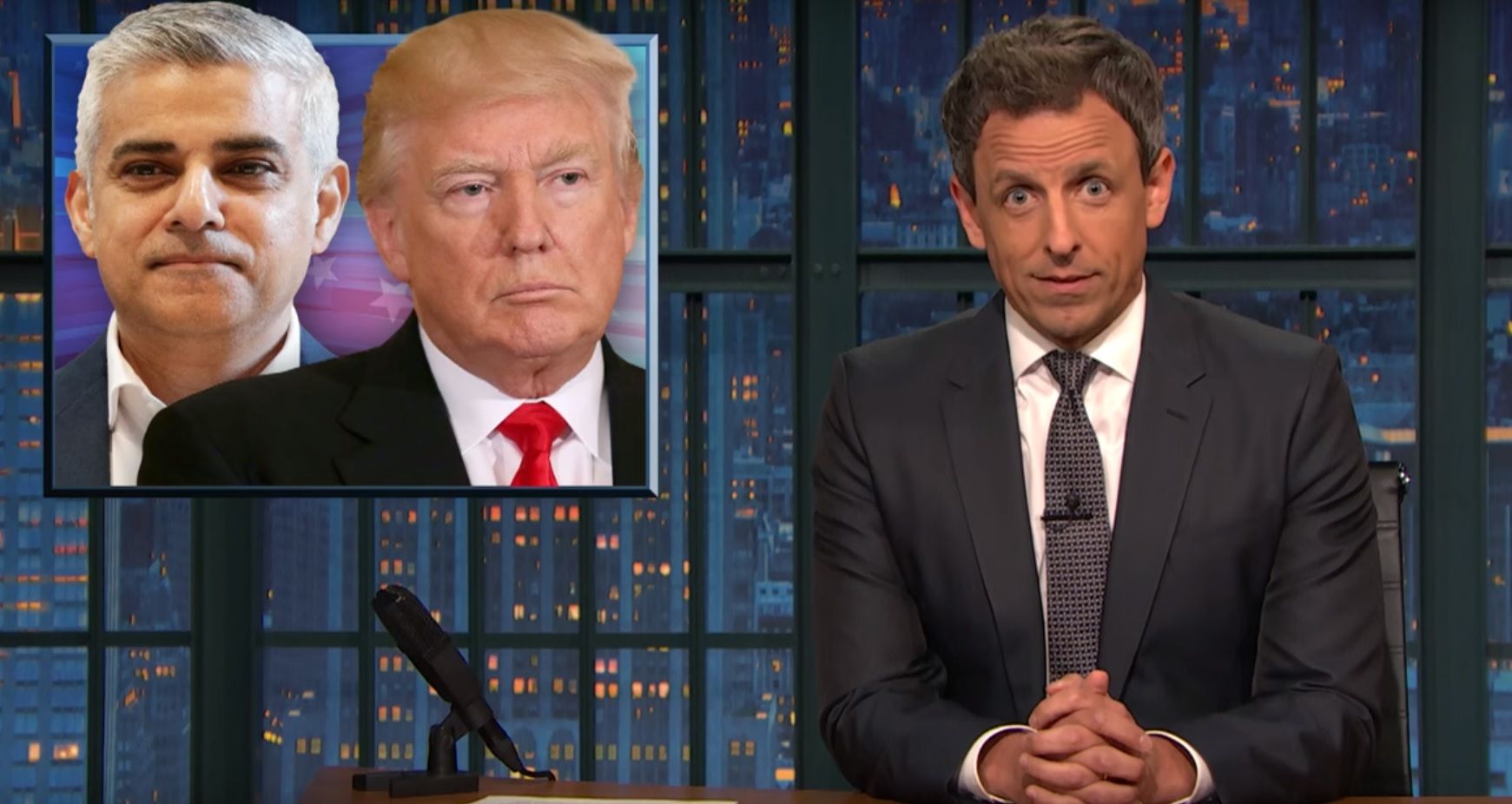 President Donald Trump is doing a fine job—at pissing off the rest of the world, as Seth Meyers put it on Monday night's edition of Late Night on NBC.
The U.S. president has angered allies in the U.K. and around the world over the past week after criticizing London Mayor Sadiq Khan and pulling out of the Paris climate accord.
Meyers reacted to Trump's repeated attacks on Twitter against Khan in the wake of Saturday's terror attack in the British capital. The president quoted Khan telling Londoners "not to be alarmed," but took his words wholly out of context. Khan had told his constituents they should not be alarmed by extra police on patrol Sunday, not that they shouldn't be alarmed by terror threats.. Khan's spokesperson said he had "more important things to do" than "respond to Donald Trump's ill-informed tweets."
"It's true—responding to Donald Trump's ill-informed tweets can be a full-time job. And I know, because it's my full-time job," joked Meyers.
Meyers also skewered Trump for his "reckless and irrational" decision to pull out of the Paris Agreement, which is co-signed by 195 countries to monitor and reduce the risks of climate change. The late-night host read part of a Washington Post report that Trump's recent meeting with new French President Emmanuel Macron provided a "nudge" for him to remove the U.S. from the agreement. According to the newspaper, Trump was "bewildered and irritated" by Macron telling French media his tightly-gripped handshake with Trump was "not innocent."
"So, Trump pulled out of a landmark climate agreement because of a handshake," Meyers quipped. "Let's hope Kim Jong-un never gives him a 'down low too slow', or we could be looking at World War III."
Trump, who has often aired his skepticism about climate change on Twitter, was also scolded by, of all organizations, The Weather Channel.
The channel's website "plastered its homepage with proof about the risks of climate change," said Meyers. Articles included: "So, What Happens to Earth Now?" "Still Don't Care? Proof You Should," and "...and More Proof."
"You know it's bad when you're getting shade from The Weather Channel," the comedian noted.