Virginia Gov. Glenn Youngkin is facing a new legal challenge from seven school boards over his executive order allowing parents to opt out of school mask mandates.
Youngkin, a Republican, issued the order as one of his first acts after being sworn in as governor on January 15. It took effect on Monday, but was ignored by some districts who kept mask mandates in place.
On Monday, the school boards in Fairfax, Richmond, Prince William and Arlington counties and the cities of Alexandria, Hampton and Falls Church filed a lawsuit in Arlington Country Circuit Court seeking to block Youngkin's order. Collectively, they represent more than 350,000 students.
Their lawsuit argues that Youngkin's order is at odds with the Virginia state constitution and state law, placing school boards in a "legally untenable position."
It says the state constitution gives local school boards the authority to run their districts and cites a 2021 state law that requires school systems in Virginia to offer in-person instruction that adheres to the U.S. Centers for Disease Control and Prevention's COVID mitigation guidelines "to the maximum extent practicable."
Those who support Youngkin's order argue that it doesn't violate state law because the CDC only recommends mask-wearing and doesn't mandate it.
"This lawsuit is not brought out of choice, but out of necessity," the school boards said in a joint statement.
"With COVID-19 transmission rates high, our hospitals at crisis level, and the continued recommendation of health experts to retain universal mask-wearing for the time being, this is simply not the time to remove this critical component of layered health and safety mitigation strategies. School divisions need to continue to preserve their authority to protect and serve all our students, including our most vulnerable, who need these mitigation measures perhaps more than anyone to be able to continue to access in-person instruction."
In a message to families about the legal action, Scott S. Brabrand, the superintendent of Fairfax County Public Schools, said: "Our most important responsibility is to our students. Health and safety decisions, and the debate around them, should always be made with their well-being in mind."
Youngkin's spokesperson Macaulay Porter said the administration was disappointed by the legal action.
"We are disappointed that these school boards are ignoring parents' rights," Porter told Newsweek. "The governor and attorney general are in coordination and are committed to aggressively defending parents' fundamental right to make decisions with regard to their child's upbringing, education, and care, as the legal process plays out."
Second Lawsuit
The lawsuit filed by the school boards follows a separate lawsuit filed last week by parents of children in Chesapeake Public Schools, who asked the Virginia Supreme Court to rule that Youngkin's order violates the state law on COVID mitigation in schools.
With confusion over the order swirling, Youngkin said he was confident the courts would rule in his administration's favor. But he urged parents to listen to their children's school principals for the time being.
"Listen to a principal today. And I know that there are some school systems that are doing things that are inconsistent with respecting the rights of parents," he said in an interview with Richmond radio station WRVA. "Let's respect it right now and let this legal process play out."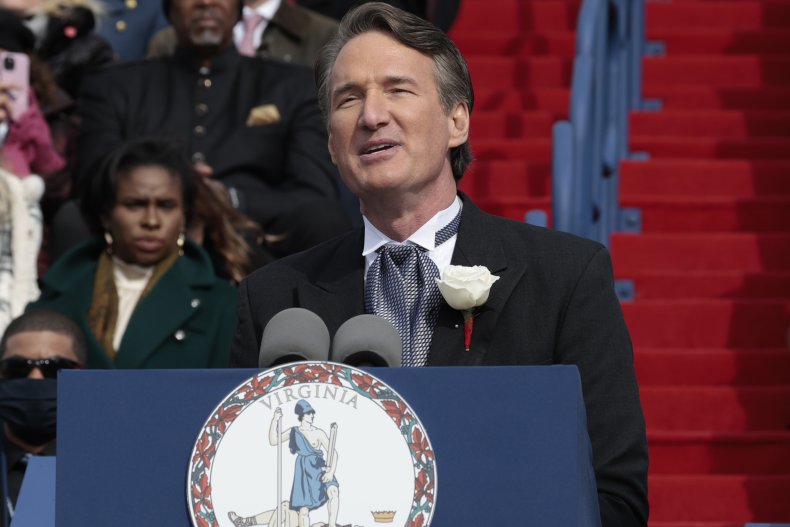 About the writer
Khaleda Rahman is Newsweek's Senior News Reporter based in London, UK. Her focus is reporting on abortion rights, race, education and capital punishment. Khaleda joined Newsweek in 2019 and had previously worked at the MailOnline in London, New York and Sydney. She is a graduate of University College London. Languages: English.
You can get in touch with Khaleda by emailing k.rahman@newsweek.com