Several deaths were reported across the U.S. this weekend, resulting from firework accidents during Fourth of July celebrations.
In Montebello, California, police responded to a call about a fireworks mishap at around 6:30 p.m. local time on Monday evening, according to ABC 7 News. Once on the scene at a home on the 1400 block of Germain Drive, officers found a man lying in the front yard, not breathing and unresponsive. It was later found that he had been using illegal-grade fireworks, resulting in the accident.
Officers worked to administer life-saving techniques until paramedics arrived to take him to a nearby hospital. Despite those efforts, the man was ultimately declared dead by hospital staff. Details about the victim, such as his name and age, have not been disclosed to the public. The investigation into his death is now being handled by the Montebello Police Department's detective bureau and Los Angeles County coroner's office.
Montebello is located in the Los Angeles metropolitan area, south of Pasadena.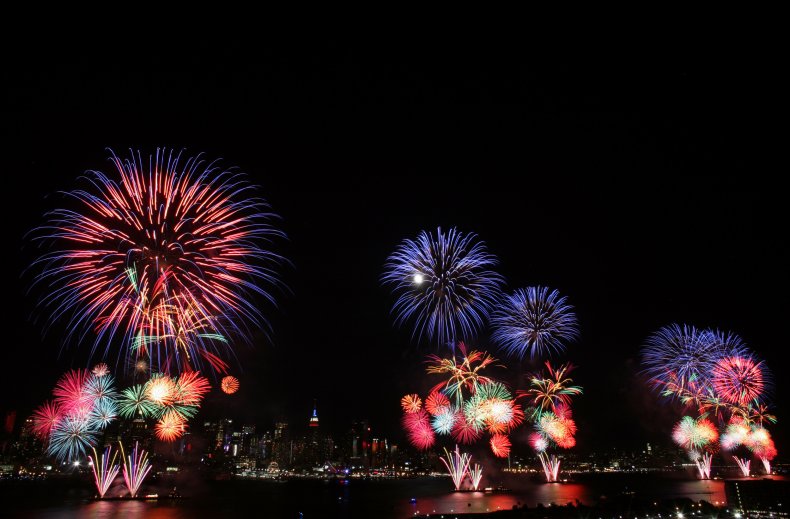 On Sunday, 11-year-old Camrynn Ray McMichael of Mount Vernon, Indiana, died after sustaining major injuries during a "fireworks incident," police told the Evansville Courier & Press. Police arrived at the boy's home at around 9:44 p.m. ET. He was ultimately pronounced dead while being transported to the hospital.
The exact nature of McMichael's injuries had not been reported as of press time. His mother, Kyrra McMichael, did tell the Courier & Press that the incident occurred while the boy was actively playing with fireworks of some sort.
"He's every parent's dream of a boy," Kyrra McMichael wrote in a message on social media. "And because boys are boys, they play with fireworks [and] he is gone. In the blink of an eye. Literally."
Mount Vernon is located roughly 190 miles from Indianapolis.
Elsewhere in the state, a Fort Wayne man was seriously injured and ultimately died on Sunday night while running a fireworks show for his neighborhood. Neighbors told WANE 15 News that the man had put on the display every year for several years. A local nurse, Gail Rosner, attempted to perform CPR on the man after witnessing the incident.
Finally, in Brooklyn Park, Minnesota, police responded to an incident involving fireworks at around 1:30 a.m. local time on Monday, the Associated Press reported. Upon arriving at the scene, officers found an 18-year-old man who had suffered major wounds to his face after some fireworks exploded near his head. A friend attempted to perform CPR at the scene, but the man was pronounced dead later that night at the hospital.
Newsweek reached out to local departments for comment on each incident.