At least 35 people in Florida have recently been hospitalized with severe bleeding after using the synthetic cannabinoid drug known as "spice," according to the state's poison control center.
The cases involve people who have purchased the drug in the Tampa Bay area. Symptoms of illness and have reportedly included bruising, nosebleeds, bleeding gums, vomiting blood, blood in urine and stool, and heavy menstrual bleeding, according to local news station 10 Tampa Bay.
The incidents were first reported by the Florida Department of Health in Hillsborough County last week, which warned that several people had gotten "severely ill" after smoking the synthetic drug. Those who became sick showed symptoms associated with a condition called coagulopathy, which is experienced when the blood's ability to clot is impaired, the outlet reported.
"We are currently treating several patients with severe bleeding who recently used a synthetic cannabinoid (known as 'Spice')," Florida Poisons Control wrote in a news release on December 6. "If you or someone you know is bleeding after using spice or marijuana, call us at 1-800-222-1222 or go to the nearest emergency room. Our doctors, pharmacists and nurses are available 24-7 if you have any questions."
The control center added that symptoms "may develop and progress rapidly." Alerts have since been sent to all emergency departments in the area who have been asked to report any new cases of illness.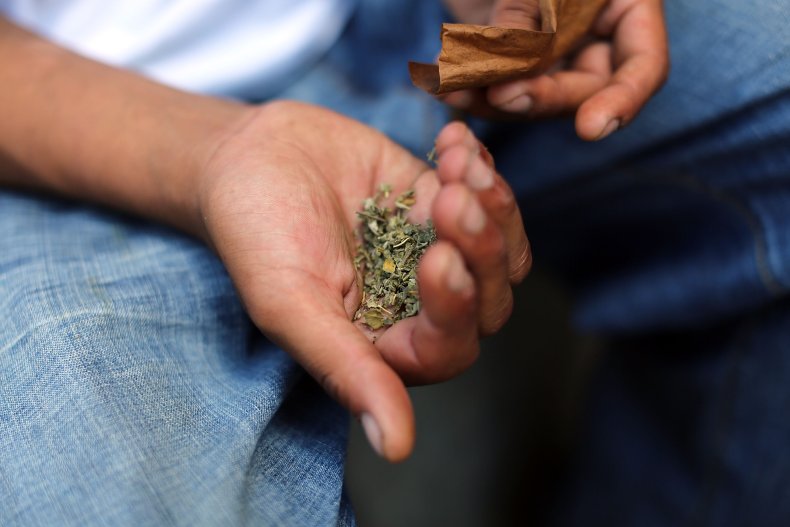 "We are closely monitoring this situation and working with public health agencies," it said. "Toxicologists and poison specialists are assisting hospitals in the treatment of these poisoned patients."
Spice, according to the National Institute on Drug Abuse, is an illegal mix of herbs and laboratory-made chemicals that has often been called "synthetic marijuana" or "fake weed" because some of the chemicals in it have similar effects to those found in marijuana.
"Spice is most often labeled 'not for human consumption' and disguised as incense. Sellers of the drug try to lead people to believe it is 'natural' and therefore harmless, but it is neither. In fact, the actual effects of spice can be unpredictable and, in some cases, severe or cause death," the institute says on its website.
Spice is a relatively new drug, with its sale only beginning in the early 2000s. Researchers have since discovered more than 150 different types of synthetic marijuana compounds, CBS News previously reported.
The chemicals found in spice attach to the same nerve cell receptors as THC, which is the main mind-altering ingredient in marijuana. However, the National Institute on Drug Abuse has warned that chemicals in spice could cause stronger effects, resulting in health issues that can be "unpredictable and dangerous."
"There are many chemicals that remain unidentified in products sold as spice and it is therefore not clear how they may affect the user. It is important to remember that chemicals are often being changed as the makers of spice often alter them to avoid drug laws, which have to target certain chemicals," the institute added.
Individuals in Florida who have experienced any symptoms related to spice consumption should contact the police immediately, or call the Florida Poison Information Center in Tampa.