'Sex And The City' Reboot: Why Kim Cattrall Is Not Returning As Samantha
Sex and the City is the latest show to be getting a reboot, with HBO Max confirming a new series starring Carrie (played by Sarah Jessica Parker), Miranda (Cynthia Nixon) and Charlotte (Kristin Davis). That means, of course, that Kim Cattrall is not expected to return as Samantha Jones, the sex-positive PR guru who gave the HBO show many of its best lines and moments.
SATC fans, however, are unlikely to be surprised by the news that Samantha will not be appearing in the HBO Max revival. The project was first teased in December 2020 without her involvement, and the actor has long said that she has no desire to return to the role that won her a Golden Globe.
The Mannequin actor, for example, revealed that she declined to reprise her role way back in 2016, when plans were in motion to make the movie Sex and the City 3. After a Daily Mail article claimed that the movie had been canceled because Cattrall had demanded Warner Bros. greenlight another of her project in return for her appearing in SATC3, Cattrall tweeted, "Woke 2 a @MailOnline [poop emoji] storm! The only 'DEMAND' I ever made was that I didn't want to do a 3rd film....& that was back in 2016."
Then, Cattrall appeared on Piers Morgan's U.K. talk show, and was asked whether she would ever play Samantha again. She said: "Not for me. That was part of turning 60. That was a very clear moment of how many years do I have left and what do I want to do with it? What haven't I done? I feel that the show was the best when it was the series and the bonus was the two movies."
Asked about what happened with the third movie, she said: "The answer was simply thank you, but no, I'm good. This isn't about more money. It's not about more scenes. It's not about any of those things."
In this same interview, as well as saying the show should recast the role with a person of color, Cattrall began to dish the dirt about her true feelings about Sarah Jessica Parker, saying: "This is really where I take to task the people from Sex and the City, and specifically Sarah Jessica Parker...I think she could've been nicer. I really think she could've been nicer. I don't know what her issue is."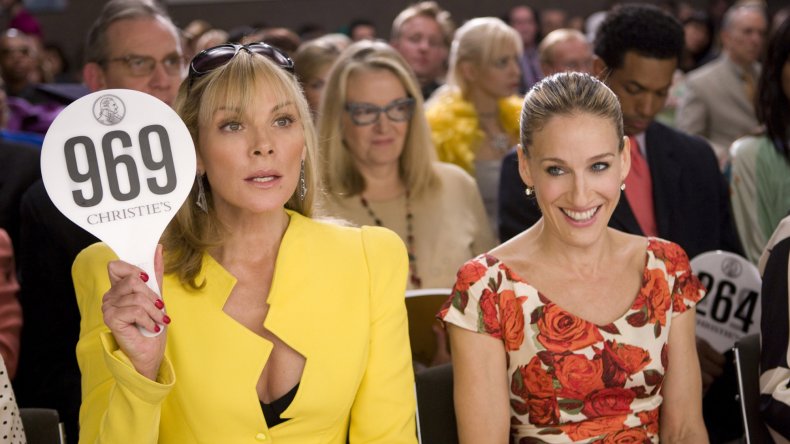 Gossip columns were filled with rumors about Cattrall's behavior on set and of a Parker/Cattrall feud—rumors that were fuelled by Cattrall hitting out at Parker for "exploiting our tragedy" after she sent condolences to the Samantha star after the death of her brother.
However, in October 2018, SJP seemed to hint that there could be no more Sex and the City without Cattrall, telling a fan on Instagram: "Not sure if I can imagine doing another movie without her."
The actor was clearly in two minds about whether the show could continue, however, earlier that year, she had joked to Ellen DeGeneres: "I think there's a period of grief, a mourning process. And then perhaps we'll consider, say for instance, you playing Samantha."
Sex and the City is coming soon to HBO Max.