'Sex/Life': What We Know About How Real That Shower Scene Is
Sex/Life is Netflix's latest sexually explicit drama that viewers are devouring around the world, but it is not a sex scene that has most people heading to Google to find out how real it is.
In Episode 3 of the popular Netflix series, we are in the shower with Brad (Adam Demos) when the camera lingers on his gigantic penis—an appendage that might even make Boogie Nights' Dirk Diggler feel a little inadequate in the trouser department.
Search on the Netflix film has been dominated by this scene, with the majority of inquirers asking the first question that jumps to mind: whether it is real. The makers of the show have been coy about this, but there are some things we can learn from a closer look at the film.
How real Is That 'Sex/Life' Shower Scene?
In a Collider interview, series creator Stacy Rukeyser confirmed that it was Demos in the shower rather than a body double, but would not confirm if what we saw was all him. She said: "People usually ask is it real or is it a prosthetic? And I can tell you what Adam Demos says about it which is, a gentleman never tells. So, we are leaving that up to the viewer's imagination."
Though Rukeyser would not be drawn to confirm whether the penis is prosthetic, a member of the prosthetics team confirmed to Newsweek that the scene does indeed feature a prosthesis. In fact, there are prosthetic sex parts elsewhere in the show, and the prosthetics team has experience making fake penises—including ones even larger than that in Sex/Life.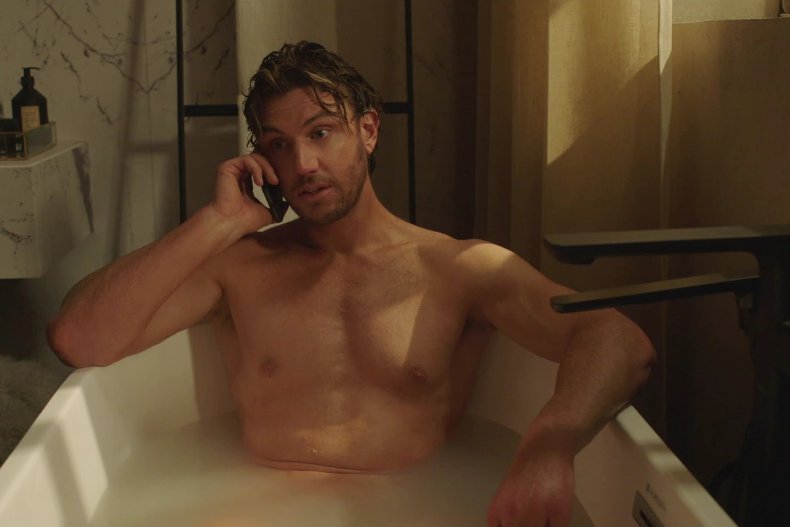 In a scene in which the character of Billie had to breastfeed, actor Sarah Shahi confirmed to Entertainment Weekly that she was wearing prosthetic breasts. She told the magazine: "Something like Billie's boobs, in the past every time you see my character with Brad, that's me. Then because I do play a breastfeeding mother, I can't have the same boobs in the present. So yeah, I had to sit through three hours of prosthetic boob application to get those suckers on."
Per IMDB, the series' special prosthetic effects were provided by François Dagenais and Tenille Shockey. The former, who is better known for producing some amazingly graphic gore effects for shows like Hannibal, told Newsweek the assignment was "a bit different than what we usually do but hey! We were also involved with changing Sarah's breasts through the flashbacks."
The latter also has a past in creating prosthetic genitals. Streaming viewers most recently saw her work in this area in The Boys Season 2, Episode 6. In this episode, fans were introduced to Love Sausage (Andrew Jackson), a character whose superpower was an extending, prehensile penis. That penis was made by Shockey, who released some fairly NSFW images of the prosthetic from the set.
In an Instagram post, she revealed: "They asked for it to be 2 feet, but it looked a little short for what it had to do, so I seemed 2 together to double the length."
She later joked: "Dont get me wrong size doesn't matter, it was just to short to strangle someone!!" Also on her Instagram, she detailed the process of making prosthetic vaginas.
In 2020, Shockey also had to create makeup effects for horror movie Violation, which features another prosthetic appendage. In a Slash Film article, the director said of this: "There was a moment where we knew we needed a prosthetic penis because we were actually hitting the dummy in the head with the bat, so it was, it's like a blink of an eye, you see a dummy holding his own prosthetic penis."
Sex/Life is streaming now on Netflix.
Update 7/01/21 12:15 p.m. ET: This article has been updated with additional information provided by the prosthetics team.