Sex Worker Allegedly Burned Alive by Customer for Having Quran
A sex worker has reportedly been beaten and burned alive after "customers" discovered a Quran in her possession that went against religious tenets.
The crime occurred in April in Nigeria's largest city of Lagos. Pulse reported that the female victim was Hannah Saliu, who worked in Lagos and was allegedly killed by one of her customers and his friends.
The customer reportedly paid Saliu 1,000 Nigerian Naira, which converts to $2.58 in U.S. dollars. After the customer was sexually gratified, he reportedly left the location.
However, Saliu reportedly realized that he had allegedly stolen 5,000 Naira from her safe and chased after him—accusing him of the alleged theft.
When the customer reportedly returned to search the room for the money, he allegedly brought two friends with him. That was when a Quran was discovered under Saliu's pillow.
An unnamed source told Punch that the three suspects questioned the sex worker for possessing a copy of the Quran. That was when the men reportedly "became infuriated by the discovery, pounced on her, beat her up and set her ablaze."
"The incident happened at Alaba Rago, where a lot of Northerners reside," the source added. "The girl that was killed also came from the North. Their grouse was that she was not supposed to be carrying (the) Quran because of the kind of work she was doing."
Newsweek contacted Lagos police spokesperson Benjamin Hundeyin. He confirmed the incident to Punch, adding that all three suspects have been charged and that the case is being tried at the State Criminal Investigation Department.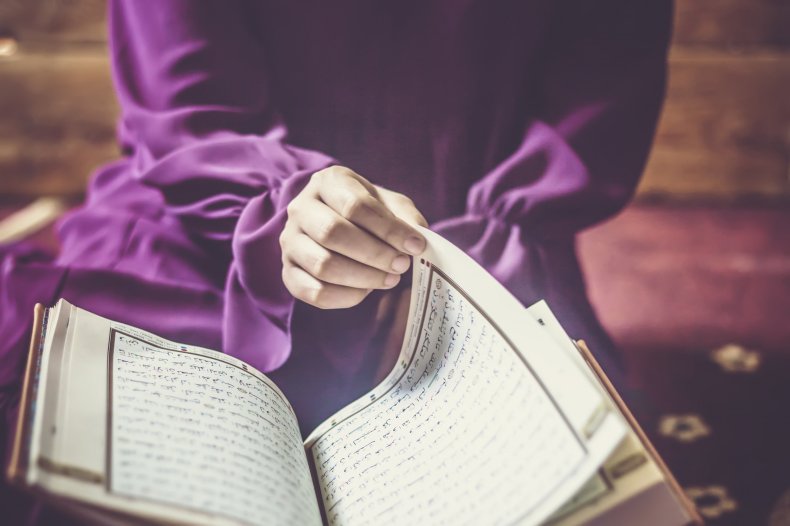 Premium Times reported that in May the Lagos state government issued a 14-day eviction notice to occupants of Alaba Rago market, referring to the market as a "criminals den."
In that same month, a "misunderstanding" over finances led to motorcyclists allegedly killing a sound engineer in a similar fashion to Saliu, reported CG Cable, beating him unconscious before setting him ablaze.
That victim, who was joined by his saxophonist and keyboardist friends, were reportedly on their way to the studio when they were accosted by the motorcyclists.
Hundeyin said after that incident that four suspects had been arrested and charged.
The Sex Workers Project has referenced global data showing that sex workers have between a 45 percent and 75 percent chance of being sexually victimized on the job. It also mentioned a 2004 United Nations report, with information provided by three sex worker advocacy organizations at that time, stating that police violence against sex workers has a pattern that includes "assault, sexual harassment, public 'gender searches' (police strip searches for the purpose of viewing genitalia) and rape."
An exploration of sex worker deaths in the United Kingdom, conducted by professors at the London School of Hygiene & Tropical Medicine and the University of Leicester, found that women accounted for the vast majority of victims and that most victims were street-based workers.
This trend remained consistent from 1990 and 1999, and also between 2000 and 2009. And since 2011, more indoor sex workers have been murdered than street-based sex workers.
"This is likely to be because most sex work now happens indoors as street markets have declined and the internet has become the preferred place for advertising and marketing," the authors wrote. "It may also be the case that working alone indoors presents greater risks."
A 2022 study, titled "Exposure to job-related violence among young female sex workers in urban slums of Southwest Nigeria," argued that "there is need for proper regulation and protection" in Nigeria regarding younger female sex workers.
Multiple stories have been told about sex work, or prostitution, being done to support women financially or otherwise. Sometimes, women have been argued to be too upfront about their profession.