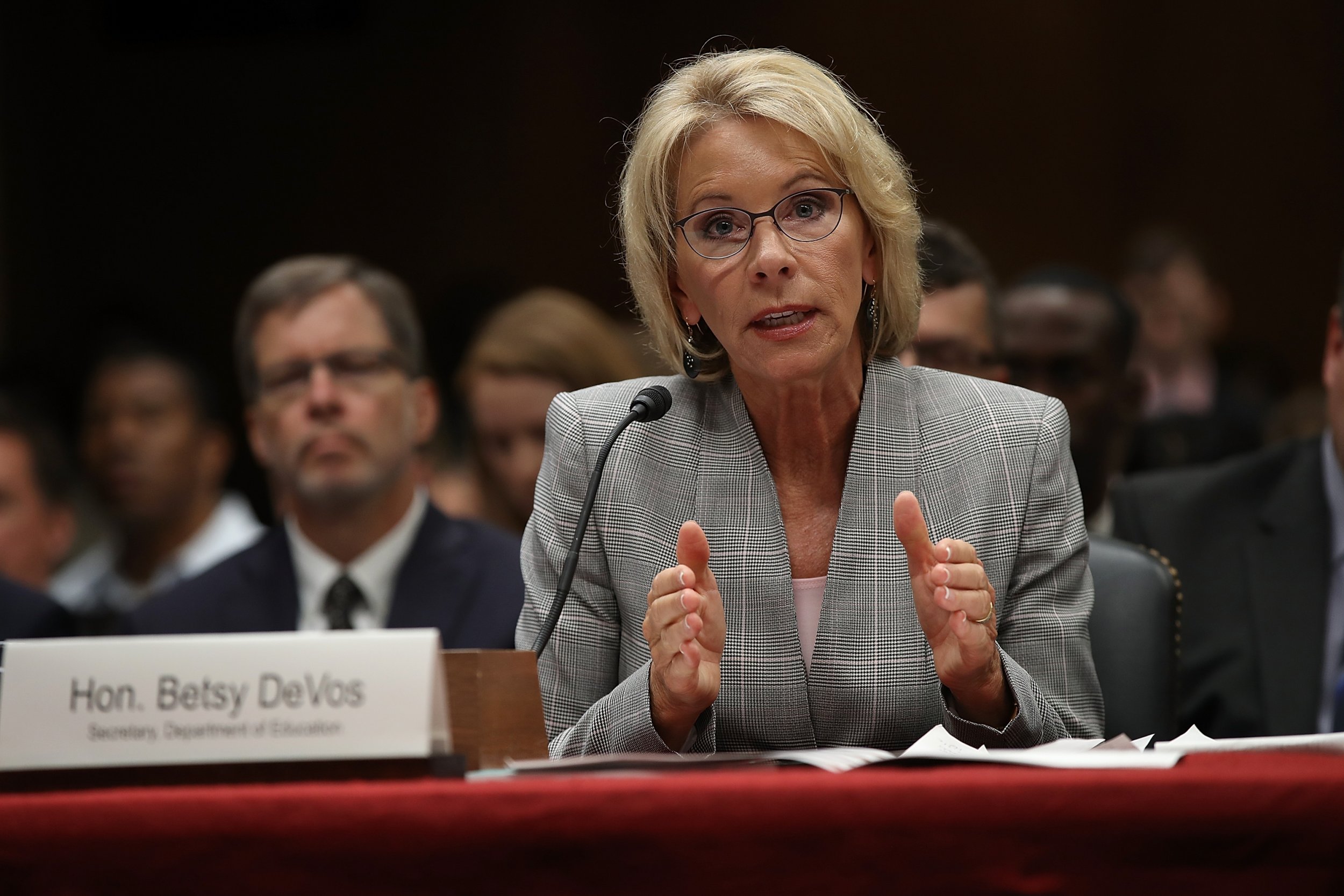 The Department of Education is abandoning guidance it issued under former President Barack Obama regarding Title IX, the federal law that prohibits sex discrimination in federally funded education programs. That guidance helped push forward a movement against campus sexual assault, but advocates for accused students have claimed it violated due process rights.
"The era of 'rule by letter' is over," U.S. Secretary of Education Betsy DeVos said Thursday at an event at George Mason University, adding that the department would seek public input on how to change the guidance.
Related: The other side of the college sexual assault crisis
In 2011, the Department of Education's Office for Civil Rights (OCR) published a 19-page "dear colleague" letter stating that sexual violence falls under sexual harassment, which in an education setting is covered by Title IX. OCR said that it would investigate schools to determine if they were mishandling sexual assault complaints and that it might withhold federal funding from schools found to be doing so.
"We were seeing quite a bit of noncompliance and quite a bit of concern around the country," Catherine Lhamon, then the assistant secretary for civil rights at the Department of Education, told Newsweek in 2015. "I think we've seen just a cataclysmic change around the country in terms of attention to the issue, responsiveness to it and training, preparation for our students so that we can see safer campuses." She said complaints to the department about sexual violence at colleges had by then increased more than 400 percent.
But advocates for students accused of sexual assault, who are usually men, and some academics and legal analysts have criticized the 2011 guidance. "A growing number of people are starting to be concerned that the pendulum has swung too far in the other direction," Samantha Harris, vice president of policy research at the Foundation for Individual Rights in Education, a nonprofit, told Newsweek in 2015. That organization has participated in a lawsuit against the Department of Education over its Title IX guidance.
"One assault is one too many. One aggressive act of harassment is one too many. One person denied due process is one too many," DeVos said Thursday.
To those tracking the Title IX issue, the announcement on Thursday was not surprising. In January, during her Senate confirmation hearing, DeVos refused to say whether she would uphold the 2011 guidance. After the confirmation, advocates for victims of sexual assault launched efforts to convince her to maintain the Obama-era protections. In July, the education secretary met with advocates for sexual assault victims and with advocates for accused students, including some who have been described as "men's rights" activists. DeVos's family foundation has given at least $25,000 to the Foundation for Individual Rights in Education, an organization that has supported accused students and participated in the lawsuit against the department.
In a statement, the group Know Your IX said, "Today, Secretary DeVos sent the message to student and survivors across the country that the Department of Education doesn't have their back.... Today's announcement risks taking us back to the days when sexual violence routinely compromised survivors' access to education and schools swept sexual assault under the rug."
Another group, End Rape on Campus, tweeted, "As narratives of false equivalency come from @BetsyDeVosED, remember: The people who suffer most from rape are people who are raped. Period."
Advocates for the accused are saying otherwise. "Six and a half years of this failed policy have left us with a system that victims still don't trust and that the accused have every reason to believe is stacked against them," Robert Shibley, executive director of the Foundation for Individual Rights in Education, said in a statement. "It's time to rescind the 'dear colleague' letter and replace it through the lawful regulatory process so that everyone can have a say."
"I think it's a very positive sign," says Andrew Miltenberg, a lawyer who by his count has represented more than 150 accused students. "I think that Secretary DeVos spoke in a very measured, deliberate manner about the need for real protections for people accused in sexual assault on campus, and spoke at the time of the need to maintain an environment on campus that doesn't encourage it and stops sexual assault dead in its tracks."
But DeVos will have to go further, according to Miltenberg. "I think this is a great start, but I think that you're not going to simply be able to legislate this away.... Until there is a change not only at the policy and legislative level, but a change in the experience, professionalism and attitudes of the people tasked with the [campus] investigations and the hearings, this is only a partial remedy."
DeVos has been a controversial figure in the Trump administration. In February, days after the Senate confirmed her nomination, protesters blocked her from entering a school in Washington, D.C. In May, graduating seniors at Bethune-Cookman University in Florida turned their backs on DeVos and heckled her as she spoke at their graduation. Under DeVos, the Department of Education has also withdrawn Title IX guidance on transgender students. The department has also proposed cutting 40 staffers from its civil rights office in 2018.