The Cannabis Council is the latest prominent voice backing American sprinter Sha'Carri Richardson after she was banned from the Tokyo Summer Olympics following her positive test for marijuana.
Calls are growing for the one-month ban on Richardson imposed by the U.S. Anti-Doping Agency (USADA) to be overturned following her positive test after the Olympic Trials in Eugene, Oregon, where recreational and medicinal cannabis use is legal.
Richardson, a gold medal contender for the 100 meters, had revealed she had lost her biological mother, disclosing that she took the drug to deal with the "emotional panic" she felt.
"I want to take responsibility for my actions," Richardson told the Today show on Friday, "I'd just say don't judge me, because I am human."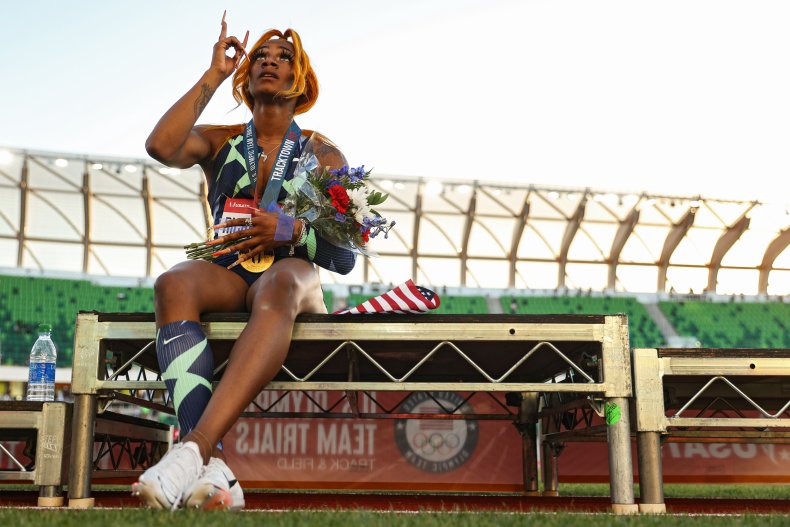 Meanwhile, U.S. Cannabis Council interim president Steven Hawkins said that despite the "sweeping change" in attitudes towards cannabis consumption and that the drug was not a performance-enhancer, Richardson, "still suffers at the hands of the outdated policies" of USADA.
"We find this abhorrent and call, not only for the end of federal prohibition but for the descheduling of cannabis—which will allow for appropriate research alongside the removal from the World's Anti-Doping Agency," he said in a statement to Newsweek.
It comes as political momentum builds in Richardson's favor. On Saturday, Representative Alexandria Ocasio-Cortez (D-NY) joined Representative Jamie Raskin (D-MD) in sending a letter to express dismay at the suspension, which was based on "antiquated prohibition on the use of cannabis."
"Their decision lacks any scientific basis. It's rooted solely in the systemic racism that's long driven anti-marijuana laws," the letter said.
Fellow New York Representative Nydia Velazquez tweeted on Saturday, "This is wrong. The criminalization of marijuana is antiquated and stems from America's racist so-called "War on Drugs."
"This should be overturned and we need to get with the times and finally legalize marijuana from the federal level. #LetShaCarriRun," she added.
White House spokesperson Jen Psaki said on Friday that the decision was an independent one made by USADA and praised Richardson as "an inspiring young woman" who has "gone through a lot, personally."
USA Track & Field said in a statement on Friday that Richardson's situation was "incredibly unfortunate and devastating for everyone involved."
"Athlete health and well-being continue to be one of USATF's most critical priorities, and we will work with Sha'Carri to ensure she has ample resources to overcome any mental health challenges now and in the future."