Shadowy Group Jane's Revenge Claims Attacks on Anti-Abortion Targets
The shadowy abortion rights group Jane's Revenge has said its members are responsible for nearly two dozen of more than 100 attacks, if not more, on anti-abortion clinics and churches across the nation since the public learned in May of the Supreme Court's intention to overturn Roe v. Wade.
Following the leaked news of the Court's impending decision, which revoked the constitutional right to abortion in June, churches, pregnancy clinics and anti-abortion organizations were targeted in attacks involving firebombing, vandalism and ransacking, among other actions. No arrests have been made in conjunction with the attacks, but Jane's Revenge has claimed responsibility for at least some of them.
The underground group takes credit for the attacks by posting to an anonymous blog. Its posts are signed in various ways, such as "Joyfully yours, Jane" or "In revolutionary joy, Jane's Revenge."
The most recent post was written in early July, when the group took credit for attacking Problem Pregnancy and Clearway Clinic, which is in Massachusetts. The post included photos of vandalism, such as messages written in spray paint and smashed doors and windows.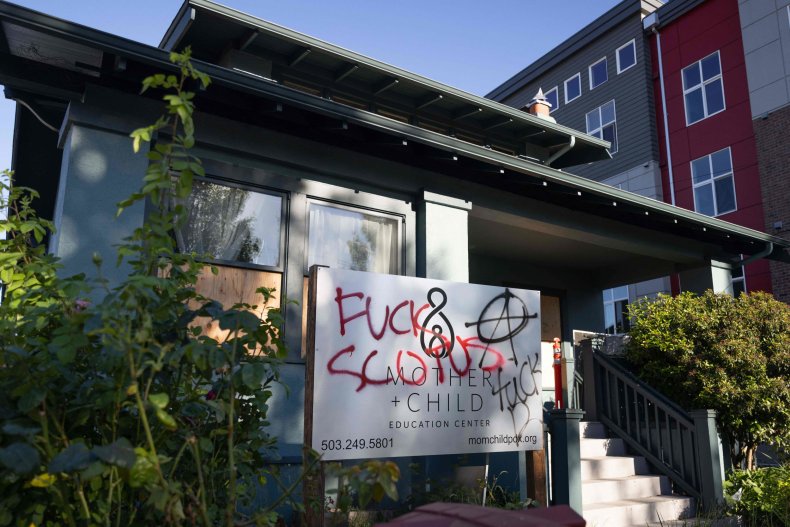 "The [a**holes] who lie to vulnerable pregnant people about abortion to confuse them and convince them to not seek abortions discovered this morning that their buildings had been redecorated with paint and broken glass," the post said. "As others have said, it is fun and easy to attack."
The post went on to say the attacks would continue with increasing frequency as "more people discover the joy in attacking the infrastructure of the patriarchy."
"To anyone reading this thinking that it sounds like a good time, consider this your invitation to join the party," the post said.
Representative Jim Jordan, a Republican representing Ohio, took to Twitter Friday afternoon to express his strong opposition to the protest tactic. He urged law enforcement authorities to take action against those claiming responsibility for the attacks.
"More than 100 pro-life organizations have been attacked since the Dobbs leak," Jordan tweeted, referring to the Supreme Court's decision in Dobbs vs. Jackson Women's Health Organization. "Can you imagine the media outrage if 100 pro-abortion organizations were attacked? Where's the DOJ?"
Jordan's tweet received thousands of responses within hours after posting.
Some of the organizations under attack were targeted more than once, according to Fox News.
An anti-abortion pregnancy center in New York turned over surveillance footage and other evidence to police and, more than three months later, is frustrated that arrests still haven't been made. The center's CEO, James Harden, alleges that the surveillance footage shows license plates and that clear figures are seen damaging the center.
Harden asked the police to return the evidence so he could make copies of it, according to the National Catholic Register. Apparently, his request wasn't met, so Harden sued the police.
Last month, rising frustration spurred Representatives Chris Smith and Cathy McMorris Rodgers, both Republicans, to co-sponsor a bill requiring President Joe Biden's administration to publicize its investigation and prosecution of the attacks on pregnancy centers.
Jane's Revenge didn't post a blog item about the attack on Harden's center in New York, but according to the National Catholic Register, the group took responsibility for the attack. It is not certain how many of the attacks were committed by the organization. Most of the blog posts on its website are from June.
Newsweek reached out to McMorris Rodgers' office, Smith's office and Jane's Revenge for comment.