Who Is Shane Gillis? New 'SNL' Cast Member Apologizes 'To Anyone Who's Actually Offended' for Using Asian Slur in Podcast
New Saturday Night Live cast member Shane Gillis is already under fire after it emerged he used a racial slur in an episode of his podcast last year.
Gillis was announced as a member of the SNL Season 45 cast on Thursday alongside Chloe Fineman and the show's first Asian-American cast member, Bowen Yang.
However, after the news broke, journalist Seth Simons resurfaced insensitive comments Gillis made last year about people of Asian, specifically Chinese, heritage.
In a clip posted to Twitter, Gillis can be heard saying "Chinatown is f***ing nuts" while mocking the Chinese accent. He goes on to say, "Let the f***ing ch***s live there."
Gillis and his podcast co-host Matt McCusker continued to mock Chinese accents, describing it as a "hassle" to order food at Chinese restaurants.
According to Simons, the clip is taken from a September 2018 episode of Matt and Shane's Secret Podcast, though the episode has since been removed from YouTube.
Vulture reports that in another episode Gillis and McCusker called comedians Judd Apatow and Chris Gethard "white faggot comics" and "f***ing gayer than ISIS" for using a confessional style in their routines.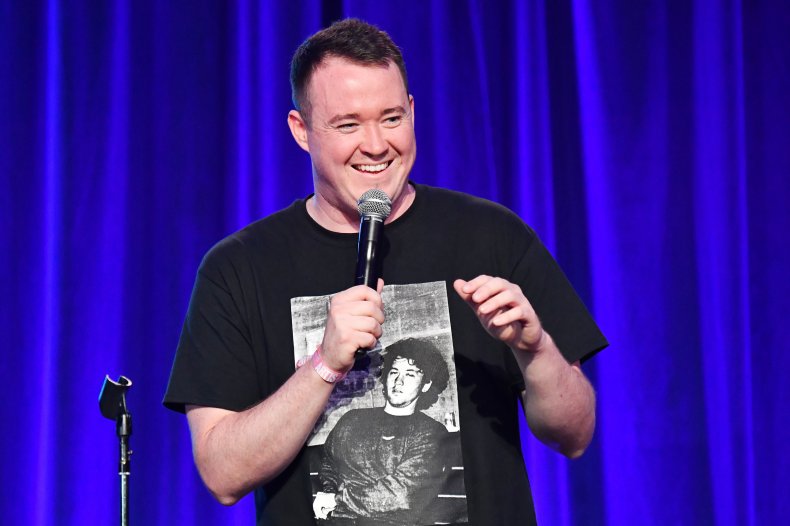 In a statement published on his Twitter account, Gillis responded to the criticism over his language, saying he is "happy to apologize to anyone who's actually offended by anything I've said."
The statement said: "I'm a comedian who pushes boundaries. I sometimes miss. If you go through my 10 years of comedy, most of it bad, you're going to find a lot of bad misses. I'm happy to apologize to anyone who's actually offended by anything I've said. My intention is never to hurt anyone but I am trying to be the best comedian I can be and sometimes that requires risks."
Just hours earlier, NBC announced Gillis, Yang and Fineman would join the SNL cast for its new season premiering September 28.
Yang becomes the show's first Asian-American cast member after joining SNL as a writer. The comedian made a brief appearance during Season 44 as Kim Jong-un in a sketch opposite Killing Eve star Sandra Oh.
Yang, who is of Chinese heritage and gay, told NBC News in June he loved SNL growing up and working on the show was a dream come true.
"I thought going in that I had to have this very broad, very palatable sensibility that works for everybody but then the stuff that I'm the most proud of, and probably even got the most success from, was outwardly an expression of queerness or gayness. That's been a nice surprise," said Yang of his writing work last season.
The new casting news follows veteran SNL star Leslie Jones recently announcing her departure from the show.