Black Lives Matter Leader Shaun King Denies He Lied About Race and Assault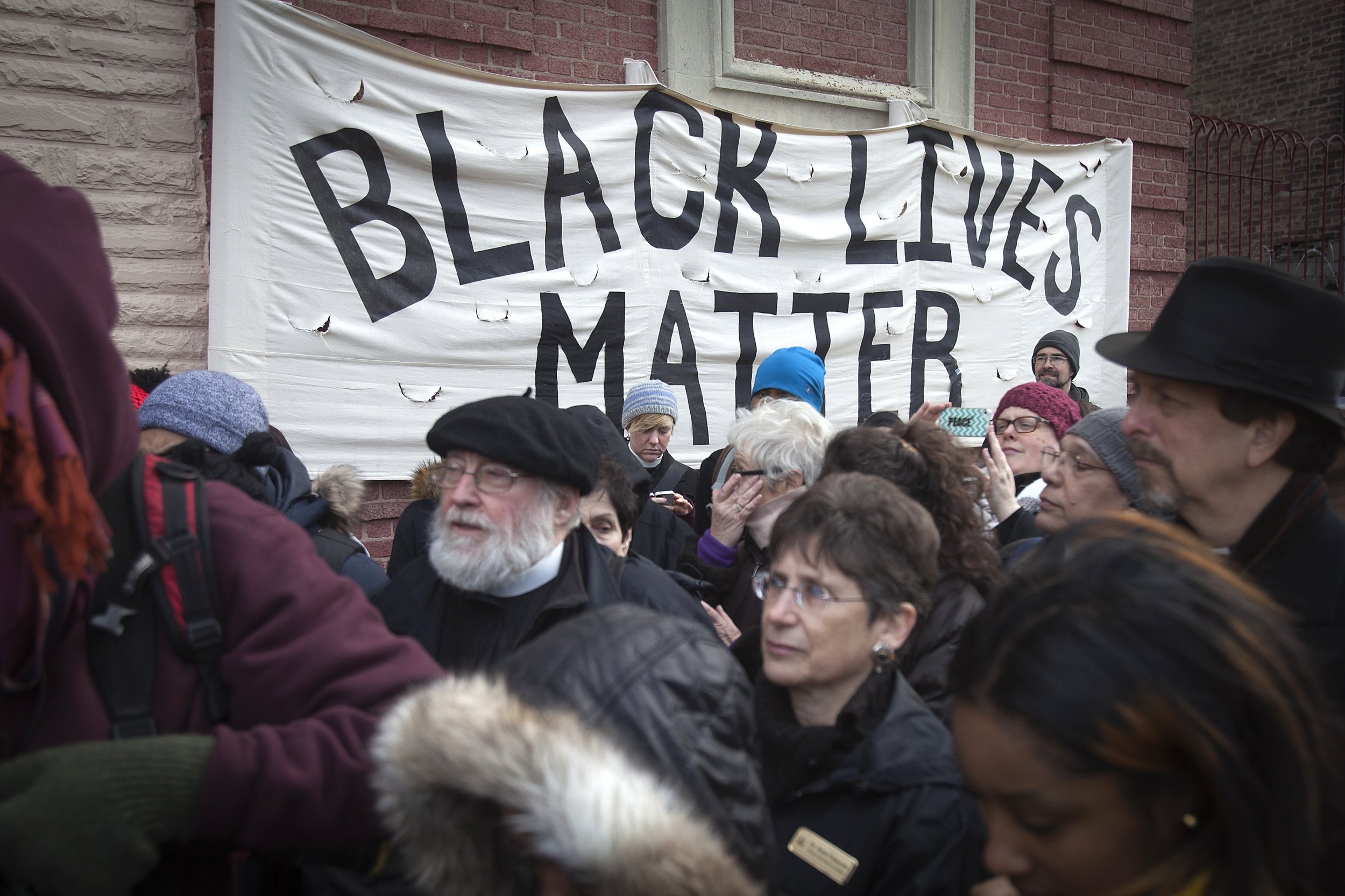 Black Lives Matter activist and blogger Shaun King has denied through his social media accounts that he lied about being biracial and the victim of a racially charged assault.
Over the past few weeks, several conservative media websites have published posts discrediting pieces of information King, 35, has shared about his life. King became a prominent leader in the Black Lives Matter movement after the fatal police shooting of 18-year-old Michael Brown in Ferguson, Missouri, on August 9, 2014.
On Wednesday, conservative website Breitbart published a piece that notes a claim by an investigative blogger that King lied about his race to qualify for a scholarship from Oprah Winfrey at Morehouse College, a historically black institution in Atlanta. Morehouse tweeted that the college has no comment on the allegations against King, nor does it grant admissions or scholarships based on race.
Breitbart claims to have acquired a King birth certificate that shows a white man is his father. The piece goes on to cite a 2012 interview where King said he was the son of a black father and white mother.
Media outlets also have doubted King's claim that he was the victim of a racist assault when he was a student at Woodford County High School in Versailles, Kentucky, in 1995. King has said he was hurt so badly that he missed 20 months of school and underwent several surgeries. The Daily Caller first publicized the police report from the incident, in which King's race is designated as white.
Keith Broughton, the investigating detective in the assault case, told The New York Times that he didn't ask King about his race when he filled out the form relating to the incident but instead based the information on King's light skin and white mother.
King, who has more than 172,000 followers on Twitter, went to his account to speak out against the accusations this week. He cited and discredited lies he said are included in the Breitbart article.
15. First, Breitbart has 3 main sources. Vicki Pate (a known white supremacist) and @TheBlaze & @TheDailyCaller (who we already refuted).

— Shaun King (@ShaunKing) August 19, 2015
25. First off, the key facts about my biological relatives are all wrong. They tried, but my family, like many of yours, is one big mess.

— Shaun King (@ShaunKing) August 19, 2015
29. If you have known me from when I was in elementary school at Huntertown Elementary until now, you've known me as black or bi-racial.

— Shaun King (@ShaunKing) August 19, 2015
30. I did not concoct a lie about my race to get into @Morehouse. I did not concoct a lie about my race to get an @Oprah scholarship.

— Shaun King (@ShaunKing) August 19, 2015
31. Every single person who knows me BEYOND Twitter, beyond trending topics and HIT PIECES, knows I have never lied about my race.

— Shaun King (@ShaunKing) August 19, 2015
32. Out of LOVE for my family, I've never gone public with my racial story because it's hurtful, scandalous, and it's MY STORY.

— Shaun King (@ShaunKing) August 19, 2015
King didn't respond to Newsweek's request for additional comment. He referred other media outlets to his comments on social media.
The accusations against King are similar to those faced by Rachel Dolezal, a civil rights advocate who has been suspected of falsely claiming she is black. She was the leader of the Spokane, Washington, branch of the National Association for the Advancement of Colored People before she resigned in June amid the controversy.
Her family said she had been pretending to be African-American for most of her life. Dolezal's parents are both white. Despite the scandal, Dolezal continues to say she identifies as a black woman.
The Black Conservatives Fund, a black conservative organization, has offered to give $25,000 to Black Lives Matter if, in the next 24 hours, King can "authenticate his claim, that he is in fact, black," according to a statement posted Thursday on the organization's website.
Actually, I'm going to keep doing what I've been doing and attack police brutality with every fiber in me. Hell, I'm doubling down now.

— Shaun King (@ShaunKing) August 19, 2015