Former NXT Women's Champion, Shayna Baszler arrived on WWE's Monday Night RAW to attack Becky Lynch in what became a bloody encounter.
Lynch successfully defended the RAW Women's Championship against Asuka in a long, competitive match on the February 10 episode of the WWE's flagship show. However, Baszler quickly ran into the ring and attacked Becky Lynch from behind in front of a booing Ontario, Canada crowd.
In a bizarre move, Baszler took out her signature mouthguard and exposed the back of Lynch's neck before biting down on it and drawing blood.
You can watch the end of the match beatdown below.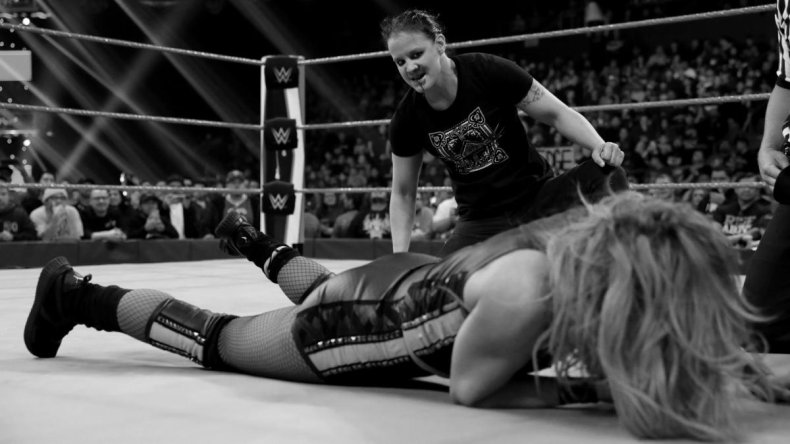 This isn't the first time Shayna Baszler has appeared on Monday Night RAW. In the build to Survivor Series in November 2019, Baszler appeared in a backstage interview to confront Becky Lynch.
Baszler, who was NXT Women's Champion at the time, would have a triple threat match between her, Lynch and Bayley—the SmackDown Women's Champion. Baszler won the match by tapping out Bayley, but Lynch would get the last laugh by attacking Shayna after the bell.
Shayna entered the 2020 Women's Royal Rumble Match at the coveted 30 position to earn a guaranteed championship opportunity at this year's WrestleMania. Charlotte Flair would eliminate the "Submission Magician" win the match for herself.
With Charlotte not willing to announce which championship she will vie for at WrestleMania—although Rhea Ripley, the new NXT Women's Champion has challenged "The Queen"—that leaves Baszler open to making her own opportunity.
Following the bloody attack, Lynch was walked to the back where she was asked to go to the hospital. After denying help for some time, Lynch is walked to the parking lot to go into the back of the ambulance, but closed it before tossing the driver out. Becky Lynch then got inside the ambulance and drove off herself.
Monday Night RAW's commentary kept an eye on Lynch's status throughout the night, but had nothing to report.
Whether this appearance signifies the last we've seen of Baszler on NXT is unclear, but if it is, the Four Horsewomen of MMA member leaves an impressive legacy on the black and gold brand.
Not only is Baszler the first and only two-time NXT Women's Champion, she has the longest combined reign in the promotion's history. Baszler has a combined 549 days as champion, beating Asuka's impressive 522-day reign.
What do you think of Shayna's attack on Becky Lynch? Do you think that will be a match for WrestleMania 36? Let us know your thoughts in the comments section.
About the writer
Phillip Martinez is a game and culture reporter for Newsweek. Prior to joining Newsweek in 2018, he was a reporter and editor for iDigitalTimes and Player.One. A Bronx native, he graduated with his Bachelor's degree in Journalism from St. John's University in 2010. An avid Nintendo fan and wrestling mark, he's always looking to become a Pokémon Master while fantasy booking this year's WrestleMania. You can contact him at p.martinez@newsweek.com