Shepherd Dog Found Inside Gorilla Enclosure at Zoo
On Sunday, visitors at the San Diego Zoo Safari Park were alarmed to see a gorilla chasing a dog inside its enclosure.
The shepherd dog had wandered into the California safari park on its own, zoo officials told Newsweek. He got all the way into the gorilla habitat before anyone noticed.
Worried visitors captured the stray pup in videos sent to local news outlets and shared on social media. Spotting the dog next to a gorilla, they yelled in an attempt to distract the larger animal and coax the shepherd out.
"Is the dog alright?" one visitor asked in a clip posted on Twitter.
Others whistled and clapped to beckon him out of the enclosure. "Here you go, good boy!" a woman shouted.
Screams broke out as the dog started to trot and the gorilla chased after him.
"Oh my god, no no no, come here!" yelled a frantic visitor.
"Run, run, run, run!" visitors urged as the gorilla sped up.
"That thing is fast," another visitor murmured.
The San Diego Zoo told Newsweek, "Wildlife care specialists successfully recalled the two gorillas out of the habitat so the dog could be removed. Recall training is a part of the regular safety procedures at the Park."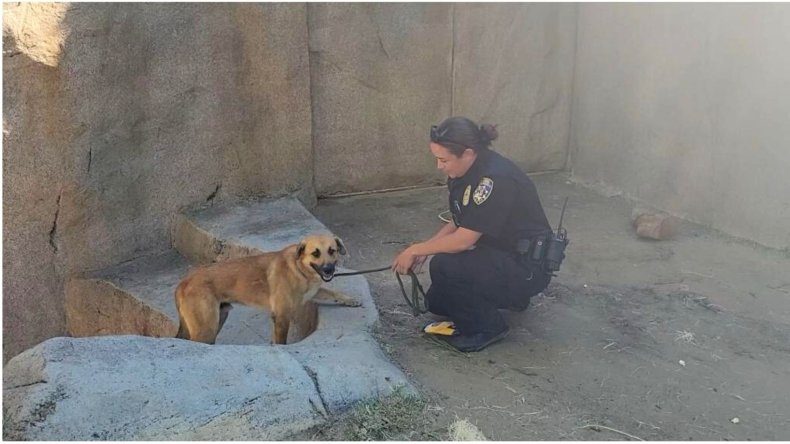 The zoo added that no Safari Park animals, staff or guests were harmed.
After zoo staff moved the gorillas out, three officers from the San Diego Humane Society went in to safely leash the dog and brought him back to their campus for evaluation. The male shepherd has no microchip.
"We are so glad no one was hurt," Humane Society spokesperson Nina Thompson told Newsweek.
"He has been placed on stray hold now, as we search for his owner. Animal Caregivers have given the dog a shelter name of 'Mighty Joe Young,'" said Thompson.
Although gorillas are relatively calm animals—one was even seen petting a groundhog—they can become very aggressive and dangerous when they perceive a threat, according to conservation group Berggorilla & Regenwald Direkthilfe. They must be very slowly habituated to humans before accepting them as visitors. When people approach a group of gorillas, their leader has to be 'informed' so he is not surprised into responding aggressively.
In some zoos, trained dogs help raise wild animals. Rescue dog Remus became a companion to a cheetah at the Cincinnati Zoo & Botanical Garden in Ohio. Another dog named Coby socialized cheetahs, otters, warthogs and foxes at Ohio's Columbus Zoo and Aquarium before he died in January.