What Sherry Pie Said In First Interview After 'RuPaul's Drag Race' Disqualification
Sherry Pie (the drag alter ego of Joey Gugliemelli) has broken their silence about the sexual misconduct allegations against them in a controversial interview with Tamron Hall.
Gugliemelli had previously been a contestant on last year's RuPaul's Drag Race Season 12, but was disqualified before the show aired after multiple men came forward saying that they had been catfished by the Sherry Pie performer.
The last time the Drag Race contestant spoke about the controversy before his Tamron Hall interview was in March 2020, when he released a statement on his Twitter page reading in part: "This is Joey, I want to start by saying how sorry I am that I caused such trauma and pain and how horribly embarrassed and disgusted I am with myself. I know that the pain and hurt that I have caused will never go away and I know that what I did was wrong and truly cruel. Until being on RuPaul's Drag Race, I never really understood how much my mental health and taking care of things meant.
"I learned on that show how important 'loving yourself' is and I don't think I have ever loved myself. I have been seeking help and receiving treatment since coming back to NYC. I truly apologize to everyone I have hurt with my actions."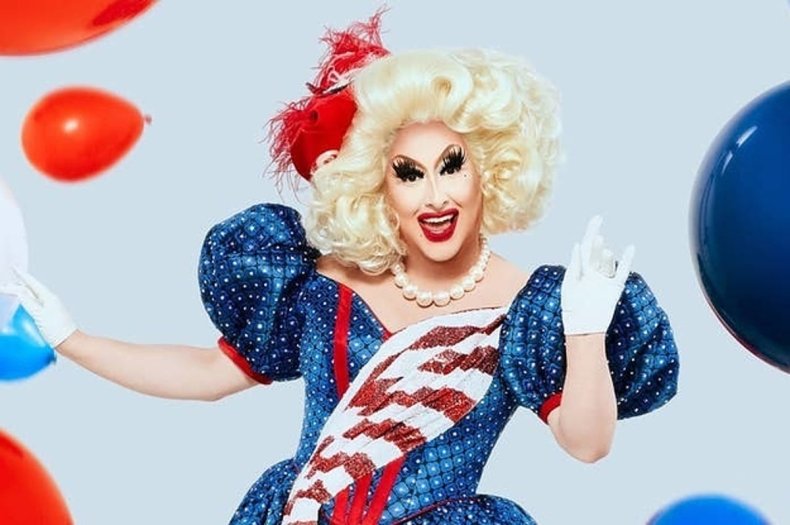 In the lead-up to Gugliemelli's interview with Hall, a number of Drag Race queens and victims of the performer wrote on Twitter that they had asked the show to not air the interview.
Drag Race Season 12 contestant Jackie Cox, for example, began a Twitter thread by writing: "I am publicly calling on @TamronHallShow to reconsider giving Sherry Pie access to the platform of national television to tell their side of the story without first speaking with the victims of her abuses and allowing them to weigh in on their own trauma."
Ben Shimkus, who wrote the first post that exposed Gugliemelli's actions, meanwhile, tweeted: "Just so we are all clear on this, I spoke with producers at @TamronHallShow and told them that I and the 20 victims that I spoke to today DO NOT want them to air a segment with Sherry Pie. They're going to air it despite the all of our requests."
At the start of the segment, Hall spoke about why she had decided to air the interview: "The very idea that I'd have Sherry Pie on... was seen by some as giving away my platform. I've been a reporter for 30 years. I've interviewed rapists, I've interviewed murderers, I remember interviewing a woman in prison who murdered a child she was trusted to care for. It's not giving away your platform. It's called an interview, and people who do bad things are interviewed. R. Kelly comes to mind."
In the interview, Gugliemelli apologized again to the victims, saying: "I first want to say that there are no 'allegations.' "I admit to my wrongdoings and horrible behavior. I don't know if ... more [victims] will come forward. I'm here to apologize, and I want to make that very clear. I understand now, in lieu of this year, how much pain I've caused. I just want to let the victims know, and everyone else know, that I am so sorry. I can't even begin to imagine the pain and the trauma that I've caused. That's really all I have to say."
He also revealed his struggles with mental health since his actions were made public, saying he has been doing cognitive behavioral therapy and had been diagnosed with borderline personality disorder—though he added: "I don't blame my mental illness for anything I've done."
The performer also said that he was still in contact with some of his victims and that he had faced no criminal charges yet—though had been contacted by authorities for a welfare check.
After the interview had aired, Shimkus tweeted: "The @TamronHallShow segment today is a call to action. Future survivors and truth-tellers are watching. They deserve to know that our experience with re-platforming SP is the exception to how we will treat survivors. We must learn from this."