Shock As Groom's Ex Fiancée Turns Up In Dress She Bought For Their Wedding
A woman has been widely slammed after she decided to wear a bridal dress to her ex-fiancé's wedding.
In a viral Reddit post user weddingdressthrow11 explained that she and her husband, 27, recently got married and, although they had a great time there was something that left a "sour taste" in her mouth.
The Reddit user, 30, added she wanted a "princess wedding" and that the theme was "ballroom" and asked women who attended to "outshine" her.
But to her surprise, her husband's ex, who she called "Kate," wore the wedding dress she planned to wear for her wedding to her previous partner.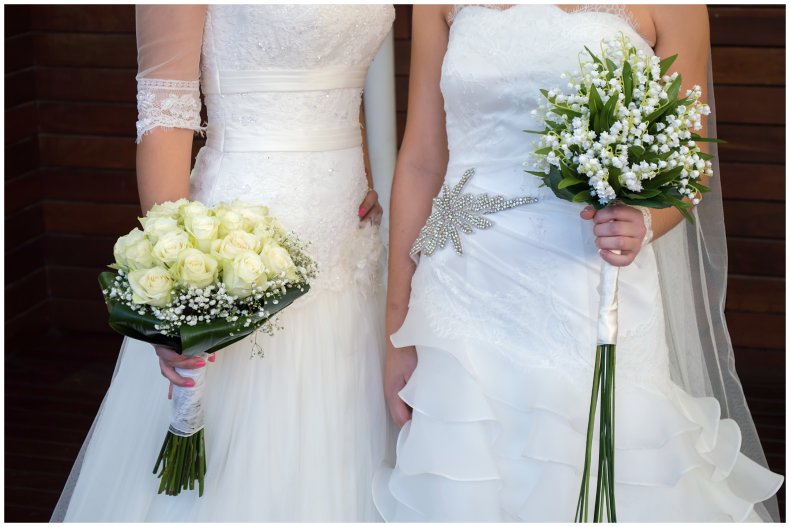 The Reddit user continued: "I was expecting Kate to wear the wedding dress she wore to her own wedding to our wedding.
"But when I looked and saw her she had the wedding dress she was supposed to wear when she was getting married to my husband."
She added: "My husband, however, was also confused on why she wore that one and asked her about it without me even having to tell him I was uncomfortable. She responded 'well your wife wanted such a big princess wedding I thought I'd wear this one because it follows the theme more, don't tell me she's upset about it, she's the one who said come in your nicest clothes and this is my nicest dress.'"
While the incident left the bride baffled, she felt as though she could not be upset about it as she asked her female guests to "outshine" her.
Zoe Burke, wedding expert and editor at Hitched.co.uk, told Newsweek that Kate's choice of dress was unusual.
She added: "This is a unique setup. I'm not sure I've heard of someone planning a wedding where they encourage others to wear their own wedding dresses before, and I've been doing this a long time.
"Unfortunately for the bride, it was a bit of a risk: by encouraging people to 'try to outshine' you, you can't really be too upset that someone took it literally. I think in this particular scenario though, the bride should take comfort in the fact that she was the one getting married, and that the dress that 'Kate' wore was the dress she didn't get to get married in."
Since being shared on Monday, March 13, the post has managed to receive an estimated 6,300 upvotes and some 660 comments.
Reddit user phoenix_spirit, whose comment was upvoted some 17,500 times, said: "Um, OP (original poster), Kate had to sit in the wedding dress she was supposed [to] marry your husband in and watch him marry you instead. Someone took an L (loss) here and I don't think it was you."
Laitnetsixecrisis added: "I feel sorry for Kate's husband. Kate sat next to her husband, in a wedding dress intended for her first wedding, and then told her ex it was the nicest thing she owned. Sounds like Kate has never known how to respect people she apparently cares for."
Revilo366 commented: "Yeah this makes me think the original wedding to OP's husband was called off for a good reason…and most likely wasn't entirely mutual."
Burke added: "If you are thinking of planning something similar - and this story hasn't deterred you - I would suggest being really clear about your dress code.
"If you know there are items you don't want people to wear at your wedding, make sure you specify it and be really clear about what you do want them to wear. For example - 'wear the dress you got married in' is way more clear than 'wear a wedding dress'. But on the whole, I would say it's probably best to avoid that dress code in general."
According to the wedding advice website The Knot, the average wedding size in 2022 was 117 guests.
If you have a family dilemma, let us know via life@newsweek.com. We can ask experts for advice, and your story could be featured on Newsweek.
Newsweek has contacted weddingdressthrow11 for comment.