Why Bride Is Excluding Fiancé's Sister From Wedding Applauded: 'Unwelcome'
A bride-to-be is being urged to rethink her wedding plans amid an ongoing dispute with her fiancé's younger sister.
The woman's animosity towards her future sister-in-law is so strong she wants the sibling excluded from the nuptials in a move sure to be opposed by her partner.
Writing in a Reddit post shared in the AITA (Am I The A******?) subforum under the u/ThrowRachocolates, the unhappy woman detailed the litany of ways in which the younger sister has snubbed her. But while the general consensus was that she was justified in wanting the sister to stay away, many pointed the finger of blame at her fiancé and his failure to intervene.
Unfortunately, it's not uncommon for conflicts to arise with in-laws. A 2022 study published in the journal Evolutionary Psychological Science found that 44 percent of men and women have experienced some form of conflict with their mother-in-law. However, the conflict chronicled in the Reddit post sounds more extreme than most.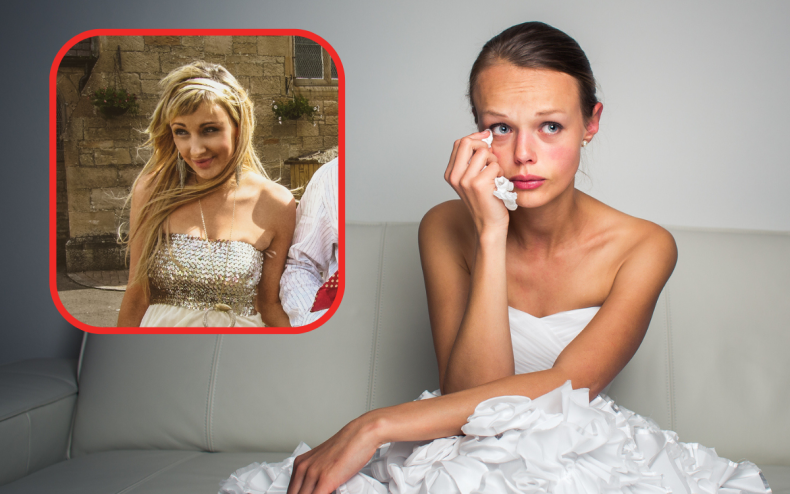 According to the Redditor, things have not been helped by the fact her fiancé's family is Spanish, which she is now attempting to learn. "I don't speak Spanish at all," she explained. "When I visit his family, no one ever switches to English. They all always act like I am not there."
Though she has put up with this, the treatment doled out by her fiancé's sister has hit a nerve. Whenever they visit, the sister takes her partner off for "quality sibling time" leaving her alone with no one to talk to, she said.
The sister also makes a habit of smoking around her. "I hate the smell," the bride-to-be wrote. "She was asked many times to move her smoking elsewhere when I am present, however she always refused." During a family trip, the sister even told her brother in Spanish that the trip would be "better without" his fiancé and that she was "not welcome there."
"She advised my fiancé to break up with me many times," the woman wrote. "She was telling his whole family mean stuff about me. Apparently that I am jealous, toxic, etc. None of it is true. I was very hurt hearing it." The experience has left the woman feeling "unwelcome" around her fiance's family to the point where she does not want the sister there on her big day.
"I don't want to invite her. I know I won't have a good time on my own wedding if she's there," she wrote. "Things she was doing to me were subtle, but I always felt excluded and bad."
Jessica Bishop, the author of The Budget-Savvy Wedding Planner & Organizer, has dealt with her fair share of family dramas and believes the bride and groom should always have the power to exclude anyone who may upset what should be the happiest day of their lives.
"A couple has the right to invite or not invite anyone they wish, especially if that individual causes them stress or emotional harm," she told Newsweek. " A wedding day should be a happy day in celebration of the couple. Excluding anyone who is unsupportive, disruptive, or negative towards the relationship is 100 percent okay in my book. It's setting boundaries and protecting the couple's peace on their special day."
In this instance, though, Bishop acknowledged that excluding the sibling could be difficult given how close she is to the fiancé.
"If her partner couldn't imagine getting married without his sister present, which it sounds like would be the case if they are close, the bride would need to respect his wishes," she said. "However, if her partner cannot see his sister is causing his bride stress, that could potentially be a bigger issue that will perpetuate in their marriage, because the sister comes as part of the deal."
Bishop was keen to highlight the wider issue at the heart of the post though: the fiancé's failure to support her around his family.
"If she is going to marry him, he has to have her back and advocate on her behalf with his family," she said. "He should step up and ask for his family to be more inclusive of her as she is his chosen life partner."
That viewpoint was echoed by many on social media.
Reddit user Mobyhead1 said, "You don't have a future sister-in-law problem...you have a fiancé problem...He should have your back. He doesn't. Put this relationship on hold, at the very least. Reconsider it carefully."
Mjcnbmex commented: "please find someone who treats you with respect. Your fiance and his family are not respecting you."
Redditor Annii84 warned: "If your fiancé lets his family treat you this way, then expect he'll start doing the same at some point."
Newsweek reached out to u/ThrowRachocolates for comment. We could not verify the details of the case.
If you have a family dilemma, let us know via life@newsweek.com. We can ask experts for advice, and your story could be featured on Newsweek.