Shock as Mom Demands Disabled Person Move Seats on Bus for Her 5-Year-Old
A mother has received widespread criticism online after revealing that she urged a disabled woman to get out of her priority seat on a bus so her 5-year-old daughter could sit down.
The woman had called upon other Reddit users to decide on the platform's Am I the A****** page whether her behavior was fair or not. It's safe to say that she has been firmly taken to task for her actions.
There are about 2.7 million wheelchair users in America, according to the National Library of Medicine. Since the 1990 Americans With Disabilities Act became law, bus operators have been required to provide timely service for passengers with disabilities, including wheelchair users.
The Federal Motor Carrier Safety Administration writes: "An accessible over-the-road bus has a lift, other device, or configuration for helping passengers who cannot climb steps board a bus; two specific locations for securing wheelchairs to prevent them from sliding; and other features to ease travel for passengers with disabilities. Operators must ensure accessible features are operational."
"I was on the bus with my 5-year-old daughter when we got on at a busy stop," the poster on Reddit wrote.
"There were no empty seats available, except for one near a person using a wheelchair. I asked the person if they could move their wheelchair to another spot so that my daughter and I could sit together, but the person declined, saying that they needed the space for their mobility device," she said.
The post continued: "I was taken aback and frustrated by this response. I explained to them that my daughter was very young and needed to sit next to me for safety reasons, but they still refused to move. I ended up having to stand for the entire ride with my daughter in tow, which was uncomfortable and tiring for both of us."
Since it was shared to the platform on February 25 under the username @SalesManSellOut, the Reddit post has been upvoted by 74 percent of users and commented on over 2,500 times, with almost all users criticizing the original poster.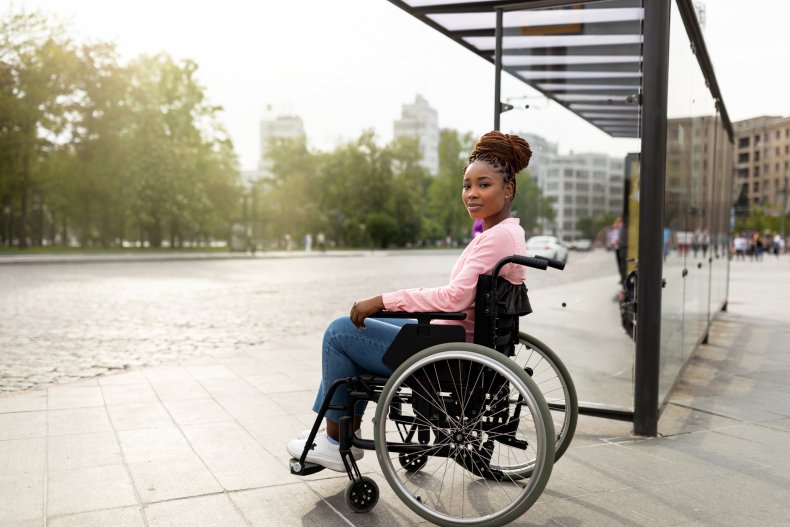 "So the child sits and you stand. Simple," one user said bluntly. Another Redditor wrote: "Or her 5 year old could've just sat on her lap."
"I feel for this child and the lessons they are learning. My heart breaks for this child and the potential of this child becoming just like their parent," a user added.
Newsweek could not verify the details of the case and reached out to @SalesManSellOut for comment.
Do you have a dispute with your neighbor? Let us know via life@newsweek.com. We can ask experts for advice, and your story could be featured in Newsweek.