Shooter Threatened to Kill Crowd Ahead of Craig Robinson Show: Police
Police arrested the suspect who allegedly fired a gun in a comedy club and threatened to kill audience members ahead of a Craig Robinson show on Saturday night in Charlotte, North Carolina.
Omar James McCombs, 36, allegedly entered The Comedy Zone a little after 9 p.m. local time on Saturday night carrying a gun, where a crowd was gathering to see The Office actor and comedian Robinson's show.
The Charlotte-Mecklenburg Police Department (CMPD) said McCombs held up the gun, telling people in the crowd, "Get out of here if you don't want to die," before firing at least one shot. Police reported that no one was injured, though several victims reported that McCombs had pointed the gun directly at them.
He was taken into custody by police and faces a charge of possessing a firearm by a felon, in addition to several counts of assault by pointing a gun, and discharging a firearm. Police said McCombs was previously convicted for burglary in New Jersey in 2009.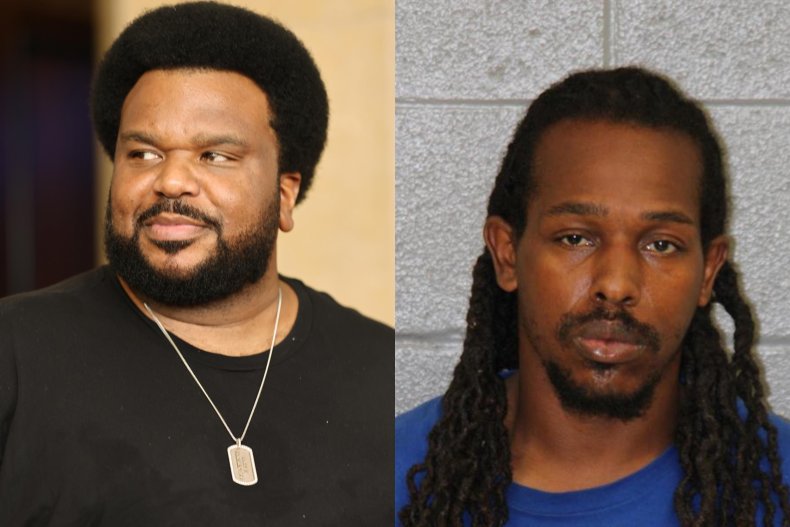 Robinson, who was scheduled to perform a comedy routine at 9:45 that night, said in a recent Instagram post that he was in the green room when the incident occurred. After McCombs fired the gun, the Comedy Zone was evacuated and Robinson moved to a nearby venue.
"I'm performing at the Comedy Zone in Charlotte, North Carolina. There was an active shooter in the comedy club," Robinson said in the Instagram video. "Again, there's an active shooter at the club I was at, so we had to run over here to this concert."
He joked, "Big Time Rush to the rescue!" as the pop band played in the background.
In a follow-up post on Sunday, Robinson wrote, "Thank you to the Comedy Zone security and staff for getting us to safety quickly. Thank you everyone for your outpouring of support and well wishes. Thank you CMPD for swift action in apprehending the shooter. Hopefully he gets the help he needs. Thanks be to God no one was hurt. Please stay safe everyone."
Robinson was scheduled to perform at the Comedy Zone again on Sunday night, but the club canceled the show for safety concerns.
CMPD Chief Johnny Jennings wrote in a statement that was posted on Twitter, "I want to express my pride in all of the CMPD staff that was involved in safely taking a man into custody last night at the Comedy Zone after he discharged his weapon.
"The quick-thinking and professionalism that you all showed in a very volatile situation, that could have escalated quickly, is extremely commendable.
"I personally thank you for representing the city and your CMPD Family with such bravery and thank you for continually keeping our community safe."
Several other shootings took place over the weekend around the U.S.
In a Chicago suburb, a man opened fire on a family reunion after getting into a spat with two women there on Saturday night.
In the early morning hours Sunday, a police officer shot and killed his daughter, and wounded his son and his wife before taking his own life.
And on Sunday afternoon, a man opened fire in a food court at the Greenwood Park Mall in Indiana, killing three and injuring three others before being shot by a bystander who was carrying a gun.
Newsweek reached out to CMPD and The Comedy Zone for additional comment.
Update 7/18/2022, 5:25 p.m. ET: This story has been updated with a new photo.