Munich Mall Shooting: Lone Gunman Kills Nine Then Commits Suicide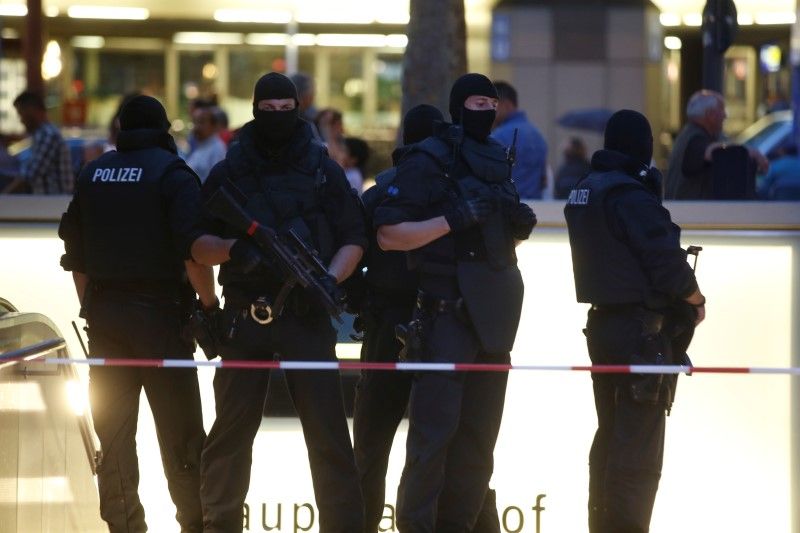 Updated | An 18-year-old German-Iranian gunman who apparently acted alone opened fire near a busy shopping mall in Munich Friday evening, killing at least nine people in the third attack on civilians in Western Europe in eight days.
Authorities sought to piece together the circumstances of an attack behind which they had found no immediate evidence of an Islamist motive, Munich police said.
Chancellor Angela Merkel is due to meet her chief of staff Peter Altmaier, Interior Minister Thomas de Maiziere and intelligence officials on Saturday to review the incident.
The pistol-wielding attacker, identified by Munich police chief Hubertus Andrae as a dual national from Munich, was later found dead of a suspected self-inflicted gunshot wound.
Authorities said it was too early to say whether it was a terrorist attack but that the shooter was believed to have staged the attack alone, opening fire in a fast food restaurant before moving to the mall.
In addition to determining the motive, police will have to find out how the 18-year-old got the firearm used in the attack in a country whose gun control system is described by the U.S. Congress Library as being "among the most stringent in Europe."
The gunman, whose body was found on a side street near the mall, was not identified but Andrae said he was not previously known to police.
Police commandos, armed with night vision equipment and dogs, raided an apartment in the Munich neighbourhood of Maxvorstadt early on Saturday where the German newspaper Bild said the gunman lived with his parents.
"I am shocked, what happened to the boy? Only God knows what happened," Telfije Dalpi, a 40-year-old Macedonian neighbour of the family told Reuters. "I have no idea what happened - but he was a good human being. I have no idea if he did anything bad elsewhere."
There was a huge police presence in the street, which lies just north of Munich's old city.
Andrae said authorities saw no links to an attack in southern Germany last Monday in which an axe-wielding 17-year-old asylum-seeker injured five people in an incident claimed by the Islamic State group.
Andrae said it was premature to say whether Friday's shooting was a terrorist attack, as French President Francois Hollande said, or the work of a deranged person.
Police said they were investigating a video in which the gunman is heard shouting "I am German" and exchanging racial slurs and profanities with another man. "We are trying to determine who said what," a police spokesman said.
U.S. intelligence officials, speaking on condition of anonymity, said initial reports from their German counterparts indicated no apparent link between the shooter and Islamic State or other militant groups.
It was the third major act of violence against civilians in Europe in eight days. Previous attacks in France and Germany were claimed by Islamic State.
At least 16 people, including several children, were in hospital and three were in critical condition, Andrae said.
Kosovan media reported that three of the victims were of Kosovan origin. Naim Zabergja, the father of one of the victims wrote on Facebook: "With great sadness I want to inform you that my son Dijamant Zabergja, 21, was killed yesterday in Munich."
A second victim was named by her brother on Facebook as Armela Segashi, who he said died along with a third, Sabina Sulaj.
Friday's incident snarled traffic as authorities blocked highways, closed the main railway station, and shut down public transport.
Thousands of people had been crowding the streets and squares in Munich's city center on Friday for a beer festival.
"There were a few people who came running towards us who were screaming and in panic. But mostly it was surprisingly calm," said Elena Hakes, who had been with a friend in the Odeonsplatz square.
The incidents in Germany follow an attack in Nice, France, in which a Tunisian drove a truck into crowds celebrating Bastille Day, killing 84. Islamic State claimed responsibility.