Coronavirus cases are increasing exponentially in the global West, prompting travel restrictions, emergency financial measures and even national lockdowns. But in China—where the outbreak began last December—health authorities have claimed that the outbreak has peaked and that the number of daily new cases is now falling.
China was criticized for a lackluster response to the initial outbreak, suppressing whistleblowers and allegedly under-reporting the number and severity of cases. But in recent weeks Beijing has overseen an aggressive response, quarantining millions of people, ramping up medical services and expanding testing. How much of the slowdown is due to these measures is unclear, but other nations will be taking note.
The U.S. is still in the early stages, with Americans watching the virus wreak havoc in Asia and increasingly Europe—where Italy has been effectively placed under total lockdown. There are currently 1,321 confirmed cases in the U.S. with 38 deaths, according to Johns Hopkins University. At least eight people have recovered. The Statista infographic below shows that the virus has spread nationwide.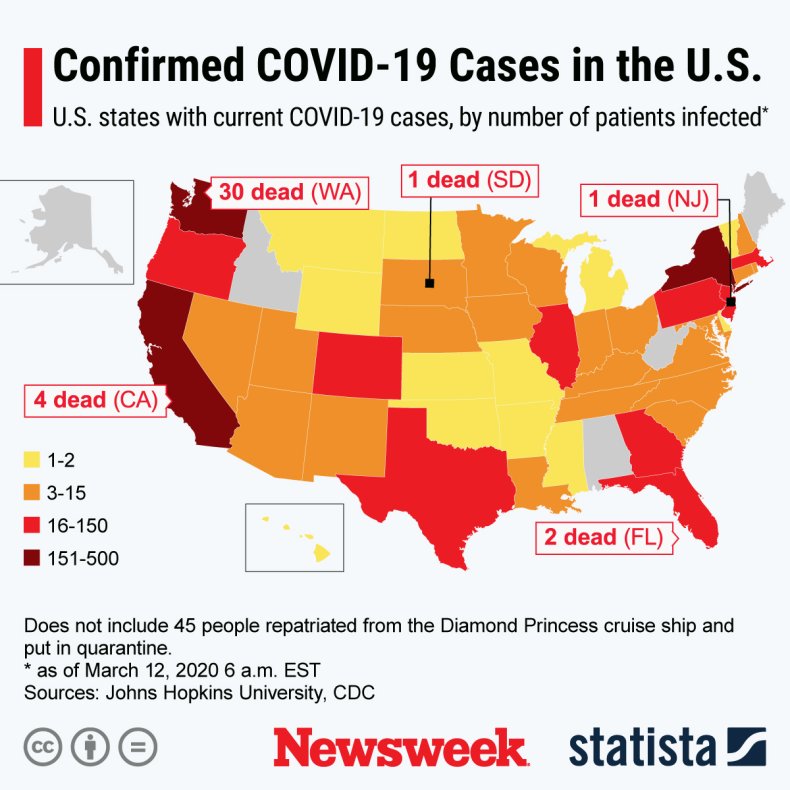 President Donald Trump initially dismissed the outbreak as a "hoax," but appears to have recognized its severity as federal and state officials ramp up preparations. But could the U.S. emulate some of the aggressive Chinese strategies if the situation worsens?
Mass quarantines
China quarantined 16 entire cities to stop the outbreak, locking down 46 million people. This included the city of Wuhan where the virus originated, plus surrounding Hubei province. Trump could do something similar but would face huge domestic opposition, with citizens likely to protest loss of freedoms and their lawmakers likely to back them.
Irwin Redlener, the director of Columbia University's National Centre for Disaster Preparedness, told the BBC he thought the likelihood of this is "extremely, extremely small" and such measures would essentially amount to martial law.
But a limited action has already been taken, with the New York city of New Rochelle placed in a one-mile "containment zone" on Tuesday—with the help of the National Guard—after a spate of infections.
Michael Head, senior research fellow at the U.K.'s University of Southampton, told Newsweek that the evidence to date suggests "that quarantining does have an impact on at the very least slowing down the spread of the disease, which then gives you a chance to get on top of it."
A rapid increase in cases threatens to overwhelm finite hospital resources, resulting in lack of care for those in need and a higher number of fatalities. This appears to be part of the problem in Italy, where medical staff are reporting being overwhelmed by cases.
Head also warned there will be "societal consequences" for those under quarantine. Mental health will be undermined by fear and isolation and in China there have been reports of increased rates of domestic violence among home-bound families.
As to whether mass quarantines would be feasible, Head replied: "Watch this space—it's not a clear 'yes' or 'no' answer."
Travel restrictions
China grounded a portion of domestic flights and many international flights in a bid to stop the disease. Trump has already introduced international flight restrictions for China, Iran and now the European Union.
Domestic U.S. carriers are also already cutting the number of flights due to a lack of demand. Mass quarantines would force new travel restrictions on people going in and out of towns, cities or states where outbreaks are focused.
Closing schools and canceling events
Schools and colleges in some parts of China were closed for fear of students spreading coronavirus. In any nation, such a step puts additional burdens on families who will have to find childcare—if indeed the parents are still going to work themselves. Some children rely on school meals and may go hungry if schools are closed, and parents unable to go to work could lose out on earnings.
The U.S. could also follow suit and cancel large events. The NBA has already announced it has suspended the ongoing season and the Coachella music festival has been postponed to October. Other public event organizers may take similar measures.
New hospitals
Chinese authorities began building makeshift hospitals to deal with the surge in coronavirus patients that threatened to overwhelm established medical centers. In Wuhan, two hospitals with 2,600 beds were built in just over a week. Other public spaces were transformed into medical centers to deal with the overflow.
Amesh Adalja, a senior scholar at the Johns Hopkins Center for Health Security, told Newsweek there is "some capacity" for alternative care sites in the U.S.
"Maybe some of the more milder individuals who may not need full hospitalization that could be repurposed at maybe at nursing homes or other types of facilities," he suggested, or "mobile medical units that the government has that could be deployed as necessary."
"But I think a lot of it is going to be creative use of space in hospitals, trying to convert areas that are not used for patient care to patient care, to places where patient care can occur," he explained.
Chinese hospitals also delayed elective surgeries to divert resources to coronavirus and moved a significant number of services online to keep non-infected people away from medical centers.
Adalja said that the U.S. has "the ability to really use telemedicine resources because those have increasingly been proliferating around the United States. So that's one thing that can easily be done."
Tests were made free and more widely available. One of the major criticism of the U.S. response is the lack of tests and the strict guidelines on using them, resulting in the virus spreading unchecked across the country for weeks. The Trump administration has said more tests are coming, but significant damage has already been done.
Extra medical teams
China called in medical volunteers to work in Wuhan, some of whom ended up becoming infected. Adalja said the U.S. has "many different types of healthcare providers" that can assist in the response, though noted that most of them "have day jobs and those day jobs are going to involve a lot of work dealing with this coronavirus," meaning they can only offer limited hours.
"I think that what they'll do is try and call up people that are part of the Medical Reserve Corps and local communities," Adalja explained.
"But I'm worried that many of those people already have full-time jobs," he continued, noting "you can't just train up somebody to be a doctor or a physician assistant or a nurse practitioner. That takes a long time."
"I think that we're going to have to deal with a lot of doctors that maybe a lot of healthcare providers that are overworked," he warned.
Officials will have to fight to keep medical staff healthy. In every badly affected country, physicians and nurses have been among those infected and killed, further constricting the supply of trained professionals. Some U.S. medical staff have already staged protests demanding protection against the virus in the event of mass outbreaks and condemning the confusion over the national response.
World Health Organization advice for avoiding spread of coronavirus disease (COVID-19) Hygiene advice
Clean hands frequently with soap and water, or alcohol-based hand rub.
Wash hands after coughing or sneezing; when caring for the sick; before; during and after food preparation; before eating; after using the toilet; when hands are visibly dirty; and after handling animals or waste.
Maintain at least 1 meter (3 feet) distance from anyone who is coughing or sneezing.
Avoid touching your hands, nose and mouth. Do not spit in public.
Cover your mouth and nose with a tissue or bent elbow when coughing or sneezing. Discard the tissue immediately and clean your hands.
Medical advice
If you feel unwell (fever, cough, difficulty breathing) seek medical care early and call local health authorities in advance.
Stay up to date on COVID-19 developments issued by health authorities and follow their guidance.
Mask usage
Healthy individuals only need to wear a mask if taking care of a sick person.
Wear a mask if you are coughing or sneezing.
Masks are effective when used in combination with frequent hand cleaning.
Do not touch the mask while wearing it. Clean hands if you touch the mask.
Learn how to properly put on, remove and dispose of masks. Clean hands after disposing of mask.
Do not reuse single-use masks.