'Shouldn't Be Alive': Puppy With 6 Legs, 2 Sets of Genitals Beats the Odds
A dog born with six legs and two sets of genitals has not only survived his surgeries, but also found a new home along the way.
Raga the German shepherd was first brought to VCA Advanced Veterinary Care Center in Fishers, Indiana, last fall. The puppy had two extra legs that were partly joined and an extra bladder, ureter, colon, pelvis and the extra set of genitals.
"A rescue brought him to us just to see if we thought he had a chance at surviving," said Gina Elliott, veterinary technical supervisor at the facility. "It looked like he shouldn't."
Elliott told Newsweek that the hospital manager asked her to foster Raga temporarily while they attempted to save his life. But they knew the odds were not good. Although there have been other cases of dogs born with similar abnormalities, most are stillborn or die very young.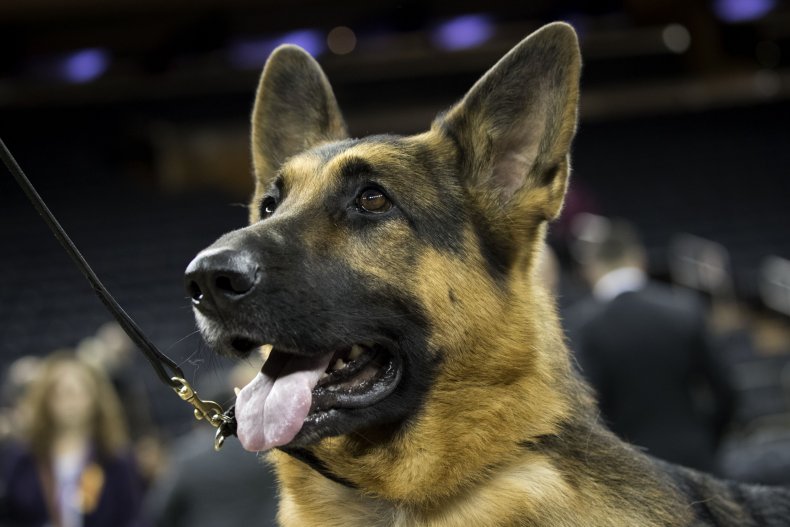 Still, Elliott said that Raga's spirits were always high.
"Even with his extra legs, he didn't know he was any different," she said. "He still ran around and did his puppy things."
Newsweek previously reported on a dog named Skipper who was born with six legs and two tails, accompanied by medical issues that were expected to limit her health and mobility over time. Another German shepherd was born without back paws and learned to walk at age 1 with the help of prosthetic legs and paws. And in 2014, a chihuahua born with no front legs captured hearts by learning to use a mobility cart with scooter wheels.
Raga's body was sending fecal matter to his genitals when he arrived at the hospital in Fishers, causing a severe infection. Veterinary surgeons removed his extra limbs and pelvis in December. Two months later, they started operating on his internal organs, removing his extra genitals and urinary tract.
The 7-month-old puppy still needs a second neutering, but he emerged healthy from his two procedures. In the process, he bonded with his foster mom. Elliott had no plans of taking on a new pet before Raga came along. Nonetheless, she decided to adopt him.
"We've spent so much time together, we've gone through a lot together and we're very much attached," she said. "I decided that he was already home."
If your dog has a disability, a vet's first priority is to relieve their pain, according to VCA. Pain management strategies can include specific medications, nutrition, massage and forms of physical rehabilitation. The second priority is to deal with urinary or fecal incontinence. For instance, a paralyzed pet would need assistance urinating. The third priority is facilitating mobility.
Update 4/8/22, 10:01 a.m.: This story was updated with additional information and comment from Gina Elliott.