German Shepherd Born Without Back Paws Learns to Walk With Prosthetic Legs
This good boy had a new "leash" on life, thanks to the dedicated work of the animal shelter that rescued him and his veterinarian.
Ryder, a 1-year-old German Shepherd rescue born without his hind paws, is learning how to properly walk for the first time with the help of his new prosthetic legs and paws.
Ryder was fit in early July with custom prosthetic legs and paws, according to WFOR-TV, which are now letting him learn how to properly walk for the first time. His veterinarian, Dr. Marta Sanchez-Emden of the Animal Health and Rehab Center in South Miami, Florida, has been thrilled to witness Ryder's journey.
"All his life, he walked like a kangaroo, with the stumps jumping at the same time. So we want to teach him, number one, that he can walk with his spine horizontally instead of down, like before, and that he can use one leg and then the other, like a normal gate," Dr. Sanchez-Emden told the outlet.
Sofia Valverde, founder of Picolini's Animal Rescue in Florida, explained to Newsweek that Ryder was surrendered in the spring. "The family who had Ryder were 'back yard' breeders, meaning they illegally breed their dogs over & over for profit," she said. "He was the only puppy out of 3 who survived after birth but he was born without back paws. He spent the first months of his life dragging himself with his front paws which was painful for him, causing his spine to curve even more as he grew up.
"The first time I saw Ryder what got to me the most was how happy he was, in spite of his circumstances," she reflected. He was smiling, tongue out & tail wagging trying to play & keep up with one of the other puppies at that house."
Valverde also noted in her statement to Newsweek that Ryder's original family, when they realized they would no longer be able to care for him, wanted to make sure he would be placed somewhere where he would not be put down immediately.
"A friend saw the ad where he was being given away & contacted our rescue, we picked him up that same day," Valverde explained. "He has been with us ever since & we've never looked back."
Picolini's Animal Rescue also shared footage of Ryder's first steps on Facebook. Though still wobbly on his feet, with the help of a volunteer holding him up with a support vest Ryder is able to walk from one spot to another.
Sanchez-Emden said that over the last month Ryder has made remarkable progress, and she is optimistic that with continued therapy and hard work, he will go on to live a normal life.
"He should be able to run, to jump, to go boating if he wants to, he will be able to do whatever he wants," she told the WFOR-TV.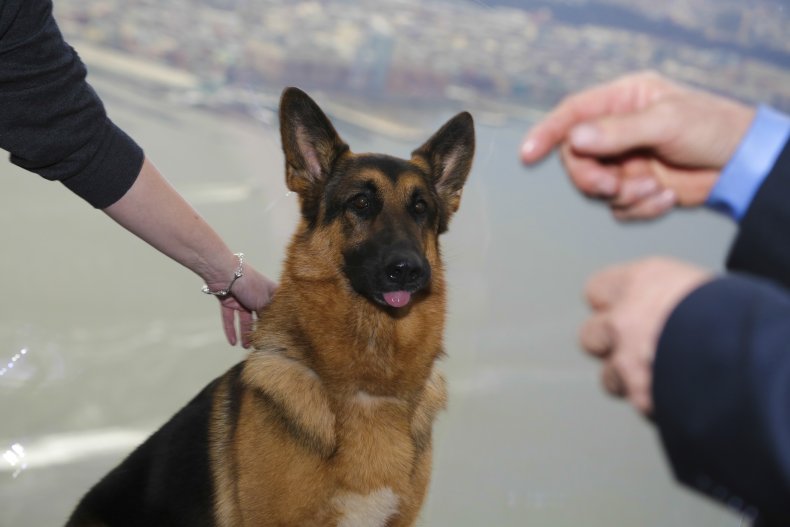 According to Ryder's GoFundMe page, which was set up to cover the cost of his medical treatments and prosthetics, he was the only surviving pup in a litter of three born about a year ago.
"Although his mommy thought she was helping to clean and take care of Ryder's exposed, webbed, back feet, she ended up doing something no one expected," organizer Karla Huffman shared. "Like any mother's instinct, she did what she knew to do, cleaning and tending to her newborn pup's two deformed feet. Somewhere in the middle of that first night together, his mommy accidentally ended up chewing them both off.
"We can only assume what the two of them endured that night. The bond between a new mommy and her pup, thinking she had done her job, yet at the break of day, her pup would never be the same," Huffman added. "The loss of his two back feet have caused him to walk on two stubbed legs this past year thus causing even more injuries to his hips and spine by overcompensating for the loss of his feet."
Huffman previously told WFOR-TV that she feels Ryder has a fighting spirit within him "He's got a wonderful personality," she said in May. "He's got a lot of stuff going for him. It just kinda sucks that he was dealt such a crappy hand.
"He's got a fire down inside of him, he wants to play, he wants to be like a normal dog again. I think the world for him, is waiting for him as soon as he can get up and moving around."
Valverde did share with Newsweek that, while Ryder's road to recovery has not been easy, watching him walk has been very rewarding.
"To be honest it was challenging specially at first because we are a small local rescue & it really does take a village. Fortunately we've been able to find amazing people like Dr. Sánchez at Animal Health & Rehabilitation, the team at Bionic Pets & Paul Lopez (Animal Behaviorist) who have all been instrumental to Ryder's success, and of course everyone who has contributed to Ryder's fund & shared his story," she said.
Sanchez-Emden also noted that Ryder has responded particularly well to hydrotherapy, which Walkin' Pets reports is extremely beneficial to paraplegic pets. "With the added buoyancy of the water, pressure is removed from your dog's body making movement easier and your pet can exercise all of its legs even if it cannot bear weight or has poor balance," according to the blog.
"The first 3-4 months of Ryder's hydrotherapy [were] to [strengthen] his back & improve his posture when he walked in preparation for the prosthetics," Valverde explained to Newsweek. "During the last month Paul has also been working with Ryder to build up his confidence & social skills for when he goes to his forever home. These last 2-3 weeks Dr.Sánchez has started to incorporate Ryder's prosthetics with his hydrotherapy teaching him how to walk with them."
Earlier this month, adorable footage of a paraplegic dog falling asleep during her swim therapy went viral. Living with a neurological deficit that left her unable to walk alone, 16-year-old Chewie also knows first-hand the benefits of hydrotherapy.
"The warm water feels so good to old bones," wrote Chewie's owner, Jana Tuchin, in the video.
For dogs like Ryder living with a physical disability and other pets suffering from anxiety, various natural therapies and specialized training can be highly beneficial and improve their quality of life.
Ryder's future appears brighter than ever, as WFOR-TV reported that he is available for adoption and is seeking a home that will continue his therapy.
"It has been an incredible experience to see Ryder's progress, he is such a wonderful dog, always playful & loving. I believe there is a purpose for everything & Ryder's purpose is to inspire & help raise awareness on rescue animals, in particular special needs animals," Valverde told Newsweek.
"I hope when people hear Ryder's story they understand that with love, patience & kindness you can change an animal's life for the better and realize how fulfilling it is to adopt a special needs dog & see them for what they are, absolutely perfect."
Newsweek reached out to Sanchez-Emden for additional comment on Ryder's situation but did not hear back in time for publication.
In other dog therapy news, Twitter has widely praised the actions of a "heroic" therapy dog, after he reportedly was able to help diffuse a situation in which a woman was contemplating suicide. Digby, a therapy dog with the Devon and Somerset Fire and Rescue Service in England, reportedly was called in to calm a woman who was allegedly going to end her life in June.
In May, a California Medical Center held a heartwarming sendoff for the retirement of one of its long-time therapy dogs, Tassy. The center's staff lined the corridors and clapped and cheered for the dog as she walked by with her owner. Though everyone was wearing a mask, smiles could be seen in their eyes as Tassy completed her final lap around the center.
Updated at 5 p.m. to include statements Sofia Valverde of Picolini's Animal Rescue made to Newsweek.