Huskies 'Mad' Over Not Being Allowed on Bed Has Internet in Stitches
A video of Siberian husky dogs seemingly upset that they can't access their owner's bed after being out in the rain has gone viral on TikTok, where it had 5.5 million views at the time of writing.
The clip shared by the TikTok account Eight Fluffy Tails (@eight_fluffytails), which has not been independently verified by Newsweek, showed several huskies gathered behind a low gate away from the bed, howling away with their heads poking over the gate.
The video, which can be seen here, was overlaid with a message that read: "So it's been raining, so we put a gate so they wouldn't get our bed. Think they're a little mad about the new arrangement."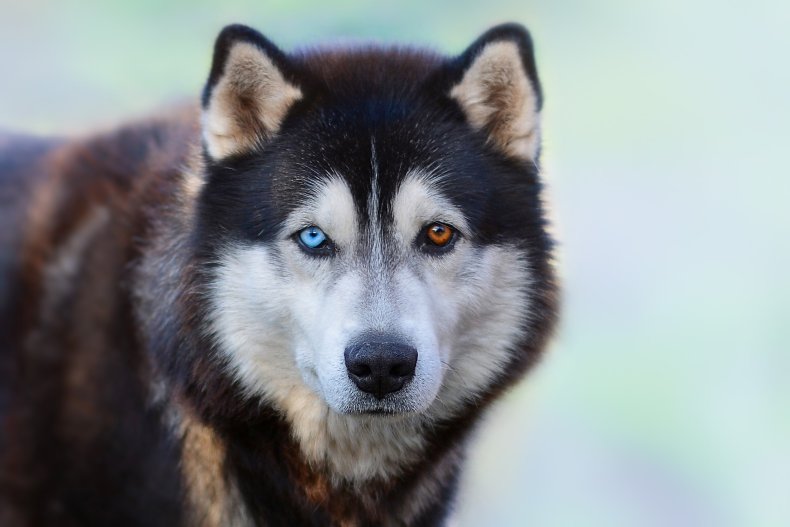 It's no surprise that the huskies in the latest video seemed desperate to enter their owner's sleeping quarters, as they are "very social" dogs that "regularly need the company of their people or other dogs," explains the American Kennel Club, the world's largest purebred dog registry.
As pack dogs with an "innate friendliness," Siberian huskies "enjoy family life."
The seemingly well-behaved huskies in the video also appeared to be fighting their natural urge to run. "Siberians have an overwhelming desire to run" and "will do so at every opportunity; it is vital to keep the dog on a leash, in harness, or in a fenced yard at all times," the AKC said.
These "energetic dogs" can't resist chasing small animals, so having "a secure running room is a must," the registry advised.
The latest viral video has left several TikTok users in stitches, with many unpacking what these huskies may be trying to say with their howling.
When TikToker Patt noted "just wait till they learn they can jump over" the gate, the original posted replied: "A few of them will on command but they know they aren't allowed to lol [laugh out loud]."
In a comment that got 39,000 likes, Emma Tidmore wrote the dogs may be saying: "How DARE you?! They know you have extra sheets and blankets. [crying laughing emojis]."
User Jaydin14 said: "they say 'the vote is 8-2.. the gates gotta go' [winking face emoji]," in a comment that got 12,400 likes.
In a comment that got 42,400 likes, Adam K Lee wrote: "THE COUNCIL DOES NOT APPROVE OF THIS TREACHERY."
User Dog Mom FireTBM said: "They want to speak to the manager of this establishment and file a complaint!! [floating hearts smiley face and crying laughing emojis]," in a comment that received 941 likes.
Newsweek has contacted the original poster for comment.
Do you have funny and adorable videos or pictures of your pet you want to share? We want to see the best ones! Send them in to life@newsweek.com and they could appear on our site.