Fact-check: Did 'The Simpsons' Predict Donald Trump's COVID Diagnosis?
"Simpsons did it"—the much-recited phrase that's repeated whenever a real-life event happens as foretold in The Simpsons.
And while most of the time they're pretty spot on with such predictions—such as Trump's presidency and the ebola outbreak—predicting Donald Trump's catching coronavirus is not one of these times.
As news spread of the President's positive coronavirus diagnosis so too did memes, hot takes, well-wishes and schadenfreude.
An image of Trump drawn in the style of The Simpsons began doing the rounds on Twitter, it's an image many fans of the long-running animated series will be familiar with, however, this time it showed the incumbent lying deceased in a coffin.
Many people took to social media in the aftermath of the president's positive diagnosis to point out that the Fox cartoon had once again predicted a future event.
But did Trump actually die in The Simpsons and was there an episode featuring his funeral?
The answer is no. The picture circulating on social media is not taken from any episode of The Simpsons and is instead doctored.
According to Snopes, the image first appeared in a thread on a 4chan forum back in February 2017.
But that's not stopped numerous people on social media sharing the image and believing it to be a genuine moment from the TV show.
The President and the First Lady have both confirmed that they tested positive for COVID-19 and are quarantining at the White House.
Taking to Twitter Thursday night, the President shared the news with the public, tweeting: "Tonight,@FLOTUS and I tested positive for COVID-19. We will begin our quarantine and recovery process immediately. We will get through this TOGETHER!"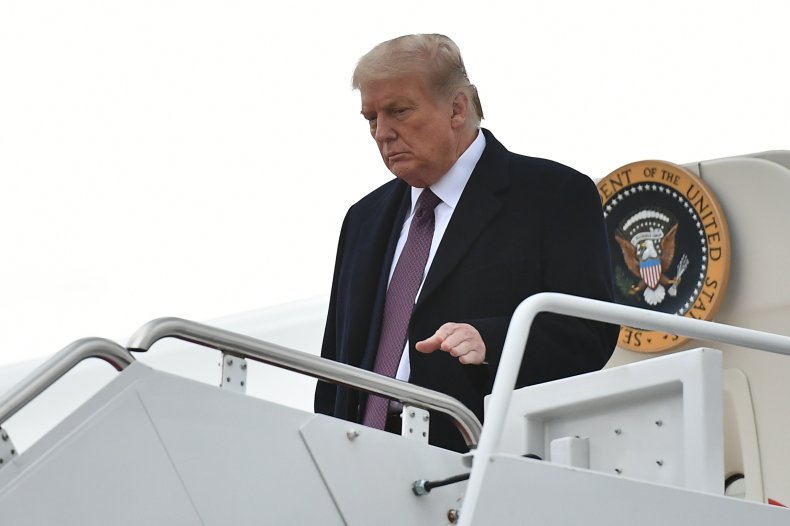 The two first went into quarantine after advisor Hope Hicks tested positive for the virus after Hicks has traveled with them on Air Force One.
Melania Trump later addressed the news, tweeting: "As too many Americans have done this year, @potus & I are quarantining at home after testing positive for COVID-19. We are feeling good & I have postponed all upcoming engagements. Please be sure you are staying safe & we will all get through this together."
As well as dead Trump Simpsons memes spreading, so too are COVID-19 conspiracy theories from the President's critics.
Vocal anti-Trump actress Bette Middler tweeted saying the timing of the President's positive test is "convenient."
"Just learned that Hope Hicks tested positive for COVID. Timing's so interesting. I guess Trump's quarantining will mean no rallies, and no more debates. Convenient."
She added: "It's awful to always think the worst, but after four years of relentless lying? Can't be helped. No trust left."
Author Don Winslow also took to Twitter to air his doubts about the president's diagnosis.
He tweeted: "I will just say this. The timing of Trump's positive test is very interesting and solves a number of immediate problems for him."