'The Simpsons': What Happened to Mrs. Krabappel?
The Simpsons Season 32, Episode 12 paid tribute to a beloved character, seven years after the death of the actor who voiced that character. In the episode, titled "Diary Queen," Bart found the diary of Mrs. Krabappel, voiced in an Emmy-winning performance by Marcia Wallace until her death from pneumonia in October 2013.
Wallace's final performance as Edna Krabappel, Bart's long-suffering teacher who became the second wife of Ned Flanders, was broadcast on Fox on March 9, 2014, and ended with a special tribute to the character.
That episode ends with a specially filmed scene that retired the character. In that scene (in Season 25, Episode 13), Ned and Edna dance the tango, but we then learn that this is a dream that Ned is having. When he wakes up, he is wearing a black band, suggesting he is mourning his second wife. Her photo is in a frame next to that of his dead first wife, Maude. We hear him say, "I sure do miss that laugh."
Prior to the release of that episode, the show had paid tribute to Wallace in November 2013, the month after she died. On the "Four Regrettings and a Funeral Episode," we see Bart write "We'll really miss you Mrs. K" on the chalkboard. The episode is also dedicated to her memory.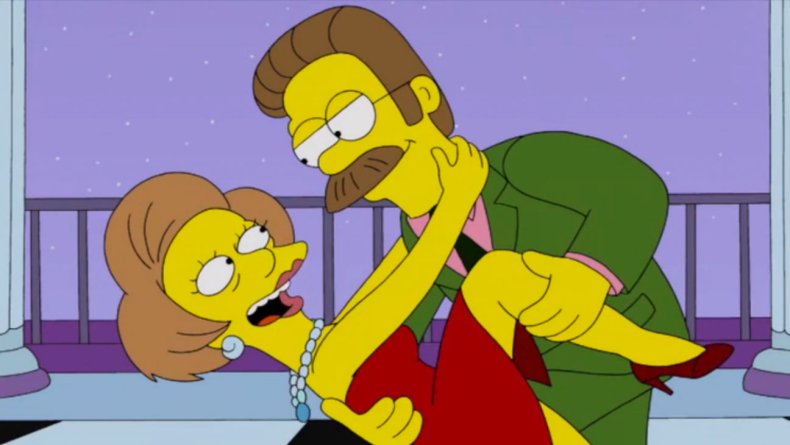 Though this confirmed that the character had died within the canon of the show, The Simpsons have never revealed exactly what happened to the character. The series, however, has shown us her grave in two episodes ("Looking for Mr. Goodbart" and "Dogtown") and has shown us the character in archive footage two more times—"Left Behind" and "Bart's Not Dead."
A part of the "Diary Queen" episode's tribute to Mrs. Krabappel, the show got permission from the voice actor and former Bob Newhart Show star's estate to use some of her dialogue, recorded for previous episodes.
This is not the first time, however, that the show has used archive recordings done by Wallace to briefly bring her character back to life. The Season 31 episode "Todd, Todd, Why Hast Thou Forsaken Me?" sees Ned and Homer go to Heaven, where they meet both Maude and Edna (and John the Baptist and Abraham Lincoln.)
Asked by Variety why the show decided to pay tribute to the actor now, executive producer Al Jean said: "Sadly, it was very surprising passing. I didn't know she was that ill until very close to when it happened. So we never got the chance to give sort of a proper goodbye to her in the show, and this is a small attempt to do that.
"She was so beloved by everybody that worked on The Simpsons, that we just sort of wanted to give her one last moment on the show in her memory. It's just that, it's nothing more, but, we thought she was the best."
He also revealed that the show had deliberately decided not to reveal how the character died, saying, "I don't think that people these days want to necessarily know how a character passed away. But we reveal a little bit more about [Mrs. Krabappel] and then a little bit more about her life and how the character was feeling when she passed."
The Simpsons continue Sundays at 8 p.m. ET / 7 p.m CT on Fox. The current Season 32 streams on Hulu. Previous episodes stream on Disney+.