Since George Floyd's Death, 66 Cars Have Hit Protesters, 7 Driven By Cops
During the racial justice protests that have occurred since the May 25 murder of Black Minneapolan George Floyd by a white police officer, there have been 66 incidents of vehicles driving into protesters including seven by police, according to terrorism researcher Ari Weil.
Weil, who studies at the University of Chicago's Project on Security and Threats, an international security affairs research institute, said that 19 of the 59 civilian incidents were deliberately malicious and four weren't, according to USA Today. Weil said he didn't have enough information to determine the motives of the 36 other incidents.
These incidents have played out in cities across the U.S. including Bloomington, Indiana; Los Angeles, San Jose and Visalia, California; Boston, Massachusetts; Lakeside, Virginia; Seattle, Washington; Tallahassee, Florida; Tulsa, Oklahoma and Minneapolis, Minnesota, the city where Floyd died.
While at least 24 of the civilian cases have resulted in criminal charges, some others have been dismissed as accidental reactions of drivers who felt threatened after being surrounded by protesters or not worth prosecuting when no protesters were "seriously injured."
When law enforcement vehicles have driven into protesters—as happened in Detroit and New York City—police chiefs sometimes say that such actions are permitted under departmental use-of-force policies or were justified to avoid possible assaults by crowds.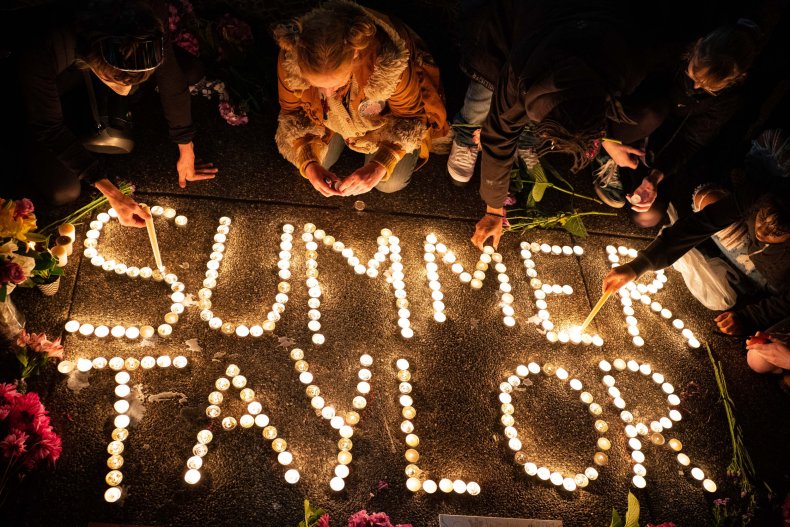 In 2016 and 2017 vehicular attacks became a common tactic of ISIS, the Middle Eastern terrorist organization, whose followers used trucks to kill scores of pedestrians in Nice, France; London and New York City.
Lorenzo Vidino, director of George Washington University's Program on Extremism, said such attacks are cheap, easily organized and "camera-friendly", perfect for disturbing viral videos meant to terrorize viewers.
Vidino also says the tactic has since been adopted by American extremists including incels—the misogynist subculture of self-proclaimed "involuntary celibates"—and right-wingers, most notably the white supremacist who drove into a crowd of anti-fascist protestors at the Unite the Right rally in Charlottesville, Virginia in August 2017, killing 32-year-old Heather Heyer and wounding eight others.
Mentions of vehicular attacks have also circulated as joking memes around right-wing online groups.
An example of one such meme is the recent slogan "All Lives Splatter", a spoof of the anti-Black slogan "All Lives Matter" which is sometimes accompanied by drawings of a vehicle hitting protesters.
"There's a significant amount of people who think that any protester hit in the street has it coming, and that's a dangerous mindset," J.J. MacNab, a fellow at George Washington University's Program on Extremism, told USA Today.