Why We Should Take Sinead O'Connor's Mental Illness Seriously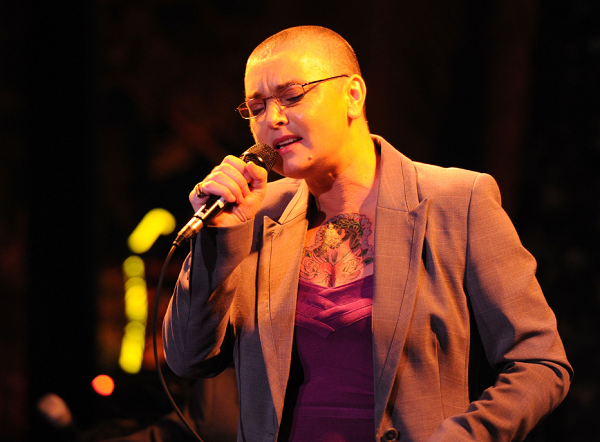 When Linkin Park frontman Chester Bennington committed suicide in late July, heartbroken fans across the globe took to their social media to preach the importance of mental health and advocated for people who were battling mental illness to reach out for help if they needed it. Similar sentiments were shared on Twitter, Facebook and every other medium when Soundgarden singer Chris Cornell killed himself nearly two months before Bennington.
But when pop star Sinead O'Connor opened up about her struggle with the mental illness and suicidal thoughts that forced her away from her family in Ireland recently, the singer wasn't necessarily met with the same compassion that was offered to Cornell and Bennington after their battles with depression and addiction led them to suicide.
In an emotional video posted on her Facebook account Thursday, O'Connor said she was living in a Travelodge motel near Hackensack, New Jersey, suffering from a kidney stone, adding that there was "absolutely nobody" in her life other than her psychiatrist, who was about the "only fucking thing keeping me alive at the moment."
"I gave so much love in my life, and I just can't understand how a person can be left alone in their life. And I want to show everybody what it's like, that's why I'm making this video. Mental illness, it's a bit like drugs. It doesn't give a shit who you are. And equally, you know what's worse, the stigma doesn't give a shit who you are. And suddenly all the people who are supposed to be loving you, taking care of you, are treating you like shit. And then when you're angry or you're hurt because they're doing it, it's like a witch hunt," O'Connor said.
The Ireland native explained that she had been living away from her family for the last two years, which she said was her punishment for suffering from being mentally ill. It is unclear how long O'Connor had been living out of the Travelodge. Motels in the area have a reputation for being riddled with crime, drug abuse, prostitution and human trafficking. In February police arrested a man after he was discovered prostituting three underage girls out of motels in South Hackensack.
O'Connor, 50, didn't explain the illnesses she had been diagnosed with. However, the singer, who was thrust into the spotlight with her chart-topping cover of Prince's "Nothing Compares 2 U" more than 27 years ago, has struggled with mental illness and drug abuse in the past.
In November 2015, the singer had to undergo medical treatment after posting a Facebook message that she had taken a drug overdose. Months later, in May of 2016, she had been listed as a missing/endangered person after she didn't return to her Chicago home following a bicycle ride. The caller who reported O'Connor missing had expressed concern for her well-being, according to a police report.
While O'Connor did receive an outpouring of compassion from commenters, there were a number of people who ridiculed the I Do Not Want What I Haven't Got singer and blamed her toxic relationship choices for her current predicament. O'Connor divorced her fourth husband, Berry Herridge, just 16 days after she married him in 2012.
O'Connor said she posted the video hoping that it would be "somehow helpful" for the "millions and millions of people who are just like me, actually, who don't have necessarily the resources that I have in my heart or my purse for that matter."
Every year in the U.S., about 42.5 million adults are diagnosed with a form of mental illness, including depression, bipolar disorder or schizophrenia, according to the Substance Abuse and Mental Health Service Administration. However, only 62.9 percent of those who do suffer from a form of mental illness actually receive treatment for it.
Meanwhile, suicide rates in America recently reached a 30-year high in 2016. A National Center for Health Statistics report released in April 2016 found suicide rates had jumped 24 percent from 1999 to 2014, while rates for women aged 45 to 64 had increased by 63 percent during the same time frame. The increase caused the national rate to increase to 13 per 100,000 people, which was the highest it had been since 1986.
Since the video's release, a message updating fans on O'Connor's status was posted on her Facebook account Monday, explaining that she was now "surrounded by love and receiving the best of care."