Singer Liz Phair's Defense of Queen Elizabeth II Sparks Debate on Feminism
The death of Queen Elizabeth has sent shockwaves around the world and prompted an outpouring of grief worldwide, as well as celebrations, debates about colonialism and tributes from world leaders. Now, comments from singer Liz Phair have started a Twitter debate about the late monarch and feminism.
The queen, who reigned for 70 years, longer than any other British monarch, died Thursday at age 96 at Scotland's Balmoral Castle. A statement from Buckingham Palace simply read: "The Queen died peacefully at Balmoral this afternoon. The King and The Queen Consort will remain at Balmoral this evening and will return to London tomorrow." Elizabeth's eldest son now becomes King Charles III.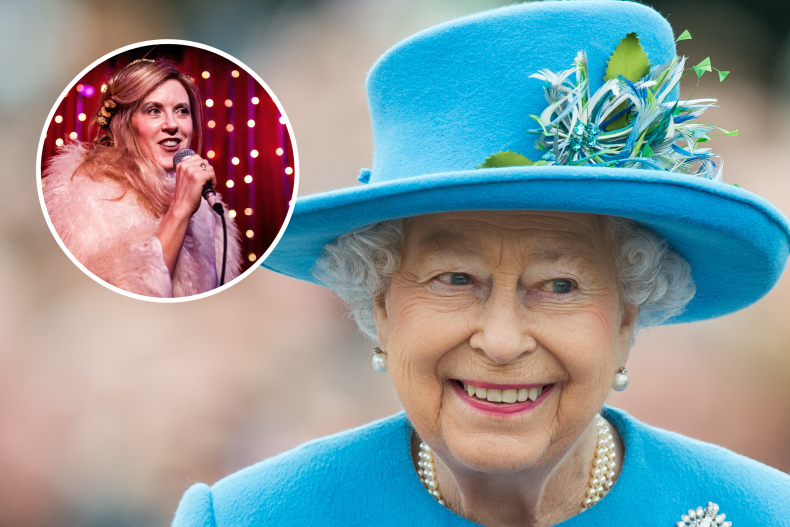 For Phair, the royal's death prompted her to share on Twitter a tribute in which she praised the queen for "elegantly" maintaining her "tricky role."
"I am in no way cool w a post QEII world. Don't lecture me about imperialism; she was NOT an absolute monarch (a system founded by men) and never tried to be," she tweeted in a since-deleted post.
"She knew with exquisite precision the bounds of her tricky role, and I adored her for maintaining it so elegantly," Phair said.
However, the "Why Can't I?" singer's sentiments were met with criticism as Twitter users addressed the British royal family's role in colonialism and imperialism.
"What's elegant about genocide exactly?" read one response, which came as many were debating Queen Victoria's role in the Irish Potato Famine.
Another user tweeted: "Please respect my privacy in this difficult time (Liz Phair revealing that she's a monarchist)."
In defense, Phair posted a series of tweets clarifying her stance, saying that her "feminist education" shaped her perspective.
"I grew up with a heavily 2nd wave feminist education and that shaped my perspective enormously," she said. "I fully understand that is not what feminism is today. I don't have the philosophical framework to interpret events through a younger lens. I f***ing loved her. I looked up to her."
Phair continued, "I understand that's not at all congruent with other people's experience of her. But when I was younger, she was one of the few, powerful women to be covered in a global context. I saw her as thrust into a role she didn't want and as someone who tried to rise in male-dominated spaces, I related to and rooted for her in that context.
"Maybe she could have done something differently but considering what happened to Diana, I doubt it. I can't stop myself from feeling what i feel, but I can do a better job of being responsible with my views on twitter," Phair said.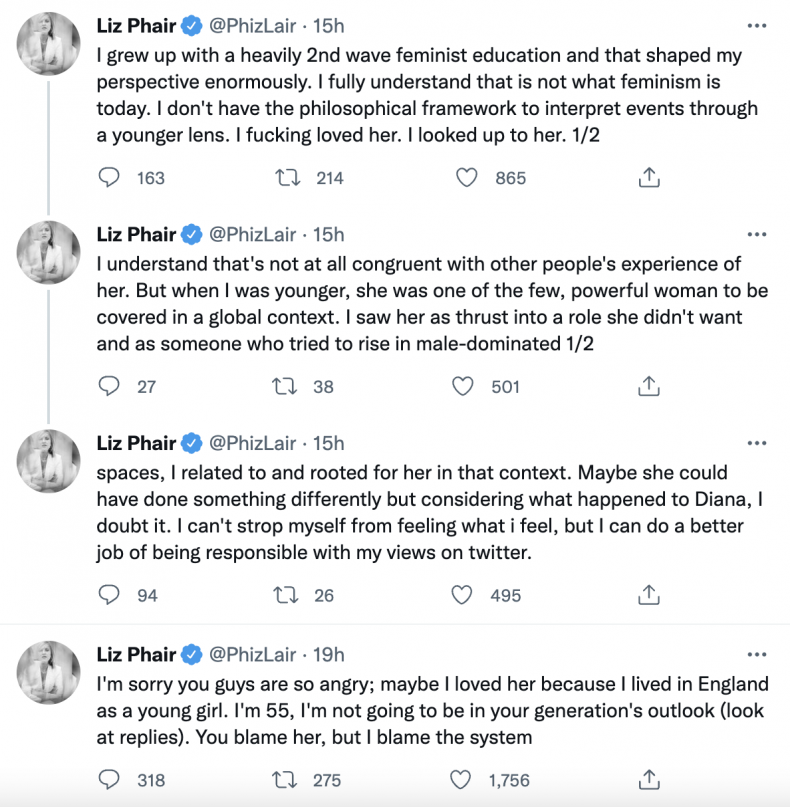 Some users were upset that the singer used feminism as an excuse for being a fan of the queen and for excusing atrocities committed during the British Empire.
"So Liz Phair is the latest addition to my list of (former) idols that has publicly come out essentially defending the monarchy and imperialism in the name of 'feminism,' exemplifying why white feminism shouldn't be the standalone face of women and femmes' rights ideology," said one tweet.
Queen Elizabeth's death has also prompted academics and writers to debate her role in "continued colonialism" in Africa, while the BBC has been criticized for "rebranding colonialism" in its coverage of the royal's passing.
Newsweek has contacted Phair's representatives for further comment.