Singer Performs QAnon Song at Republican Fundraiser Event
A singer performed a QAnon anthem at a recent fundraiser for Republican Arizona Secretary of State candidate Mark Finchem.
The female singer performed the song WWG1WGA for an audience who were attending Finchem's fundraiser at what appeared to be The Waterfront Beach Resort, a Hilton hotel in Huntington Beach, California, on Sunday.
Jordan Sather, a QAnon influencer who claimed he had been invited to film Finchem's fundraiser, told his followers the song was performed by LaLa Deaton.
WWG1WGA is the QAnon rallying cry meaning "where we go one we go all," and has been used by its members to signal and spread debunked claims and mainstream misinformation.
QAnon followers believe former President Donald Trump is a messianic figure who will somehow expose a cabal of Satanic cannibalistic pedophiles whose members include Democrats, celebrities, and business leaders.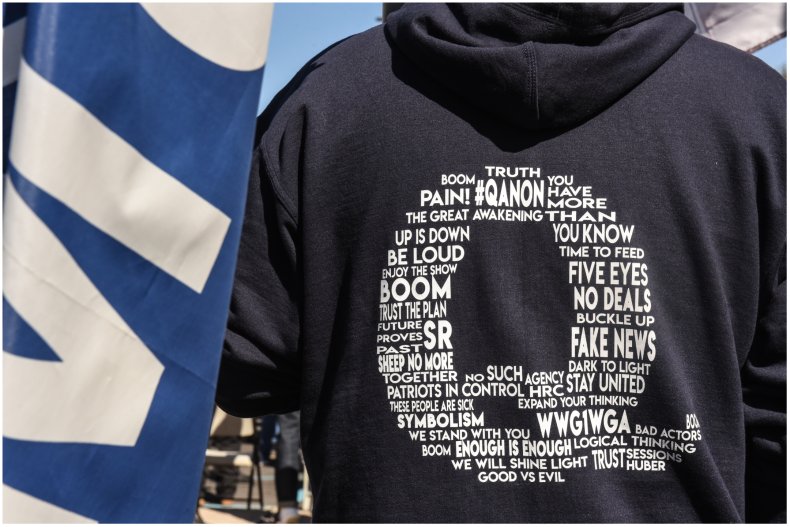 The debunked claims include that Hillary Clinton would be arrested and that Trump would remain as president, despite his 2020 election loss to Joe Biden.
Finchem has previously flirted with the conspiracy theory and was one of several GOP lawmakers to attend a QAnon convention in Las Vegas in October last year.
He also appeared on QAnon-supporter media, including the RedPill78 podcast in May of that year.
The video for Deaton's song remains on YouTube despite the platform's promise in 2020 to crack down on content linked to the conspiracy movement.
Sather's video was later shared on Twitter by Alex Kaplin, a senior researcher at Media Matters for America - a left-leaning media analyst group.
QAnon followers have latched onto Trump's unfounded claim the 2020 election was somehow stolen from him.
Finchem, who is supported by Trump and has echoed Trump's claims about election fraud, won the Republican primary nomination for secretary of state last month and will oversee elections in Arizona should he beat Democrat Adrian Fontes in November.
Sather claimed two other venues had canceled Finchem's fundraiser and that a third venue needed to be found.
Steve Bannon and Michael Flynn, who both have repeated false claims the 2020 election was stolen, were listed as Finchem's special guests for the fundraiser.
Flynn has previously described the WWG1WGA as a "great phrase" and courted controversy when he shared a video of himself and others making a pledge while using the slogan associated with the QAnon conspiracy theory.
Those who attended the fundraiser paid between $300 to $5,300 to be admitted or meet Flynn, Bannon, and other special guests.
Newsweek has reached out to Finchem, the Hilton hotel, and Fontes for comment.
Finchem's fundraiser is the second event in as many days where Republicans have included music at their events that have been linked to the QAnon conspiracy theory.
QAnon influencers suggested Trump gave them a signal during his speech at a rally in Ohio on Saturday evening.
As the former president spoke an instrumental track could be heard in the background as he told the crowd the U.S. was a nation in decline.
The song sounds familiar to the 2020 track WWG1WGA by a musician going by the name Richard Feelgood.
A Trump spokesperson told Vice News the song was not Feelgood's, but a song called Mirrors by TV and film composer Will Van De Crommert.
Media Matters claimed the audio from both songs were "virtually identical" after it analyzed them using the audio editing software Audacity.