Which 'Single's Inferno' Couples Are Still Together? What Happened Behind the Scenes
Single's Inferno, the Korean dating show on Netflix, sees real-life K-drama unfold as 12 singletons (six men and six women) go on a quest for true love and get coupled up.
The new series was the first Korean reality show to join the streamer's global top 10 ranking earlier this month, according to FlixPatrol.
Set on a remote island surrounded by beautiful pink sunsets, pristine sandy beaches and sculpted sun-kissed bodies, the cast members must rely solely on their own "natural charm" to win each other over, with no knowledge of each others age or profession.
Through different games held at the island, they each have a chance to win a night in "paradise" at a luxury hotel away from the island with the person of their choosing. Only those who choose each other can enjoy an overnight date at the luxury hotel.
Which Single's Inferno Couples Are Still Together?
The finale of the series, which was released on January 8, saw the birth of four couples. The cast members shot to international fame following their appearance on the show.
So did the couples walk off into the sunset or was there trouble in paradise?
Song Ji-ah and Kim Hyeon-joong
Ji-ah, the YouTube beauty content creator who turned heads among both the men and women in the series for her show-stopping looks, ultimately selected Hyeon-joong, a fashion model/personal trainer.
In the show, Hyeon-joong nicknamed himself "puppy," referring to how he was always eagerly waiting for Ji-ah's arrival from her stays off the island or attention in general.
In the final episode, Ji-ah simply said: "Let's go puppy," as she took Hyeon-joong's hand to signal her choice.
According to South Korea's Top Star News, after the finale aired, Hyeon-joong shared an Instagram story featuring an image of a golden retriever wearing a leash. Could this be a sign that the couple are going strong? Neither Ji-ah and Hyeon-joong have publicly officially confirmed their relationship status.
Moon Se-hoon and Shin Ji-yeon
Many fans of Se-hoon (a restaurant owner) were delighted to see that he finally got coupled with Ji-yeon (a college student studying neuroscience), after being turned down indirectly several times by her.
The pair became close during their luxury getaways in the last two episodes, which included a heartwarming moment when Ji-yeon opened up to Se-hoon in tears about the emotional journey she'd been on.
However, it remains to be seen whether the pair have stuck together. While the two are active on their respective Instagram accounts and follow each other on the social media platform, there have been no posts hinting at their status as a couple.
Kаng So-yeon and Oh Jin-tаek
Jin-taek, the tailor shop owner who initially was focused only on So-yeon (a tall, sexy, sporty boxing gym owner), at one point downplayed the connection he had with her.
But through the ups and downs, the pair chose each other. According to an Instagram post shared by So-yeon in August 2021 (as reported by TheCinemaholic), the couple may have been playing tennis together, as Jin-taek also posted a video Instagram around the same time of him on the tennis court.
But neither So-yeon nor Jin-taek have confirmed whether they stayed together since the show.
Ahn Yeah-won and Kim Jun-sik
Yeah-won (health/beauty model and Pilates instructor) hilariously pretended to reject Jun-sik (the owner of a health foods startup) in the finale. However, thankfully, they did leave the island as a couple.
While it's unclear whether the couple are still together, Jun-sik reportedly did a repost of a collage of himself and Yeah-won on his Instagram account on January 12, according to Bustle.
More Single's Inferno Behind the Scenes
All Cast Members Underwent Psychological Screening
Before the show, each contestant consulted with a psychiatrist to test whether they could withstand the stress of appearing on a reality show. "Only those who passed this screening test were able to move on to filming the show," the show's producer said, according to South Korea's Etoday.
The Reason Behind Se-hoon's Sheepish Smile in Episode 6
Se-hoon was seen smiling sheepishly after declaring he had chosen to take Ji-yeon with him for his first overnight luxury stay. He was smiling at seeing the faces of the production team in front of him who were visibly shocked by his surprising choice, according to Netflix Korea and Etoday.
Ji-ah's Dad Wanted Someone Else For His Daughter
According to Netflix Korea, Ji-ah's father wanted his daughter to end up with someone like Choi Si-hun (a fashion entrepreneur who fell head-over-heels for her from the moment he set eyes on her). Her dad reportedly said he hoped she could be with someone who would "give her a lot of love" in the way that Si-hun expressed in the show.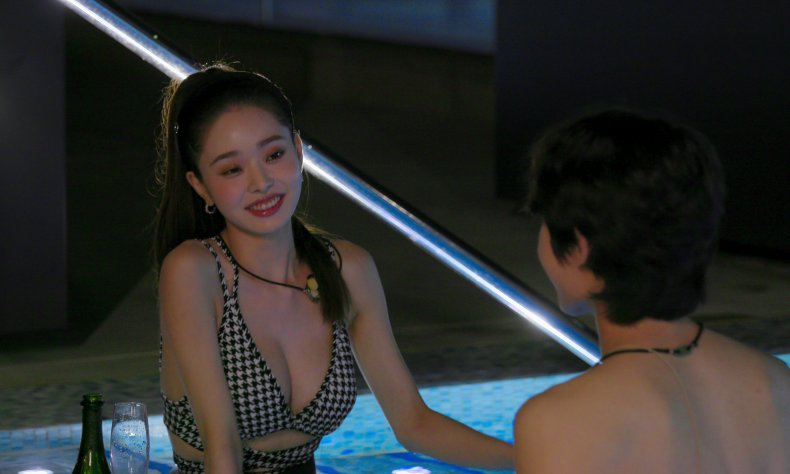 A K-Pop Star Played a Major Role in Casting One Contestant
Cha Hyun-seong, a dancer and fashion model who was debating whether to join the show, decided to do it following a suggestion by K-pop star Sunmi, with whom he has worked as a dancer, according to Netflix Korea.
Hyun-seong (a gym buddy and close friend of Hyeon-joong) was among the three new singles who arrived on the island. He upped the drama level after he set his eyes on Ji-ah.