Six Standout Moments From Biden's CNN Town Hall
Former Vice President Joe Biden condemned President Donald Trump's reported remarks about fallen soldiers, promised to bring troops home from the Middle East, and pushed for more police accountability during a CNN town hall on Thursday night.
Appearing in his hometown of Scranton, Pennsylvania, the Democratic presidential nominee repeatedly criticised his rival's handling of the COVID-19 pandemic and hit out at the behavior of top administration officials.
With less than two months to go until election day, Biden also pitched the 2020 presidential contest as a battle between Scranton and Park Avenue as he faced questions about his policy platform and stances on several key issues.
Here are six key takeaways from Biden's CNN town hall:
Trump's Pandemic Response 'Close to Criminal'
Biden railed against President Trump's response to the COVID-19 pandemic at the start of CNN's drive-in town hall, telling the network that the commander-in-chief's handling of the outbreak had almost been "criminal."
Referring to the president's decision not to warn Americans about the severity of COVID-19 in early February, despite knowing that the virus was highly infectious and could be spread through the air, Biden also accused Trump of doing "nothing" to curb the pandemic.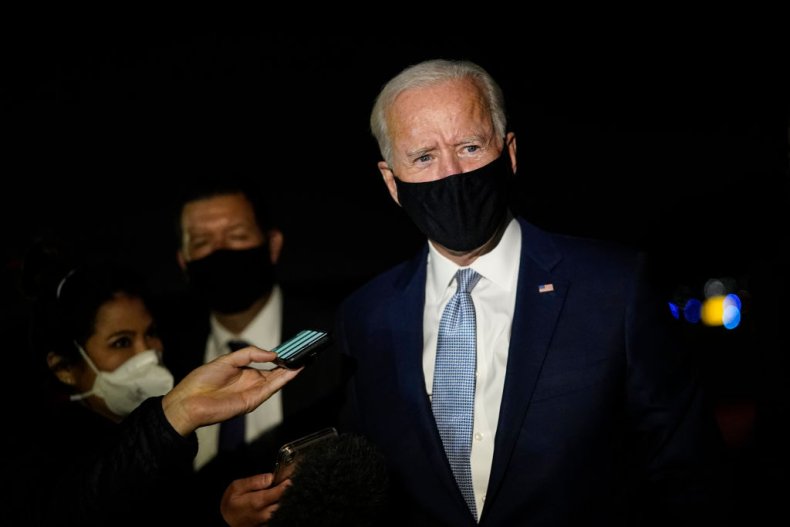 Asked if he would ever downplay a virus to prevent public panic, the Democratic nominee told CNN: "Not at all. The idea that you're not going to tell people what you've been told, that this virus is incredibly contagious, seven times more contagious than the flu... what has he done?"
The former vice president later added: "He knew it and did nothing. It's close to criminal."
Biden 'Really Offended' by Trump's Troop Remarks
When asked about his healthcare policy, Biden mentioned the case of his late son Beau Biden, a former serviceman who died after a battle with cancer in 2015.
As he recounted the death of his son, Biden fumed over Trump reportedly calling fallen U.S. soldiers "losers" and "suckers." The president has repeatedly denied the allegations reported by The Atlantic earlier this month.
Speaking at his Scranton town hall last night, Biden said: "My son died of cancer. He came home from Iraq and I have to tell you it really, really offended me when he volunteered to go there for a year but came home with stage four glioblastoma, and the president referred to guys like my son... as losers."
The visibly angered presidential nominee then added: "Losers. Talk about losers." Biden raised his hand as he spoke and clenched his fist before settling down.
Going back to his healthcare platform, Biden said healthcare was an "absolute right" and added that "billions" needed to be invested in cancer research and care.
'Will You Bring My Brothers and Sisters Home?'
After the Democratic nominee spoke about the passing of his veteran son, a fellow serviceman took to the microphone to quiz the former vice president on "endless wars" and his stance on military deployments abroad.
The Afghanistan veteran and manufacturing worker Justin Gaval said: "I want to know, if you are elected, will you bring my brothers and sisters home? And our military involvement in these unnecessary endless wars that don't have any end in sight."
Biden told the former serviceman that he would bring troops home from the Middle East, and claimed to be opposed to a significant increase in the U.S.'s presence in Afghanistan.
"The only presence we should have is a counterterrorism presence, not a counterinsurgency presence," the ex-vice president said. "But we have to be in a position where we can make it clear that if need be we could respond to terrorist activities coming out of that region directed toward the United States."
He added that a sizeable presence in the Middle East was not required for that task.
Biden Doubles Down on Police Accountability
Addressing a question about police interactions with the Black community amid national unrest over racial injustice, Biden again pledged to push for further police accountability and more strenuous checks on would-be officers.
"The vast majority of police are decent, honorable people. One of the things I've found is the only people who don't like bad cops more than we don't like them are police officers," the Democratic nominee said. "So we have to have a much more transparent means by which we provide for accountability within police departments."
He added that there had to be "much more rigorous" background checks on Americans seeking to become police officers, as well as greater de-escalation training.
"I'm confident the vast majority of the police are prepared to sit down in the White House... to sit down and lay out what the minimum basic requirements are and what's out of bounds," Biden later said. "Including the need for us to be able to go in and look at pattern and practice of police departments so they're completely transparent."
Scranton v Park Avenue
Speaking about his view of the 2020 campaign, Biden pitched the presidential contest as a battle between the needs of the people in his hometown Scranton and those residing on Park Avenue in New York City.
"The way we were raised up here in this area, awful lot of hard work and people bust their neck. All they ask for is a shot, just a shot," the Democratic candidate said.
"All that Trump can see from Park Avenue is Wall Street. All he thinks about is the stock market, telling we're going to do all right, everybody owns stock. [In] my neighborhood in Scranton, not a whole lot of people own stock."
The new line of attack against President Trump, who owns a large hotel on Park Avenue, was briefed to the media by Biden's team earlier in the day. The Hill reported that the Biden campaign's communications director Kate Bedingfield offered a similar line before the CNN town hall began.
Biden Condemns Barr's 'Outrageous' Slavery Remark
Attorney General William Barr drew a lot of criticism on Thursday after it was reported that he said coronavirus lockdown measures were the "greatest intrusion" on civil liberties in U.S. history, apart from slavery.
Several public figures called his remarks insensitive, with House Majority Whip Jim Clyburn (D-S.C.) saying it was one of the most "tone-deaf" comments he'd ever heard.
Speaking at Hillsdale College on Wednesday night, Barr said: "You know, putting a national lockdown, stay at home orders, is like house arrest. Other than slavery, which was a different kind of restraint, this is the greatest intrusion on civil liberties in American history."
Reacting to Barr's remarks at last night's town hall, Biden said: "What Bill Barr recently said is outrageous, that it's likely slavery, we're taking away freedom. Let me tell you what takes away your freedom. What takes away your freedom is not being able to see your kid, not going to the football game or baseball game, not being able to see your mom or dad sick in the hospital."
He then blamed the Trump administration's failure to take earlier action on the COVID-19 pandemic for the need to roll out such restrictions.