Six Things to Know About Transportation Pick Elaine Chao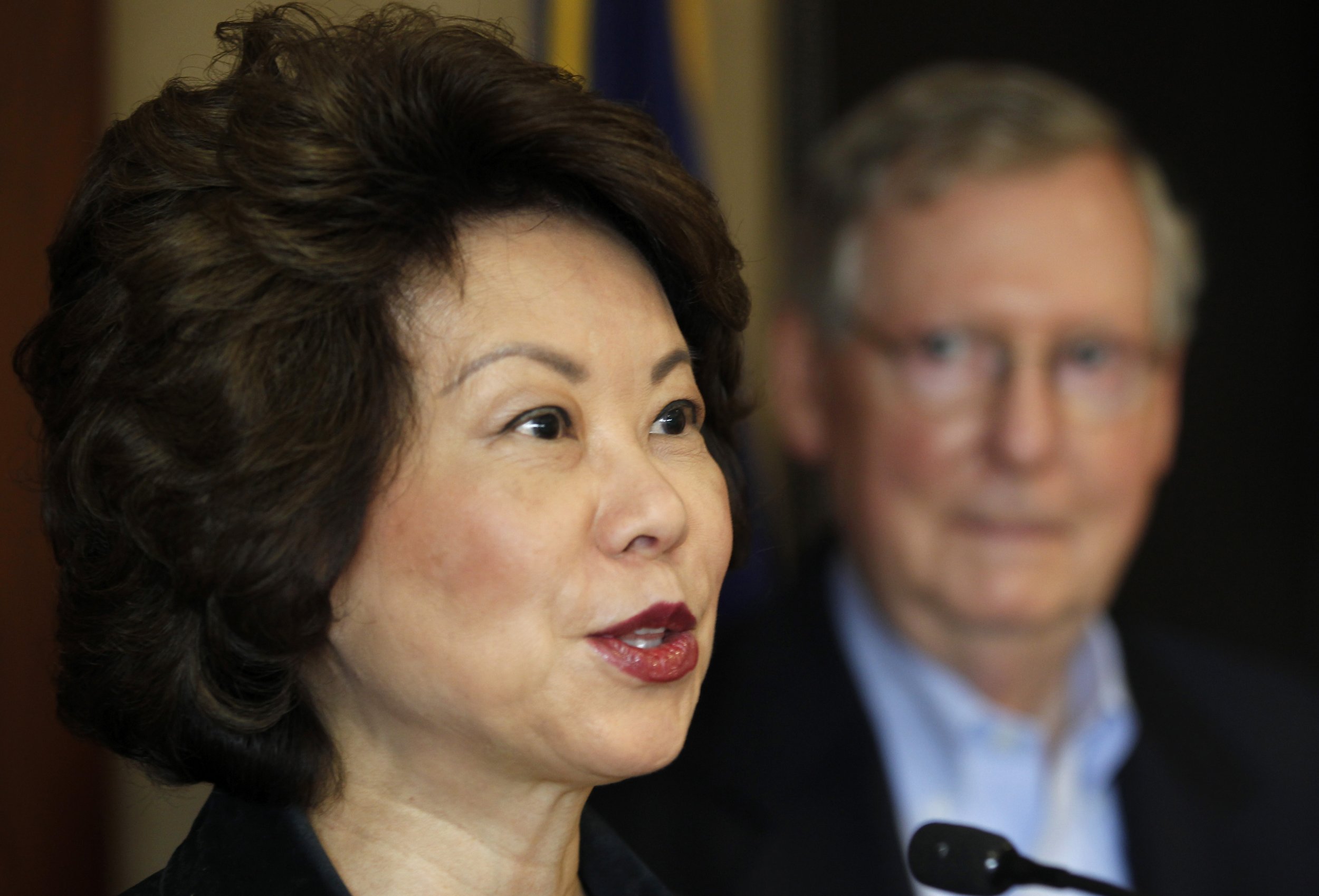 This article first appeared on The Daily Signal.
President-elect Donald Trump has tapped Elaine Chao to head the U.S. Department of Transportation, multiple media outlets, according to reports.
Chao is an experienced administration official, having served as labor secretary under President George W. Bush and deputy secretary of transportation under President George H.W. Bush.
In the new Trump administration, Chao stands to serve an influential role, as the president-elect made investing in infrastructure and reducing or eliminating "burdensome regulations" a key component in his campaign.
Related: All you need to know about U.N. pick Nikki Haley
Trump's ambitious infrastructure policy agenda includes transforming the nation's roads, bridges, tunnels, airports, railroads, ports, waterways and pipelines "in the proud tradition of President Dwight D. Eisenhower," according to his website.
If the Senate confirms Chao, she will succeed Anthony Foxx, who is the second official to serve in the position under President Barack Obama.
Here are six things to know about Trump's pick for transportation secretary.
1. She comes from a humble background.
In 1961, at just 8 years old, Chao arrived in the United States on a freight ship from Taiwan. Her family was fleeing the Communist revolution on mainland China. At the time, she spoke no English.
According to her biography, the experience transitioning to a new country "motivated her to dedicate most of her professional life to ensuring that all people have the opportunity to build better lives."
Chao graduated from Mount Holyoke College in Massachusetts before receiving her MBA from the Harvard Business School.
2. She was the first Asian-American woman to be appointed to a president's Cabinet.
Chao served as secretary of labor under George W. Bush from 2001 to 2009. In this position, she was "the longest tenured secretary of labor since World War II, and the only member of President Bush's original cabinet to have served the entire eight years of his administration."
Before serving under George W. Bush, his father, President George H.W. Bush, tapped Chao to run the Peace Corps. A year later, she headed the nonprofit United Way of America, which faced controversy after its former president was accused of abusing charity funds.
Under the first President Bush, Chao also served as deputy transportation secretary.
According to The New York Times, she became so popular among Chinese-American families for holding these posts that they would "wait to meet her in airports."
3. She's worked with a variety of D.C.-based think tanks.
In June, Chao became a distinguished fellow at the Hudson Institute, researching areas of "employment, labor mobility, international trade and U.S. competitiveness in a worldwide economy."
Prior to joining Hudson, she served as a distinguished fellow at the Heritage Foundation, which is the parent organization of the Daily Signal, for two stints from 1996 to 2000 and 2009 to 2016. At Heritage, she focused on jobs and the economy, trade and competitiveness issues.
4. She's been an influential force behind her husband, Senate Majority Leader Mitch McConnell.
Although Chao has never herself run for elected office, she has put in her fair share of campaigning for her husband, Sen. Mitch McConnell, the GOP leader from Kentucky.
During his 2014 re-election bid against the well-funded Alison Lundergan Grimes, "Chao headlined 50 of her own events and attended hundreds more with and on behalf of McConnell," according to Time.
Her husband isn't afraid to admit her influence: "The biggest asset I have by far is the only Kentucky woman who served in a president's Cabinet, my wife, Elaine Chao," McConnell said at the annual Fancy Farm GOP political picnic in August, according to Time.
5. She backed Donald Trump for president.
Unlike her former boss, Chao joined dozens of former George W. Bush administration officials in September in voicing their support for Republican presidential nominee Donald Trump.
Chao, along with former Treasury Secretary John Snow, former U.S. Attorney General John Ashcroft, and former Health and Human Services Secretary Tommy Thompson—among others—were part of a coalition of Bush alumni coalition supportive of Trump, according to Reuters.
6. She's the second person to head the Departments of Transportation and Labor and be married to the Senate majority leader.
Former Sen. Elizabeth Dole, wife of former Senate Majority Leader Bob Dole, led the Department of Transportation under President Ronald Reagan and the Department of Labor under the elder Bush.
Kelsey Harkness is a senior news producer at The Daily Signal.
Read more from Newsweek.com:
- Seven things to know about education pick Betsy DeVos
-Obama team in despair over Flynn pick