Slain Iran Scientist Was Once Warned by Israeli Prime Minister Benjamin Netanyahu: 'Remember That Name'
Israel Prime Minister Benjamin Netanyahu discussed the work of one of Iran's top nuclear scientists during a 2018 news conference about the country's allegedly ongoing nuclear development program.
The scientist, Dr. Mohsen Fakhrizadeh, was killed on Friday in what Iran's Ministry of Defense described as an attack by terrorists. Iran has accused Israel of conducting the attack.
Fakhrizadeh's name came up during a news conference that Netanyahu hosted on April 30, 2018, shortly after Israel obtained troves of documents that appeared to detail Iran's nuclear weapon development efforts. Appearing in front of a screen that alternately showed screenshots of specific documents with enlarged quotes from Iranian officials and statements like "Iran lied" in large text, Netanyahu said Israel had proof that Iran continued "Project Amad," its nuclear war program, in the shadows for years after concluding the program officially in 2003.
Netanyahu said at the time that Iran developed a new strategy to continue its nuclear research with top scientists in place to move the work forward. One of those scientists was Fakhrizadeh, the man believed to have been at the head of Project Amad, Netanyahu said. The prime minister included on one slide a quote from Fakhrizadeh that said Iran's "general aim is to announce the closure of Project Amad" but that "special activities will be carried out under the title of scientific knowhow development."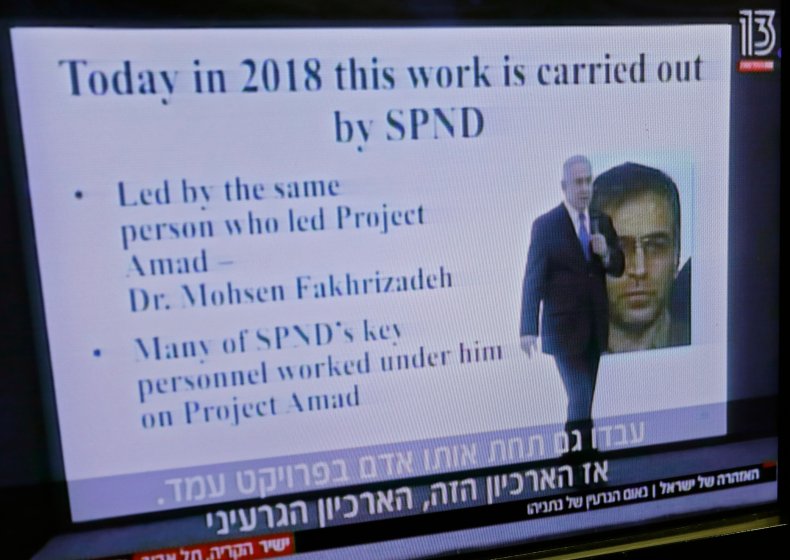 "This is how Dr. Mohsen Fakhrizadeh, head of Project Amad, put it—remember that name, Fakhrizadeh," Netanyahu said, pointing to Fakhrizadeh's comments. "And in fact, this is exactly what Iran proceeded to do. It continued this work in a series of organizations over the years."
Netanyahu said the documents Israel obtained showed that ongoing nuclear research was conducted by Iran's Organization of Defensive Innovation and Research, also known as SPND.
"You will not be surprised to hear that SPND is led by the same person who led Project Amad: Dr. Fakhrizadeh," Netanyahu said. "And also, not coincidentally, many of SPND's key personnel worked under Fakhrizadeh on Project Amad. So this atomic archive clearly shows the Iran plan at the highest levels to continue work related to nuclear weapons under different guises and using the same personnel."
Newsweek reached out to the Israel Ministry of Foreign Affairs for comment but did not receive a response in time for publication.
Iran's Defense Ministry announced Fakhrizadeh's death in a public statement on Friday. According to ministry officials, Fakhrizadeh was in a vehicle at the time of the attack and was seriously injured in the following gunfight between his attackers and his bodyguards. Fakhrizadeh was taken to a hospital for treatment but later died, the ministry said.
Following news of Fakhrizadeh's death, political leaders in Iran—including an adviser to Iran's supreme leader and the Revolutionary Guards' chief commander—began calling for a united rebuke of the attack.
"Terrorists murdered an eminent Iranian scientist today. This cowardice—with serious indications of Israeli role—shows desperate warmongering of perpetrators," Foreign Affairs Minister of Iran Javad Zarif wrote on Twitter. "Iran calls on int'l community—and especially EU—to end their shameful double standards & condemn this act of state terror."