Meet the Women Who Say 'Slow Living' Trend Transformed Their Mental Health
The chaotic nature of modern life creates many pressures as people try to live up to seemingly impossible standards and strive to accomplish more. As soon as you've achieved one thing, it's onto the next target you've set. There's hardly ever a chance to take stock and reflect on the present.
The American Psychological Association (APA) says that while stress can sometimes be a "positive force motivating performance," too much of anything becomes a bad thing so it's important that the pressure doesn't become unbearable.
Facing constant pressure can lead to chronic stress, causing physical and mental health problems, including depression, anxiety, digestive problems, headaches, high blood pressure, problems sleeping and impaired concentration, according to the APA.
That is why many people are shifting towards the notion of Slow Living, a movement that encourages people to eliminate external pressures that are fueling their stress, do things that make them happy, and most importantly, slow down the pace of life to be more present in every moment.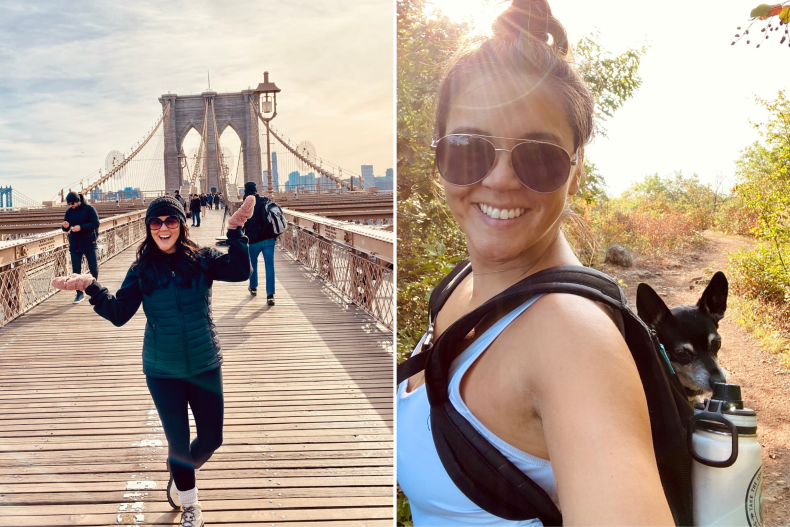 Slow living allows people to make decisions for themselves, rather than what they believe other people want them to do. It's about doing things with intention and purpose, not about doing them for the sake of ticking boxes.
For some, this could be as simple as taking time to enjoy breakfast without the distraction of a phone bleeping notifications or perhaps cutting back on workload. For others, it means downsizing everything and extricating themselves away from the hustle of a city to live in a calm space of their own.
'I Was Burnt Out, I Felt Like My Life Had No Meaning. Slow Living Has Completely Transformed My Entire Existence.'
Minimalist lifestyle coach Renee Benes, 37, of Minneapolis admitted that her life used to be fast-paced and involved working all the time, leaving minimal time to spend with her husband and two children.
In 2014, Benes became mindful of wanting a less chaotic lifestyle, to be present for her family rather than working incessantly and feeling anxious.
"For a while, when you're in go mode it feels awesome like you're on top of the world," she told Newsweek. "My husband, Tom, and I were both accomplishing a lot as far as society was concerned. He was getting the promotions, I was running my own photography business. Slowly, the high of accomplishing and always staying busy started to take its toll. I felt burnt out, exhausted and like my life had no meaning.
"In 2014, I was reading books by Wayne Dyer and whenever he spoke of his lifestyle—yoga, walks on the beach, reading and writing—there was something inside me that wanted that too," Benes said. "The idea of living this enjoyable lifestyle seemed impossible because I had never actually seen anyone successfully do it. But I knew I had to try because the fast-paced way of living was clearly not sustainable."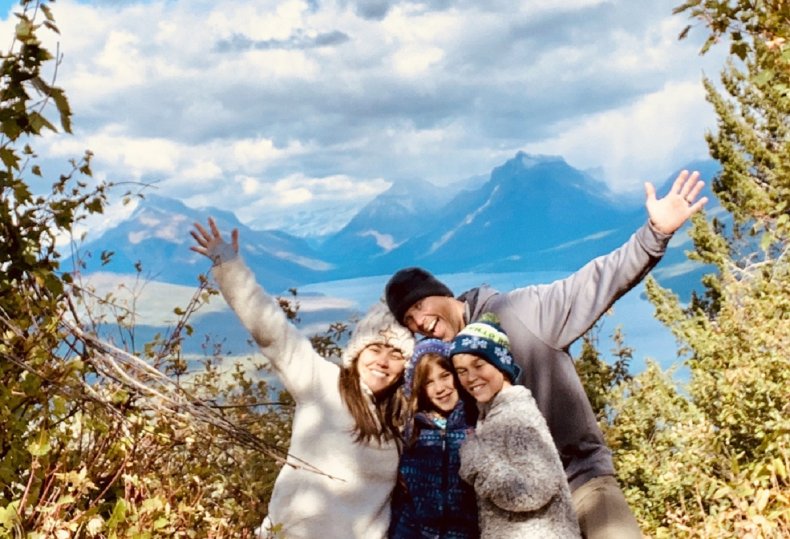 Taking small steps, Benes began meditating and reading self-help books, which gradually developed into curating a whole lifestyle around her new perspective.
"I started to see that if I wanted to design a lifestyle around slow living, it would require making space for it. A big part of slow living for us meant spending less money each month so that we weren't required to work as much," she said.
"After 9 months of mindfulness and meditation, I approached my husband about selling our house and downsizing to something more manageable."
Now that she's made the full shift to slow living, Benes hasn't looked back and encourages other people to slow down their own lives.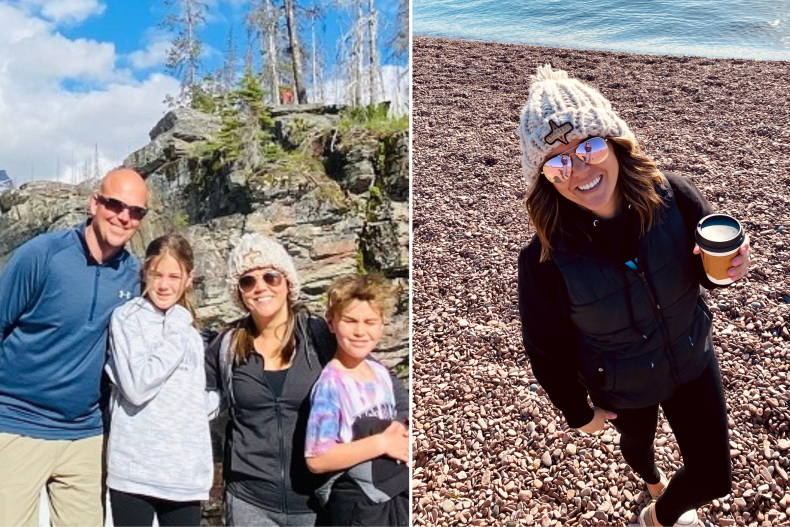 "Slow living has completely transformed my entire existence. I used to live with this surging anxiety all the time, even though I didn't realize it then, it had just become a part of my everyday life," she said. "Now, we have time to do nothing, we take walks, read with our kids, and I actually feel present when my kids talk to me. Our marriage has improved, our finances too, and the good days far outweigh the bad ones."
Benes isn't the only person to have been allured by the idea of slowing down, as the movement becomes increasingly popular, with social media tags such as #slowliving which has 548 million views on TikTok as of press time.
'My Burnout Was So Bad, I Ended Up in Hospital. Slow Living Brought Me Into a Beautiful, Peaceful State.'
Content creator Elsa Evelyn, 23, from Hampshire, England, was living in a world surrounded by external pressures but still felt detached. Feeling stressed and not knowing when to stop working, Evelyn became burnt out to the point of hospitalization as she suffered panic attacks and frequently fainted.
It became glaringly obvious to Evelyn that she needed to step back and put her health first, leading her to try the slow lifestyle in 2019.
"I was stressed, overworked and placed my worth solely in my job. I hit burnout and ended up in [the] hospital," Evelyn told Newsweek. "My body was aching for a rest, reconnection to nature and a lot of self-care. I began slowing down, initially as a response to the burnout, and through this, I started a journey of healing. I moved close to the countryside and spent as much time as I could in nature.
"I also found more time to read, spent time crafting, experimenting and gaining knowledge on ways to incorporate nature into my life beyond going for walks. This was also around the time I started foraging and wild swimming in my local river," she said.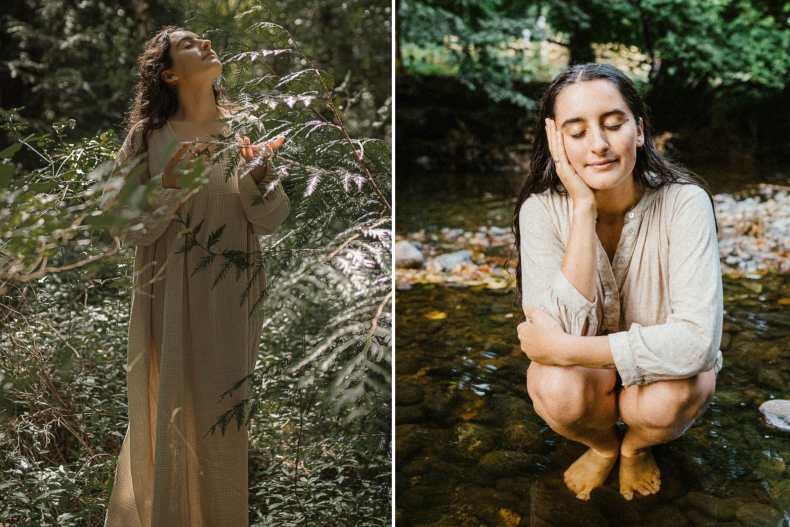 One big change Evelyn made was to spend less time online and on her phone, allowing her to focus on herself and mute the outside world temporarily.
"Spending less time on my phone is definitely the hardest part, as everything is online now. It's often hard to go a day without checking social media or reading emails. I still have to work, but curating a space between work and home allowed me to cultivate peace.
"When I slowed down it felt like everything around me did, too. Waking up and dropping into meditation and spending the first few hours of the day in silence, without my phone. Simple habits like deep breaths whilst I prepare my breakfast, eating in stillness, observing the flavors and smells of my food rather than rushing it down simply for fuel."
During the evenings, Evelyn takes time to watch sunsets, practice yoga and cook nourishing meals as she has become more aware of what she's putting into her body. Now, Evelyn feels at peace and connected with her thoughts, and never wishes to return to her former way of living.
"Slowing down has completely shifted my reality, it brought me into a beautiful, peaceful state. I hope to never return to a fast pace of life as it only brought me chronic stress and health problems," she said.
Is there a health issue that's worrying you? Let us know via health@newsweek.com. We can ask experts for advice, and your story could be featured on Newsweek.