Small Business Loans Could Run Out of Money This Week As Congress Remains Deadlocked on How to Fix it
The small business loan program created under the $2 trillion stimulus program so that owners can stay afloat during the coronavirus pandemic is quickly being depleted. And without swift action from Congress, the pot of money will likely run dry by week's end.
Lawmakers remain at an impasse over emergency funding to replenish the Paycheck Protection Program (PPP). So far, more than half of the money—about $228 billion—has been approved to more than 941,000 applicants as of Monday, according to the Small Business Administration. The initiative, which provides small businesses with loans for operating costs and payroll expenses that can be largely forgiven, was provided $350 billion in last month's stimulus package.
Despite emerging signs headed into the weekend that a deal could be reached between Republicans and Democrats, congressional leaders of both parties have retreated into their respective corners with no plan—yet—to further fund the program.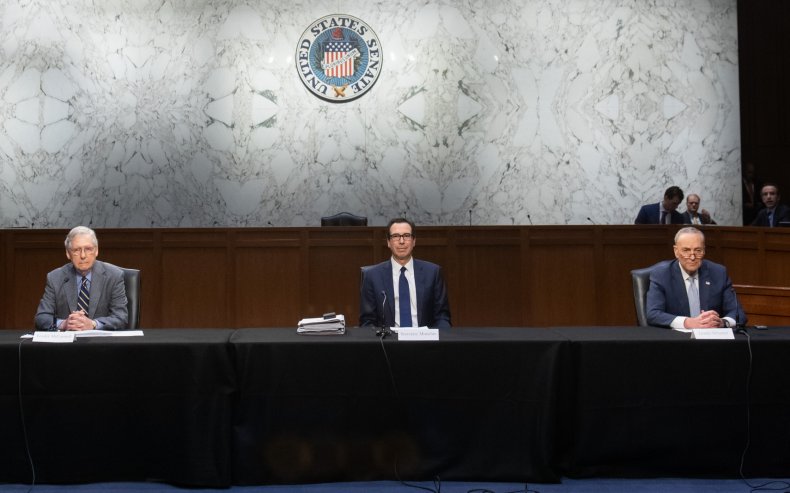 "We have real problems facing this country, and it's time for the Republicans to quit the political posturing by proposing bills they know will not pass either chamber and get serious and work with us towards a solution," House Speaker Nancy Pelosi (D-Calif.) and Senate Minority Leader Chuck Schumer (D-N.Y.) said in a joint statement Monday.
Democrats are pushing for stipulations and safeguards to be included that they say would better ensure the small business relief is distributed fairly, such as requiring a portion to go to community banks, business owners of varying backgrounds and races, and to owners without prior banking relationships.
In addition to the $250 billion, Democrats want $100 billion for hospitals and local medical facilities, $150 billion for state and local governments and a 15 percent raise in food stamp benefits.
Pelosi and Schumer had separate phone calls with Treasury Secretary Steven Mnuchin on Friday about the Trump administration's $250 billion request for the PPP. As of Thursday, 70 percent of small businesses tried to apply for a loan, and one-third of the 30 percent who didn't say they plan to in the coming month, according to the National Federation of Independent Business.
Meanwhile, Republicans and the administration are pushing for a simple extension of the funds to raise the total amount to $600 billion, arguing that additional funds Democrats want are not yet needed or in immediate risk of running out of money.
"Republicans reject Democrats' reckless threat to continue blocking job-saving funding unless we renegotiate unrelated programs which are not in similar peril," Senate Majority Leader Mitch McConnell (R-Ky.) and House Minority Leader Kevin McCarthy said in a joint statement on Saturday.
Senate Democrats blocked an attempt by McConnell on Thursday to pass the $250 billion with no strings attached.
"We will continue to seek a clean PPP funding increase," McConnell and McCarthy continued. "We hope our Democratic colleagues familiarize themselves with the facts and the data before the program runs dry."
Mnuchin signaled Monday during a White House coronavirus briefing that the administration would be open to considering broader relief efforts in subsequent legislation at later date but would focus on passing more small business aid immediately.
"This was a bipartisan program," he told reporters. "I know Democrats want to talk about more money for hospitals and states. Right now, we're just sending the money out to the hospitals and states, they haven't come close to using that money. The president and vice president have said once we get [this] done, we can go into another funding bill. The president's talked about potentially adding infrastructure and other things."
Congressional leaders and the administration will have to expedite their negotiations and move to swiftly pass legislation if they hope to avoid the program running out of money. Democrats have advocated for a "four corners" negotiation that includes the top four congressional leaders.
A deal would need to be struck likely in the first half of the week to allow time for passage by week's end, allotting extra time for any procedural snafus that may arise along the way. The House plans to remain out of town until at least May 4, meaning members would need to be notified in advance of any votes that would require their presence.
Hundreds of lawmakers were forced to return to Washington when the House passed the $2 trillion stimulus last month because of a Republican member's last-minute attempt to thwart the aid.
This story has been updated with new statistics from the Small Business Administration about the number of approved applicants and the total value of the loans. It was further updated to include remarks made by Mnuchin at a White House briefing.