'Smash Ultimate' DLC 5 Direct: Start Time & How to Watch Online
One week after the information-packed Pokémon Direct Nintendo is dropping another online video presentation, this time with a focus on Super Smash Bros. Ultimate.
Director Masahiro Sakurai will present the next DLC fighter and likely offer a rundown of its moves and a preview of what's to come after the last character in Fighters Pass is revealed.
If you want to join in on the fun, here's everything you need to know about the upcoming Smash Ultimate Direct including its start time and how to watch online.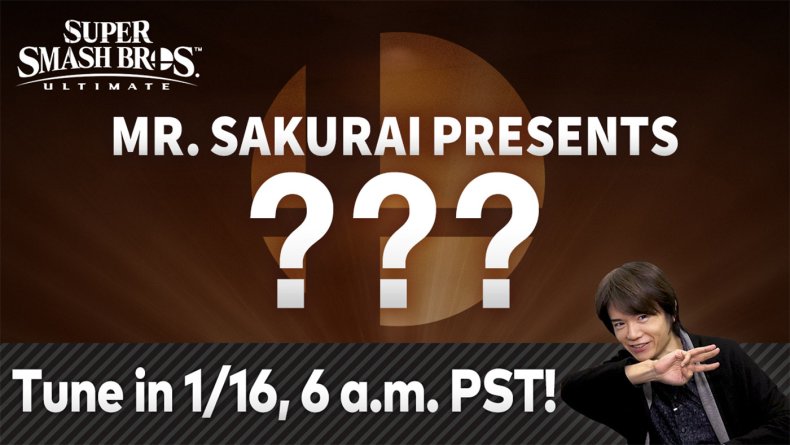 SUPER SMASH BROS ULTIMATE DIRECT START TIME
The Smash Direct begins Thursday, January 16 at 9 a.m. EST. Nintendo confirms it will be roughly 35 minutes long, so expect a 9:35 a.m. EST end time.
HOW TO WATCH SMASH DIRECT ONLINE
Like other Nintendo Directs, this upcoming Smash Ultimate Direct can be watched online in a variety of ways.
First, the official Nintendo Direct site will stream the online presentation. It will also be the first place to re-watch the Direct once it's over.
Nintendo's official YouTube channel will also broadcast the Smash Ultimate Direct live. The YouTube app is available on mobile devices and gaming consoles. PS4, Xbox One and even the Nintendo Switch can stream from the platform. The channel will likely upload the Nintendo Direct in its entirety after the presentation is done, as well as any trailers or gameplay shown in separate videos.
For the Smash Ultimate Direct, if it's like Sakurai's prior online presentations, the DLC reveal trailer and the director's demo of the character will be posted separately.
If Twitch is your platform of choice, the official Nintendo channel will also stream September's Nintendo Direct live. The Twitch app is available on mobile devices as well as PS4 and Xbox One. You can also watch the Twitch stream below.
WHAT TO EXPECT
Of course, we're expecting the reveal of the fifth DLC character in Super Smash Bros. Ultimate. As to the identity of this character there have been numerous rumors and speculation that includes "Doom Guy," Geno, Steve from Minecraft and much more.
There's currently a large contingent of fans who believe Dante from Devil May Cry is coming to Smash, but the evidence pointing to this assumption is scant at best.
Aside from the reveal and trailer of the DLC character, we'll learn when it'll be available to download and purchase. It's very likely this new fighter will be released later in the day on Thursday.
When new fighters are added to Super Smash Bros. Ultimate, they typically arrive alongside a new update. Sakurai will also run through any additions to the game that come with the presumed update.
With more characters after the first five in development, we may also learn more about a possible Fighters Pass 2.
Super Smash Bros. Ultimate is available now for Nintendo Switch.
What do you think will be shown during the Smash Ultimate Direct? Let us know in the comments section.