Pyra and Mythra 'Smash Ultimate' Release Date, Differences Revealed in Demo
Super Smash Bros. Ultimate players were treated to a special demo of Pyra and Mythra by series director Masahiro Sakurai on Thursday. Sakurai presented details of Pyra and Mythra's play styles to the Smash community and revealed a March 4 release date.
As is custom with these special demo streams, Sakurai also gave details on the new stage and how each character fights. Pyra and Mythra, while different characters in Xenoblade Chronicles 2, are being paired up for Smash Ultimate. However, this isn't a Minecraft Steve/Alex situation where both characters fight the same.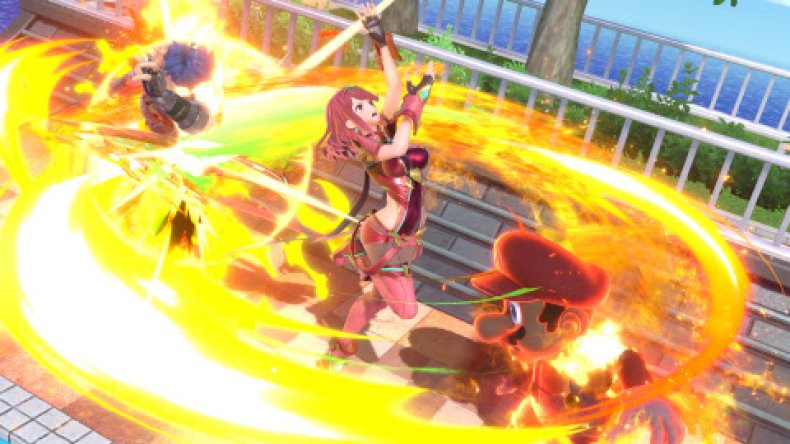 Mythra can run faster and has a higher jump than Pyra. Pyra has more power in her attacks, but they are performed slower than Mythra. Each has their own play style, with Mythra's neutral attacks normally performing multiple hits, while Pyra normally delivers one massive attack.
Other differences include Mythra having foresight, which allows her to dodge attacks and go in for a counter-strike if you time the dodge just right. It's similar to Bayonetta's dodge.
Both characters' specials also vary, giving fans different ways to play. They each have their own unique Final Smash, with Pyra focused on KOing opponents and Mythra dealing damage. We recommend watching Sakurai's demo to see all the differences in action.
Players will be able to swap between Pyra and Mythra by pressing the down special, similar to Zelda and Sheik in Super Smash Bros. Melee. Players can also choose which character to start as in the select screen by pressing the Y button.
Pyra and Mythra are the latest characters to represent the Xenoblade series in Super Smash Bros. Ultimate, following Shulk's inclusion in the previous game. They were revealed as the next DLC characters of Smash Ultimate's in the February Nintendo Direct.
The duo from Xenoblade Chronicles 2 join the game as the fifth DLC characters of Super Smash Bros. Ultimate's Fighters Pass 2. They follow Min Min from ARMS!, Minecraft Steve, and Sephiroth from Final Fantasy VII.
That's not to mention the first group of DLC characters, which included Joker, Hero from Dragon Quest, Banjo & Kazooie, Terry Bogard from King of Fighters and Byleth from Fire Emblem.
Super Smash Bros. Ultimate is available now for Nintendo Switch.
Are you excited for Pyra and Mythra to arrive in Super Smash Bros. Ultimate? Which of the two would you like to use? Let us know in the comments section.