Smokable CBD Provides Mellow 4/20 Alternative to Highly Potent Cannabis
With recreational cannabis becoming increasingly more legal or decriminalized in states across the country, more Americans may be getting high this April 20—or 4/20, as its known in marijuana enthusiasts parlance—than ever before. Many of these people may be trying cannabis for the first time, and many of these people may find what they're smoking is too strong. Unless they are trying smokable CBD, that is.
Smokable CBD is simply hemp that has a high concentration of CBD. Unlike more popular forms of cannabis, the flower form of CBD provides a mellow, relaxing effect without the psychoactive properties of THC.
It's the psychoactive effect of THC that leads many pot-smokers to complain marijuana is becoming too potent. This is no myth, as numerous studies have shown that THC keeps rising and is much higher than what hippies of past generations enjoyed. In fact, the National Center for Natural Products Research at the University of Mississippi in April 2021, published findings of data it analyzed of THC found in cannabis seized by the Drug Enforcement Administration from 1997 to 2017. The researchers found the average amount of THC in the samples in 1995 to be 3.96 percent. In 2017, it was 14.35 percent.
Such high amounts of THC can increase anxiety in some smokers, sometimes resulting in a "nine-hour escapade of the earth falling apart," as Will Trienens put it to Newsweek. Trienens is the co-founder and CEO of Cannaflower, one of the earliest nationwide distributors of a smokable CBD hemp in the U.S. with high-quality strains of flower that rival the standard cannabis at a high-end dispensary.
"Today's weed, the high-test stuff you get at your local dispensary, gets you too damn high!" Ben Starmer and Joshua Katz, the founders of Dad Grass, concurred in a joint statement to Newsweek.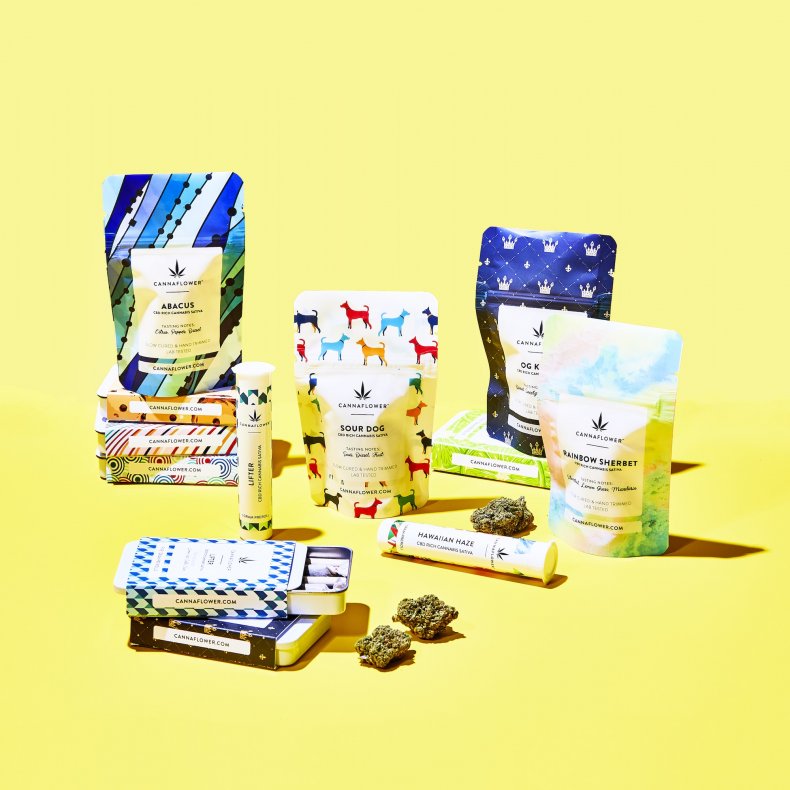 The benefits of CBD have been widely covered in the media in recent years. Unlike the "high" associated with THC, CBD reportedly offers therapeutic effects such as relief from anxiety, depression, post-traumatic stress disorder and insomnia. The most common for of CBD may be in oils, but it's also sold in edible form by well-established companies like Valhalla, Greater Goods and +PlusCBD.
But you can also smoke CBD, and there is science behind why many people may prefer to do so. Inhaling CBD allows users to experience its benefits more quickly than other methods. When absorbed by the lungs, cannabinoids—whether its CBD, THC or lesser-known compounds like CBG—make their way to the brain in a more direct route instead of first being absorbed by the intestines and metabolized in the liver. (However, while studies have shown that smoking cannabis poses less of a cancer risk than tobacco, it should still be noted that smoking anything is not medically advised.)
Perhaps another part of smokable CBD's appeal is that it is more legal than THC-saturated cannabis. That's thanks to the 2018 Farm Bill, which removed hemp and derivatives of cannabis with low concentrations of THC from the definition of marijuana in the Controlled Substances Act. Though this opened the door for companies like Cannaflower, which launched in January 2019, a few states have stepped in to put restrictions or bans on flower hemp manufactured for smoking. Even still, it is legal in more places than its not, and can be shipped by mail to most states.
Dad Grass quickly understood its audience and tailored its marketing accordingly. As Starmer and Katz told Newsweek, "Instead of racing towards max THC, we look back fondly to that bygone era when you could get a clean buzz but still maintain a clear head."
Along those lines, Dad Grass positions its smokable CBD as redolent of the weed your parents enjoyed. That is, of course, unless you're from the baby boomer generation, in which case Dad Grass should remind you of your own past mellower highs. As evidence of its successful branding (and appeal to boomers), Dad Grass even recently teamed up with George Harrison's estate for All Things Must Grass collection, which uses the Beatles' guitarist's likeness on a range of products.
"You don't have to be a dad, or a dude, to enjoy Dad Grass. In fact, you don't even have to be a parent," Starmer and Katz said. "Dad Grass is a state of mind, shared by people like us who, regardless of their age, like to keep things easy and dependable, never fancy or complicated."
Cannaflower, meanwhile, positions itself somewhat differently than Dad Grass. Its line is tailored more for customers seeking a premium, luxury CBD flower. The company does "strain drops" and offers a monthly subscription box. Other companies have since tried to tap into the same audience, such as the fashion brand Edie Parker, which sells 4/20 accoutrements in addition to CBD flower, and Lady Jays, which sells quality CBD flower in hip, designer packaging.
Many companies sell pre-rolled CBD hemp joints, and some—like Dad Grass, Cannaflower, as well as Exhale Wellness, Botany Farms and others—sell it in "bud" flower form. Users can opt to roll their own joints, or they can put the flower in a vaporizer, such a portable Pax vape. If smoking flower isn't ideal, there are a variety of CBD tinctures and oils that can be vaporized as well. As with many cannabis products, new customers are encouraged to use caution and vet their choices or stick with reputable brands, such as Extract Labs, for CBD tinctures.
Some people also may find smokable CBD a little too mellow for their taste and may consider trying Delta 8. This type of hemp is saturated with a distillate of Delta-8 THC. The more common Delta-9 THC is the cannabinoid most people know only as "THC," but users of Delta 8 enthusiastically tout its mellower—yet still somewhat psychoactive—high. There are a lot of bootleg brands of Delta 8 products being sold in shops around the country, so consumers are advised to search for a QR code on the packaging that will direct them to documents that show independent testing was done.
Since Delta 8 does produce a mild high, it has been targeted by legislators in some states who fear it's too easily accessible. Reputable sellers, such as the well-known company Hometown Hero, will alert buyers online if they aren't able to ship to them.
Many people also opt to mix smokable CBD or Delta 8 with standard marijuana for their own blend. Should anyone be hesitant about having these products shipped to their homes—the flower products look practically identical to all other cannabis—they can pick them up a stores throughout the country. A helpful guide is Ask Hoodie. Just type in your location along with what you're looking for ("CBD flower"), and it will call up a list of local dispensaries selling it.
Even with the often highly potent marijuana becoming increasingly more available and acceptable, smokable CBD company representatives reported to Newsweek that they've continued to experience growing sales. They also don't see legal weed as a threat.
"We are extremely supportive of legalization of cannabis," Trienens said. "We sell cannabis as a product type, and we think the product stands on its own as something someone wants to consume and maybe high-THC cannabis isn't. The more people that have access to cannabis in general is a pro for the industry."