Shock as Enormous Snapping Turtle 'Beast' Washes Up on Wisconsin Beach
The internet is in shock at an enormous snapping turtle that washed up on a beach in northern Wisconsin, with the creature described as a "beast."
Redditor u/Br_u_u_u_ce, aka David, shared snaps of the reptile in the back of a pickup truck to the site's Absolute Units forum on Sunday, where it has since received nearly 20,000 upvotes.
The post, which can be seen here, was captioned: "This snapping turtle found washed up on the beach in Northern Wisconsin."
After the post blew up, the 28-year-old shared more information in the comments, claiming the deceased turtle was found at Sand Lake, in Sugar Camp.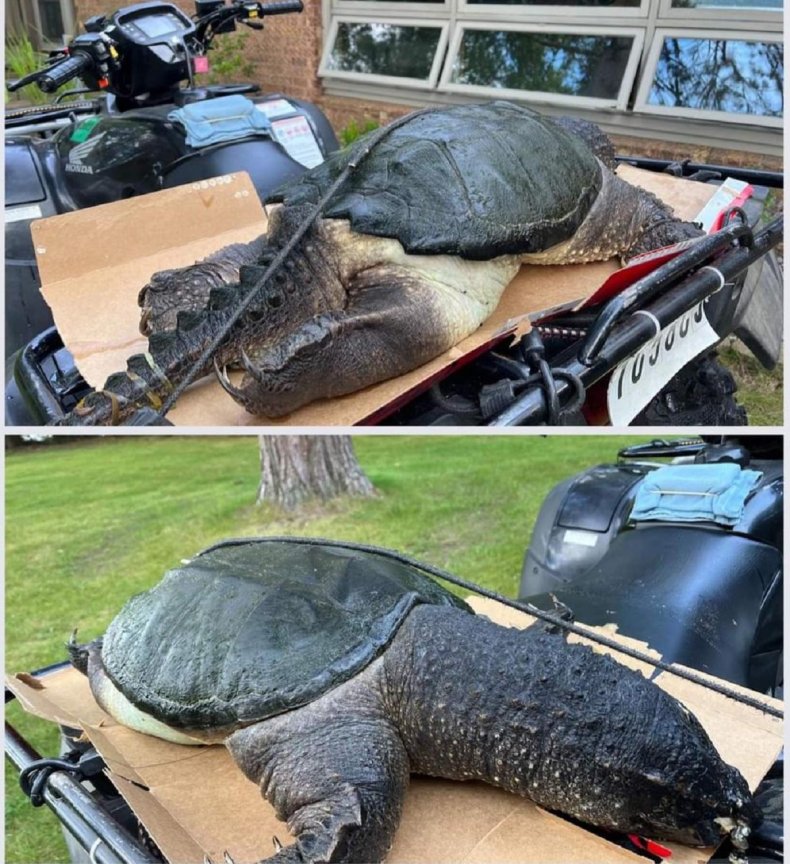 It transpired it was originally shared to Facebook by Jackie Anderson on Saturday, who captioned the image: "Look what we found washed up on our beach. Happy I didn't meet up with it when I was swimming!"
Anderson, who wrote about the turtle's "decaying stench," told Newsweek: "the main thing I want people to know is that we did not harm this turtle in any way.
"We found it washed up on our beach with a decaying stench. After so many family members commenting on it, I finally decided to post it to the public."
The snapping turtle is the largest turtle species in the Badger State, and is an infamous predator, as Wisconsin's Department of Natural Resources (DNR) noted, they "consume almost any animal they can catch."
The DNR added: "The head has large jaws and a pointed snout with a prominent beak. Its long neck, powerful jaws and aggressive behavior have rightly earned the snapping turtle its name."
They stated their carapace, the back part of a shell structure, usually varies from 8 inches to 1.3 feet, but the turtle that washed up looks bigger than that.
Commenting on its size, David noted: "So this one is likely a bit bloated, there's no way to know how long it floated around in the lake before it washed up on shore. That being said you can compare the size of the shell to the four-wheeler and even by that metric it's still a good sized-turtle...
"This guy likely spent his life in a large chain of lakes and was found specifically on the beach at Sand Lake in Sugar Camp, WI."
Website Animal Diversity states the reptiles can live up to 30 years in the wild, and 47 in captivity, adding: "Once they reach a certain size there are few natural predators of snapping turtles, though they are often hit by cars when searching for new ponds or nesting sites."
David remarked on how large it was, calling it a "beast," as he continued: "So the giant snapping turtles you see down south are usually alligator snapping turtles, their pointy shells give them away.
"This is a different species found all over the United States or at least is very common in the Midwest. They usually get pretty big but this one was likely king of wherever it went lol."
As he pointed out, the larger alligator snapping turtles are from the same Chelydridae family, but are a different species. The snapping turtles in the Wisconsin are classed as common by the DNR, and aren't endangered.
"We have so much fresh water here and swampy slow-moving lakes it's a perfect environment for turtles.... for 6 months. The cold 6 they spend under the ice hibernating, "breathing" through their butts," David added.
He's not wrong, as the official term is cloacal respiration, as McGill University explained: "It's not so much breathing as just diffusing oxygen in and carbon dioxide out, but the fact remains: when turtles hibernate, their main source of oxygen is through their butt."
Confirming it was already dead when found, David replied to questions as to why it was retrieved, saying: "If I had to guess I'd say they didn't want to look at a giant rotting snapping turtle for the rest of the summer while they played with their grandchildren on the beach. It's likely headed into a proper deep grave in the woods."
The post racked up numerous comments as people remarked on the reptile's size, DanOrochi joked: "The turtle unlocked the dragon class."
Chrontab wrote: "That shell looks like a total afterthought."
Inspectcloser said: "Yeah I think it crossed the threshold of dinosaur and the shell is more cosmetic at this point."
Update 9/5/22, 10:25 a.m. ET: This article was updated with photos and comment from David and Anderson.