SNL Takes Aim at Herschel Walker, Trump and McConnell as Show Returns
The cast of Saturday Night Live (SNL) mocked Herschel Walker, Donald Trump and Mitch McConnell during its season premiere.
In its opening sketch, host actor Miles Teller and SNL cast member Andrew Dismukes played the sports commentators Peyton and Eli Manning as they performed running commentary on the intentionally-awkward skit.
The multi-layered sketch appeared to mock the level of comedy aimed at Trump, played by James Austin Johnson, as well as scripted parts of the show.
During the cold open, Chloe Fineman played an advisor to Trump who told the former president to get out of Mar-a-Lago as Hurricane Ian barreled towards them.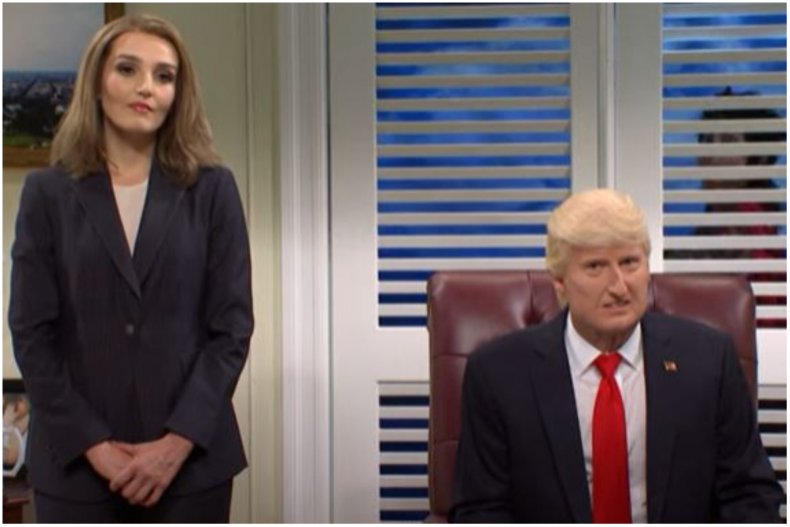 Johnson, as Trump, was keen to reassure his advisor, and said: "It's the safest place I have been in two years. There's no lawyers, no FBI. I'm in my happy place."
As the sketch continued, Johnson corrected his advisor when she called him Mr. President saying: "Please, call me current president."
The joke was a clear nod to Trump's unfounded claims that the 2020 election was somehow stolen from him as part of a nationwide conspiracy orchestrated by Democrats.
Throughout the scene, Teller and Dismukes gave running commentary on the sketch as if it were a sports game. They also slammed the intentionally lazy gags and cast member performances.
At one point Teller also hit out at the one-sided gags at the expense of Republicans and noted no jokes had been done about Joe Biden who he said had "lost his marbles."
Johnson later returned with an impression of Senate Minority leader who awkwardly defended GOP Senate candidate for Georgia Hershel Walker, performed by Kenan Thompson.
Thompson explained Walker's real-life gaffe that China somehow got the U.S.'s "good air" causing its supposed "bad air" to move.
He said: "We all know air, right? Air Bud, Air Jordan, Erin Brockovich. You see, scientists don't understand. Everybody talking about climate, but what we really should be focusing on is pulling Hawaii closer. Bring that climate over her."
Johnson appeared to agree or be stupefied by what Thompson said, appearing to reflect Republican nerves about having Walker as a Senate candidate.
While SNL returned for its 48th season, there were many notable absences after several cast members left ahead of Saturday's episode.
Pete Davidson and Kate McKinnon were among the numerous performers who bid farewell to the show earlier this year.
The four new faces who joined the cast are Molly Kearney, Marcello Hernandez, Devon Walker, not the football player, and Michael Longfellow.
Newsweek has contacted McConnell's, Walker's and Trump's teams for comment.