SNL Under Fire As Jewish Groups Slam 'Deeply Offensive' Israel Vaccine Joke
The Anti-Defamation League (ADL) has criticized a controversial joke made during the Saturday Night Live (SNL) "Weekend Update" segment, where one of the co-hosts said Israel had only vaccinated "the Jewish half" of the country.
"Weekend Update" co-hosts Colin Jost and Michael Che had reeled off gags about the pandemic, the Mars rover and Ted Cruz's Mexico trip.
But, it was SNL co-writer Che's joke about Israel's ongoing vaccination rollout that stoked a wave of criticism from anti-discrimination organizations who said it "crossed a line" and played into "an anti-Semitic trope."
In the February 20 segment, Che said: "Israel is reporting that they've vaccinated half of their population. I'm gonna guess it's the Jewish half."
Jewish organizations said the joke was "dangerous" and was the latest in several Weekend Update jokes that had used Jews "as a punchline."
Jonathan Greenblatt, CEO of the Anti-Defamation League (ADL), responded to Che's comments in a statement posted on Twitter, where he said: "Saturday Night Live's 'Weekend Update' is known for sharp criticism and public takedowns, but Saturday's deeply offensive joke about Israel's Covid-19 vaccination process not only missed the mark, but crossed the line - basing the premisfjewish groue of the joke on factual inaccuracies and playing into an anti-Semitic trope in the process.
"Unfortunately, ADL has tracked multiple Weekend Update jokes this season that inappropriately use Jews as the punchline. I know they can do better. In that spirit, I reached out to Lorne Michaels over the weekend urging Saturday Night Live to take action both to repair the damage that's been done and ensure that this does not happen again."
The American Jewish Committee (AJC) condemned SNL and Che over the joke and launched a petition calling on NBC to apologize and retract the claim made during the segment.
It said: "Saturday Night Live's 'joke' isn't just untrue - it's dangerous, a modern twist on a classic anti-Semitic trope that has inspired the mass murder of countless Jews throughout the centuries. In the Middle Ages, thousands of Jews were burnt at the stake after being blamed for the Black Death and accused of protecting only themselves. In the 20th century, the Nazis accused Jews of spreading disease and seized on that falsehood to justify imprisoning Jews in ghettos and carrying out the mass murder of European Jewry.
"Words have consequences, and Jews are at risk when a major American TV company joins with those who claim Israel is favoring only a portion of its citizens in its admirable efforts, praised by Dr Anthony Fauci and others, to vaccinate all its residents."
Newsweek has contacted NBC for comment.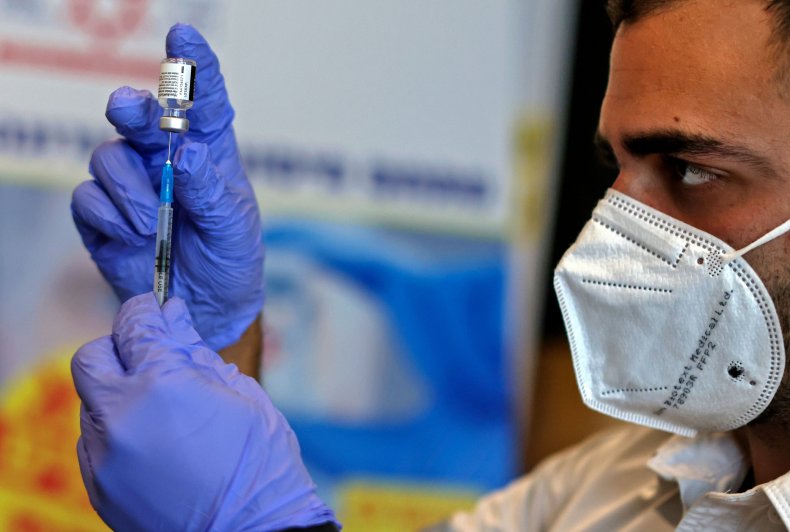 Israel's vaccination program has been praised by health experts following its rapid rollout across the country. Prime Minister Benjamin Netanyahu said on Saturday that he expects 95 percent of adults aged over 50 would receive the vaccine in the next two weeks.
But, the Palestinian Authority (PA) has fallen far behind Israel with its leaders claiming to have only enough vaccines to cover just 0.05 percent of its population.
Following a backlash from Palestinian rights groups, who said Israel as an occupying power has an obligation to provide vaccines to the PA, several thousand Moderna doses were earmarked for the Palestinian territories, according to media reports.
The combined territories of the Gaza Strip and the West Bank have recorded a total of 1,986 deaths while Israel has registered 5,596 fatalities since the pandemic began.